National
Romney Will Speak Monday About Immigration Plan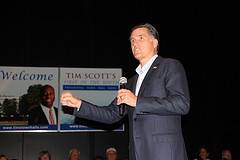 Republican presidential nominee Mitt Romney will speak today will speak Monday to Hispanic voters about his plan to improve the immigration system in an attempt to gain votes from a demographic that vastly favors President Barack Obama, according to the Huffington Post.
Romney has reportedly been behind Obama in recent polls following the Democratic National Convention and backlash for comments Romney made about the president's response to the killing of the U.S.'s ambassador to Libya last week.
According to excerpts of Romney's upcoming speech that were released, Romney will say, "Americans may disagree about how to fix our immigration system, but I think we can all agree that it is broken."
The excerpts did not reveal specifics about how Romney plans to fix the immigration system, which has become a significantly polarizing issue that divides Democrats and Republicans.
Obama has been popular among Hispanic voters after passing legislation that allows undocumented immigrants who came to the U.S. under the age of 16 to receive work permits.
Read more of Neon Tommy's coverage of the 2012 presidential election at our blog Politically Correct.
Reach Executive Producer Michael Juliani here; follow him on Twitter here.