Style
REVIEW: NY Fashion Week – The 6 Hottest Designers of Spring 2013
1. Barbara Tfank
In an attempt to do something pleasantly different, Barbara Tfank staged her Spring 2013 models in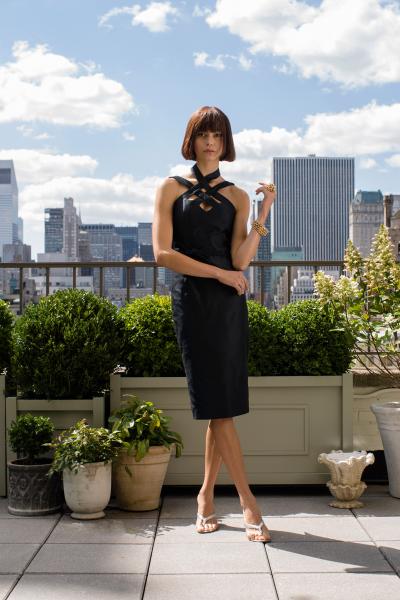 an elegant Upper East Side townhouse, taking care to match the outfits with the decorations of each room. Tfank's collection consisted of fun, full-skirted dresses (such as the one pictured here), flattering necklines, and intricate pocket designs. The designer successfully feminized her colorful outfits in a way that appeals to the everyday woman - simple in cut, yet elegant for plenty of occasions.

Pictures from the collection can be found here.




2. Dennis Basso

Dennis Basso's most stunning outfit of his presentation was a lightly golden cocktail dress that exuded glamour and the utmost of class. Although there were a few other eye-popping designs in dark colors, the heroes of the collection were a select group of light-colored, full dresses that shone apart from the rest. Unfortunately, the black furs Basso used fell short of expectation and are too easily forgetable for the season.

Pictures from the collection can be found here.




3. Juicy Couture

This season, Juicy Couture opted for a sleeker look on the runway, one that is both dashing and playful. Juicy Couture designed their Spring line to be sophisticated yet carefree, deciding on a number of looks suitable for either pool time or strolls in Hollywood. Tracksuits, pink leather jackets, and elaborate clutches are all part of the collection and sure to dazzle. This line resists the instinct to blend colors creatively on a whim and is fierce as a result.


Pictures from the collection can be found here.

4. Marc by Marc Jacobs

Perhaps it is due to the collection's unconventional appeal that Marc by Marc Jacobs' Spring 2013 outfits are a strange guilty pleasure. Inspired by the year 1982 and its clashing colors fad, Jacobs went for a more rambunctious look for his collection. His models sported rag-tied heads and ethnic layers, complete with sudden checkered patterns and color blocks to liven up the scene. Expect a collection full of color and energy from the designer, as he pushes a line that is sure to captivate.

Pictures from the collection can be found here.




5. Ralph Lauren

Choosing to limit himself to a palette of only turquoise, black, red, and white, Ralph Lauren creates yet another collection of pure art. For Spring, he incorporated typical Spanish or Latin American characteristics of ruffles and matador suits to spice up the runway. Despite the collection seeming to be more of a costumed event, Lauren creates styles that promote color blocks – or, rather, color shocks – and set himself apart from other renowned designers of his caliber.

Pictures from the collection can be found here.

6. Victoria Beckham

Instead of her usual heels and sheath dresses, Victoria Beckham chose to create looks meant for the everyday woman. Her collection featured separates, suits, and sandals – a turnaround from her past designs. Beckham's styles remained solid in color and void of prints as she prefers, but the practicality of her designs has increased tenfold with her Spring 2013 collection. The designer actually embraces more intricate tailoring, with just as much appeal as her former collections.

Pictures from the collection can be found here.

See Victoria Beckham's fashion show on video below.