National
Rahm Emanuel Vows To End Teachers Strike With Lawsuit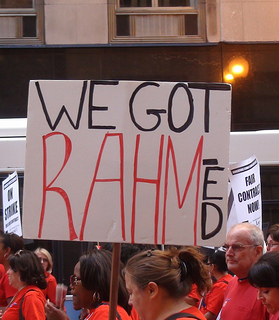 Teachers in Chicago will remain on strike at least through Tuesday after union members said they wanted more time to review a tentative deal reached over the weekend, the
Chicago Tribune
reported.
The union's refusal to end the week-old strike might lead Chicago Mayor Rahm Emanuel to file a lawsuit to force the teachers back to work. Emanuel called the union's actions "a delay of choice that is wrong for our children," according to CNN.
Chicago Teachers Union president Karen Lewis said the union's House of Delegates could vote on Tuesday to end the strike, meaning Wednesday would be the the earliest date 350,000 students can return to class.
"Our members are not happy," Lewis said. "They want to know if there is anything more they can get."
The conflict could have political implications for the Democratic Party in an election year as Emanuel, President Barack Obama's former top White House aide, continues to lock horns with organized labor, a key voting group for Democrats, according to Reuters.
School Board President David Vitale said the union should allow students to return to class while the two sides iron out differences.
"We are extremely disappointed that after 10 months of discussion reaching an honest and fair compromise that (the union) decided to continue their strike of choice and keep our children out of the classroom," Vitale said.
Both the union and Chicago Public Schools appeared to come away with some concessions under the tentative agreement.
For the teachers, the standards for evaluations that could lead to firings would be relaxed, and highly-rated teachers could get a better shot at being recalled after layoffs, the union said.
The proposed deal would call for a three-year contract, with an option for a fourth year that the school district and union would have to agree upon. It includes 3 percent raises in the first and fourth year, in addition to 2 percent raises in the second and third year. The increases are a far cry from the 30 percent raises the union initially sought.
Chicago union teachers earn about $76,000 annually. Emanuel said the contract with the teachers will cost $295 million over four years, or about $74 million per year.
Debt rating agencies have warned that the new agreement could severely put a strain on the CPS budget and lead to a downgrade of its credit rating.
Read more of Neon Tommy's coverage on the Chicago Teacher Strike here.