National
QE3: The Federal Reserve's Big Decision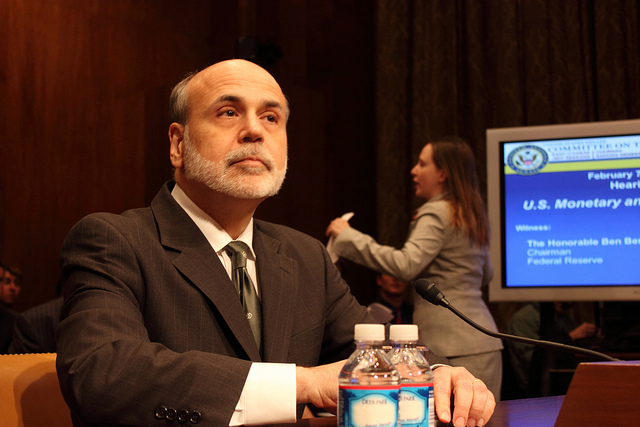 The Federal Reserve
announced
a third round of quantitative easing ("QE3") Thursday morning, surprising investors by committing to purchase $40 billion exclusively in mortgage-backed securities per month, setting no predefined limit, and sending markets soaring.
Quantitative easing basically means printing money and using it to buy assets directly from commercial banks. The Fed has done this two other times since the financial crisis began, but the key differences this time are the deliberate open-ended nature of the move, the sole focus on mortgage-backed securities and the central bank's commitment to continuing this policy as long as market conditions require. The central bank also agreed to keep short-term interest rates low for the time being.
From the Federal Reserve's statement:
"If the outlook for the labor market does not improve substantially, the Committee will continue its purchases of agency mortgage-backed securities, undertake additional asset purchases, and employ its other policy tools as appropriate until such improvement is achieved in a context of price stability."
The Fed had been expected to undertake some action on the heels of a weak jobs report and strong comments about the state of the economy from Chairman Ben Bernanke, but the scope of today's monetary policy was larger than markets had apparently priced in. An especially partisan atmosphere in Washington, with nothing of significance likely to get done until well after November's elections, may have also contributed to the Federal Reserve's urgency. As the Financial Times reports:
"Adding to the Fed's rationale for taking action is congressional paralysis over fiscal policy, which made it impossible to predict any new stimulus coming from Capitol Hill.

In fact, QE3 may serve as insurance against the danger of the fiscal stalemate continuing well after the election and leading the US into recession if lawmakers cannot agree on a way to avert the 'fiscal cliff', a combination of $600 billion in annual tax increases and spending cuts due to hit in early January."
Equity investors were full of optimism on the news, sending the Dow up over 200 points to 13,539, a 1.55 percent increase. The NASDAQ rose 1.33 percent to 3155.
While markets surged across the board, financial stocks in particularly had a great day, as would be expected with an announcement that allows them to dump unproductive assets and loosen their balance sheets. Wells Fargo (NYSE: WFC) rose 3.55 percent , Citigroup (NYSE: C) was up 4.24 percent, JPMorgan Chase (NYSE: JPM) gained 3.71 percent and Bank of America (NYSE: BAC)climbed 4.79 percent.
Many large homebuilders also saw their stock prices rise dramatically on the news. Shares of Hovnanian Enterprises (NYSE: HOV) increased by 3.27 percent, D.R. Horton (NYSE: DHI) by 3.50 percent and Beazer Homes (NYSE: BZH) by 7.01 percent after the announcement of a policy designed to keep rates low while freeing up lending capacity.
Bernanke admitted this was one of the goals in the press conference following the announcement. From Business Insider:
"QUESTION: How much further will the new QE drive down mortgage rates? What is a "meaningful effect?"
BERNANKE: It will depend ultimately on 1) the amount of purchases we do, which in turn is a function of how the economy evolves. If the economy is strong enough to generate improving labor market conditions, we'll do less. The housing market has been one of the "missing pistons in the engine here." To the extent that we can support housing, I think that would be a useful outcome.

QUESTION: Will there be a meaningful increase in refinancing activity?
BERNANKE: You get more benefit from purchases of new homes. We are trying to support buyers who want to go out and purchase homes."
Based on the performance of the equity markets, retail investors seem largely convinced by QE3. The reaction from economists has also been mostly positive.
In an interview with Business Insider, leading economist Michael Woodford approved of the general framework, calling it "an important and useful step, which should be more effective in increasing confidence that the economy will recover." Woodford also favored direct purchases of mortgage-backed securities over treasury bonds, saying they are "more likely to influence the costs of private borrowing, and so likely to have a more direct effect on the economy."
Some experts did not think even the large scale of QE3 would be sufficient to stimulate the recovery and make a real impact on the larger economy. Speaking to the Wall Street Journal, Paul Ashworth of Capital Economics acknowledged public confidence, but wondered where the Fed's commitment would end:
"Overall, the Fed has done all the markets were asking for. The problem is that we doubt it will be enough to get the economy on the right track. It's only a matter of time before speculation begins as to when the Fed will raise its purchases from $40 billion a month"
Reach Executive Producer Matt Pressberg here.