Los Angeles
Party Lines: A Stadium In The Works
The vote to put a football stadium in downtown LA on Friday was unanimous. The city council sided 12 to zero in favor of the proposed construction, a $1.2 billion project that allocates funds for a professional football venue with a capacity of 76,000 visitors. The successful proposal also includes plans for a large-scale renovation of the Los Angeles Convention Center.
Jan Perry, the councilwoman representing the stadium's proposed geographical region, has said she hopes that bringing an NFL team to the area will serve her constituency by providing job openings. For now, any economic benefits wrought from the stadium plan will be less tangible: a groundbreaking date has not been scheduled, as no professional sports team is lined up to play in Farmers Field.
The project is funded by Anschutz Entertainment Group, owner of the Staples Center which is located near the stadium's planned locale. That AEG could prove a sound financial force for handling development of the venue was the subject of some consideration. The parent company of AEG announced recently that the AEG subsidiary is for sale.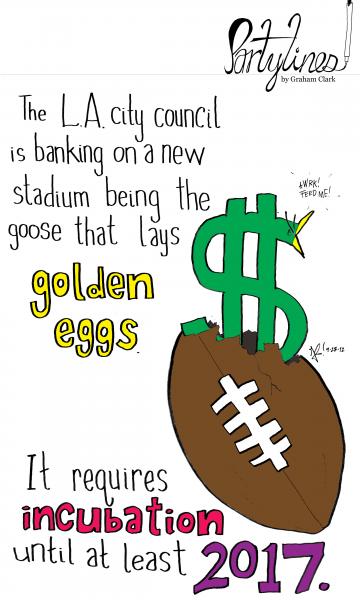 For more about the Farmers Field project, continue here.
Reach Staff Cartoonist Graham Clark here; follow him on Twitter here.