Opinion
Obama's Presidential Campaign May Again Revolutionize The Art World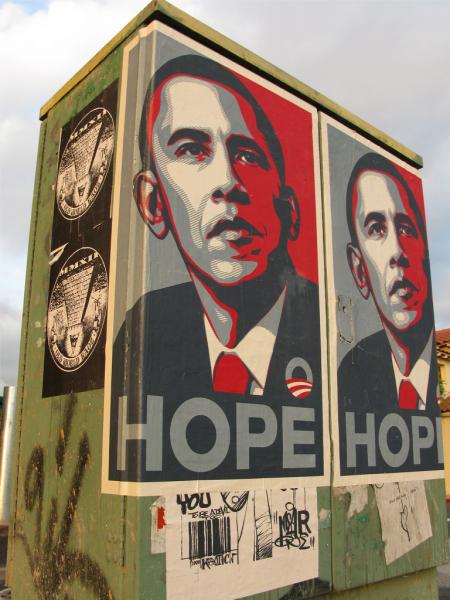 Obama is at it again with a revamped presidential campaign that is being backed by some of the biggest names in American art.
Following in the footsteps of Shepard Fairy, 19 artists have teamed up to dedicate their time and work to help get the President re-elected in an initiative called "Artists for Obama."
A superstar panel of artists – including Jasper Johns, Frank Gehry, John Baldessari, Ed Ruscha and Richard Serra – have produced and donated original paintings, drawings, lithographs and prints for the Obama campaign. The works have been assembled into 150 portfolios that are up for sale at $28,000 each. An unveiling event was hosted in Los Angeles by Gemini G.E.L., which was expected to raise $4.2 million dollars for the Obama campaign and the Democratic National Committee.
It was just four years ago that Barack Obama teamed up with artist Shepard Fairy to create the iconic "Hope" campaign – which has been re-created for 2012 as "Progress." Since Fairy's "Hope" piece, the art world has been redefining itself and adding "Street Art" into its textbooks as an important movement. In the past four years, countless street artists have emerged, and their work has been praised as revolutionary and beautiful – two words that have never been used to describe the traditionally illegal art form. It is because of Obama and Fairy's collaboration that art instillations such as MoCA's "Art in the Streets" and documentaries such as "Exit Through the Gift Shop" have been produced and the reason that they have been wildly successful. Audiences worldwide have begun to replace the negative connotations of graffiti with a fondness and appreciation for the art form.
Throughout his presidency, Barack Obama has focused a great deal on fostering the arts. The arts are a significant part of American culture because at some point, every citizen encounters experiences art in some form. Knowing that Obama supports the arts is comforting, because he is thereby enhancing what makes America so unique. But the greatest sense of comfort lies in the fact that Obama is being supported by an immensely influential group of contemporary American artists who share his vision. While the artists involved in "Artists for Obama" have different aesthetics, they all share a unified belief in the president and the amount of good he can do for the country – and they make it known through their art.
Since Obama's 2008 campaign, American art has become more reflective of American society and culture. If the success of the "Hope" campaign is any indicator, there is no limit to the prospective influence Obama's 2012 campaign can have on the art world. Whether it is by means of a minimalist photograph, an avant-garde painting, or even a spark that ignites an entirely new artistic movement, the potential is limitless – and it lies in the hands of the Artists that are for Obama.
Reach Contributor Lugene El-Harazi here.