Politics
On To The Next One: Politicos Gear Up For DNC 2012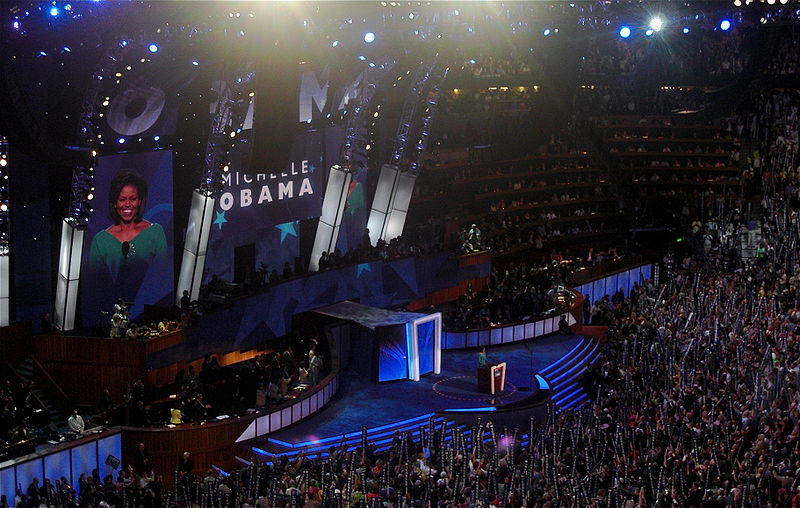 With the Republican National Convention in the rearview mirror, Democrats are ready for their turn. The convention kicks off Tuesday with speeches by first lady Michelle Obama and the keynote speaker, Mayor Julian Castro of San Antonio.
The New York Times' Caucus blog, in its roundup of the DNC schedule, called Wednesday "attack night." Senate hopeful Elizabeth Warren is expected to speak, as is former President Bill Clinton.
VP Joe Biden will take the stage Thursday just before President Barack Obama makes his appeal at 10 p.m. for four more years.
But some key voices will be noticeably absent from convention festivities this week. Politico pointed out some labor union officials have decided to sit this one out in response to Democrats' choice in convention location—North Carolina is a right-to-work state.
"I think there's going to be just less participation this time; there's less enthusiasm," said Moses Mercado, a Democratic lobbyist who has attended the past four Democratic conventions. "And it's going to be noticeable," he added. "Obviously, they're a big part of the Democratic family; they've always been, and they've played a large role in funding and doing other things at the convention."
Most groups are "focusing resources elsewhere." AFL-CIO President Richard Tumka said in a letter last month to union officials there would be no major monetary contributions to the convention itself or to the host committee.
And Secretary of State Hillary Clinton will also miss out, having left Washington Thursday on a trip timed around the APEC Leaders Summit in Russia. Spokesman Phillippe Reines said it was standard for Cabinet members to avoid partisan functions. The defense secretary and several other security chiefs won't be in Charlotte either, though Agriculture Secretary Tom Vilsack and Education Secretary Arne Duncan will attend in an "unofficial capacity."
During a rally in Ohio, Republican candidate Mitt Romney was blasé about buzz surrounding the upcoming Democratic affair. "It's not going to be as happy as ours was," he said during the campaign stop with Sen. Rob Portman and House Speaker John Boehner.
Later, Romney raised several of the themes from his convention speech to the crowd of several thousand in the central terminal, arguing that President Obama had failed to deliver on promises made to the American electorate four years ago.

"He made a lot of promises and I noted that he didn't keep a lot of promises," Romney said. "One of the promises that he made was that he was going to create more jobs and today 23 million people are out of work or stopped looking for work or underemployed. "

On the day when college football kicked off around the country, Romney compared the president's record to that of a sports coach. "If you have a coach that is zero and 23 million, you say it's time to get a new coach," he said to loud applause. "It's time for America to see a winning season again and we're going to bring it to them."
Romney saw a bump in popularity just after the Republican convention last week, but according to a Reuters/Ipsos poll, the trend might be "short-lived."
So what's left for Obama to do this week on the national stage? According to The Associated Press, holding steady will continue to be the key campaign strategy.
"This Thursday, I will offer you what I believe is a better path forward, a path that grows this economy, creates more jobs and strengthens the middle class," Obama said Saturday in Des Moines, Iowa, previewing his pitch. "And the good news is, you get to choose which path we take."

While Democratic loyalists will fill the stadium where Obama accepts the nomination Thursday night, the president's target audience is the small sliver of undecided voters in battleground states who will be critical to the outcome of what polls show is a tight race with two months to go. His campaign also will try to revive some of its insurgent, grassroots appeal from 2008 by using technology to let people participate in the convention. That effort also will help Obama's team collect more data on voters.
Celebrities and average Twitter users gave into speculation, wondering via Tweet what Obama and Friends might do to top the RNC spectacle.
See Neon Tommy's coverage of this year's RNC here, and check back this week for more on the Democrats' turn.
Reach Executive Producer Catherine Green here; follow her here.