Technology
New Fight On Marketing Between Samsung And Apple
While Samsung has lost the latest lawsuit with Apple over patent infringement and was ordered to pay 1 billion dollars to its competitor, the fight between these two leading giants on this lucrative high-tech market has not stopped.
Last week, Samsung extended its marketing campaign for Galaxy S III, obviously targeting at the new-released Apple iPhone 5. The campaign included ads in print, television, online and also outdoor areas.
First came the print ad in newspaper on Sep. 9, days before Apple introduced iPhone 5. The ad features an image of an iPhone on the right side and a white Galaxy phone on the left side under the headline "It doesn't take a genius", in a swipe at the "genius" – customer service employees who offers help in Apple Store. By comparing the feature lists, Samsung draws attention the features of the Galaxy phone which the iPhone doesn't have, such as NFC capability and a removable battery, but fails to mention the features unique to iPhone 5, such as iCloud integration. At the bottom of the ad, Samsung uses a similar conception as in last year's promotion for Galaxy S II. The tagline "The Next Big Thing is Already Here" claims that the updated features of iPhone 5, which have been available on Samsung Galaxy S3 for months already, are just wine-in-a-box.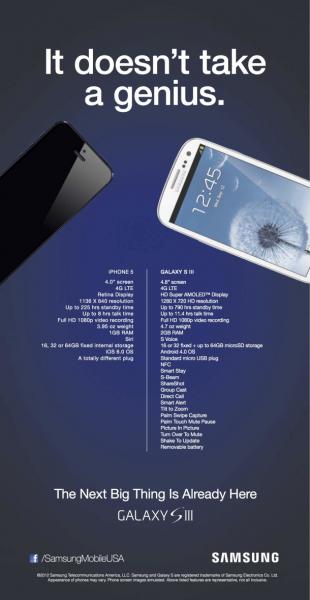 The same attack appeared in the following TV commercial, in which the South Korean company pokes fun at iPhone fans that line up in front of the retail stores for the new device while the Samsung owners appear to show off their fancy Galaxy S III with all the new features already. Mentioned are features like new dock connecter, larger screen size and file sharing function. One detail in the commercial that one individual saves the spot actually for his parents especially mocks the iPhone lovers as old-fashioned generation.
This aggressive campaign has been discussed heatedly since its appearance. Some speak highly of it for the effective
highlight on key differences
between the two smart phones that customers really care about.
The smart use of humor also takes the edge off the competitive attack
. However, others believe that the action of Samsung to insult iPhone users is a stupid mistake, which will infuriate their potential buyers and even estrange the company further from the group of people it is trying to seduce. "Because these fans identify themselves so closely to the brand that they feel that Samsung is not only attacking Apple, but they feel like they are being personally attacked as well," said
Tom Denari
, the president and a principal at the advertising agency Young & Laramore.