National
National Voter Registration Day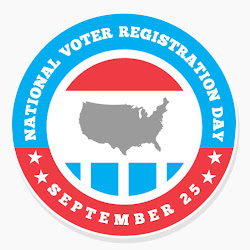 Tuesday, Sept. 25, marks National Voter Registration Day, a day where everyone is encouraged to, as the name would imply, register to vote.
Every year, many voters are either confused by the process of registering to vote, or simply choose not to put in the effort to do so. Voting has been made simpler in response to such problems, yet there continues to be a need for awareness.
A quote from the official homepage: "We want to make sure no one is left out. On September 25, 2012, volunteers, celebrities, and organizations from all over the country will hit the streets for National Voter Registration Day. This single day of coordinated field, technology and media efforts will create pervasive awareness of voter registration opportunities -- allowing us to reach tens of thousands of voters or more who we could not reach otherwise."
According to the Los Angeles Registrar-Recorder/County Clerk (RR/CC), "an unprecedented series of events will take place around the Los Angeles County in support of National Voter Registration Day. The day kicks off with a press conference at California State University, Los Angeles at noon PST with Los Angeles County Registrar Recorder/County Clerk, Dean Logan and Taboo of the Black Eyed Peas. Following the press conference is an event featuring California Secretary of State, Debra Bowen, Assemblyman Mike Feuer, guest celebrities, and a constant flow of local artists and deejays.
Furthering the reach across L.A. County, volunteers will be staging a 'ride along,' registering voters on Metrolink light rail lines and at Union Station.
Events will lead into the evening with Maya Jupiter headlining the NVRD Party in the Park at L.A.'s own MacArthur Park beginning at 6 p.m. Food vendors and local artists will be on hand."
While many of the celebrities who are in support of the cause have yet to be announced, many well-known stars have been vocal about their support for the occasion, trying to encourage many of their fans to be sure and cast their ballot when the time comes.
Some of the events happening in LA will be taking place at USC Alumni Park, Sony Pictures Studios, and Paramount Pictures, as well as many other locations.
To learn more about the situation, check out the main site: http://nationalvoterregistrationday.org/
To locate events in your area: http://events.nationalvoterregistrationday.org/events
Reach Executive Producer Eric Parra here.