MLB
National League MVP: Ryan Braun, Buster Posey, or Andrew McCutchen?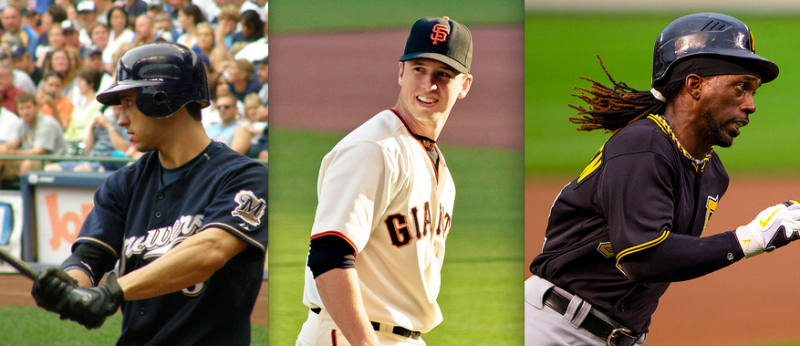 In a National League with no clear "best team," it seems only fitting that there is no unanimous choice for NL Most Valuable Player. There's no Barry Bonds belting 73 home runs, no Albert Pujols posting a monstrous 1.100 OPS.
Whoever wins the award certainly won't be a unanimous selection; the top candidates are separated by inches instead of miles. Using Baseball-Reference's Wins Above Replacement stat, there are five players worth between 6.5 and 7 wins this season.
Our writers picked three of those guys, all of whom have strong claims for winning the MVP award.
Evan Budrovich says it is Brewers left fielder Ryan Braun
The case for Braun for NL Most Valuable Player is simple: he has silenced the critics this season and is performing at a rate similar to his 2011 MVP campaign. The reigning NL MVP has belted 41 home runs, while driving in 110 runs. These numbers are quite comparable to 2010, where he blasted 33 home runs while driving in 118.
Steals, average, walks, runs... you name it and Braun's numbers are seemingly identical to last season. Plus, Braun leads the NL in home runs, slugging, OPS, and RBI, while he is also fifth in batting average. Not to mention Braun's ridiculous performance in the second half of the season, which puts Braun as the clear NL MVP.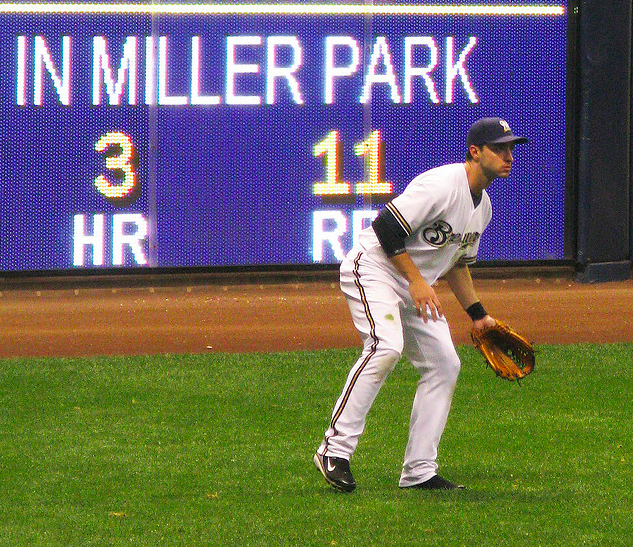 Since the All-Star Break, Braun has been hitting .331 with 16 home runs and 47 RBI in only 260 at-bats. Braun has also been hot at the right time for the Brewers, who are one of the hottest teams in baseball.
Milwaukee was 12 games under .500 on August 19 and are now still alive in the Wild Card race largely in part due to Braun's effort. Braun's 6.9 wins above replacement in 2012 is a bit down from 2011, but there are still a few games left to add to that mark.
Also remember that Prince Fielder left town for Detroit last offseason, leaving a huge whole in the middle of the lineup. Aramis Ramirez has been a solid piece, contributing over 100 RBI this season, but lets not mistake the power and protection Fielder provided.
Plus, Braun has gone through a tumultuous offseason in which he fought Major League Baseball over a drug test that proved he consumed HGH. Then he backed up his appealed innocence by playing at an MVP level in a relatively quiet fashion.
Another factor that supports Braun's case is his ability to hit on the road, especially with runners in scoring position. An MVP takes over games with his bat and glove in tight situations, and Braun has come up huge for Milwaukee time and time again.
Braun is hitting .321 on the road and .303 with runners in scoring position. In order to win the MVP, you must hit in clutch situations, and carry a team down the stretch while battling extreme adversary on a winning ballclub.
Braun perfectly embodies this description, regardless of if the Brewers catch the Cardinals or not. Let's look at the actual description of MVP: most valuable player. Without Braun, the Brewers would in the dump as one of the laughing stocks of the league with no superstar.
This Brewers team also loves having Braun in the lineup, due to the fact that he is anchoring the top scoring offense in the National League. If you want runs and production, Braun is providing these MVP-caliber statistics plus much more for his team.
-------------------------------------------
Ann Frazier says it is Giants catcher Buster Posey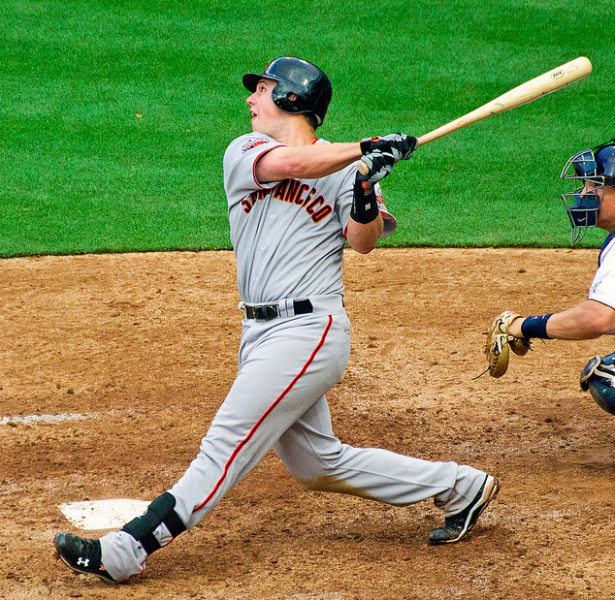 In 2011, there were questions as to whether or not Buster Posey would ever be able to play baseball at a high level again after suffering a horrific injury in a home plate collision.
In 2012, Buster Posey is having one of the best seasons by a catcher ever.
Needless to say, Buster Posey should win National League MVP.
Posey is in the top five of nearly every significant individual offensive statistic, including being a legitimate contender for the batting title. All this while playing and excelling at catcher, the most physically demanding position in baseball.
First, his traditional statistics: Posey is hitting .333/.405/.539 (average/on-base/slugging). Among qualified batters in the National League, he only trails Andrew McCutchen and Ryan Braun in slugging percentage. That's it. He is the league leader in average and on base percentage. These numbers become even more impressive when his position is taken into account - catching has traditionally fatigued players and reduced their offensive output.
The sabermetric stat OPS+ is where Posey really shines. As it standardizes OPS (on-base plus slugging) to account for park factors, it does not penalize players who play in pitcher-friendly environments. Because of this, Buster Posey has an OPS+ of 170, which leads all of Major League Baseball.
To put it in perspective, there have only been three catchers in the history of baseball who have had a 170 OPS+ or above. They are Mike Piazza, Joe Mauer and now Posey.
While his overall numbers are rather impressive, it's his post-All Star Break numbers that really shine. His slash line is .380/.453/.633; Posey's stats have improved in a part of the season when catchers' legs often become fatigued. His OPS+ is even more impressive: 202. Over a full season, that would be tied for 48th all-time and first among active players.
This second half surge also coincides with teammate and All-Star Game MVP Melky Cabrera's 50-game suspension. Posey raised his game when the team needed him most; when the only other consistent source of offense was removed from the team. After the suspension, the Giants went 27-11 and won the NL West easily. And it was Buster Posey's bat and glove that led the way.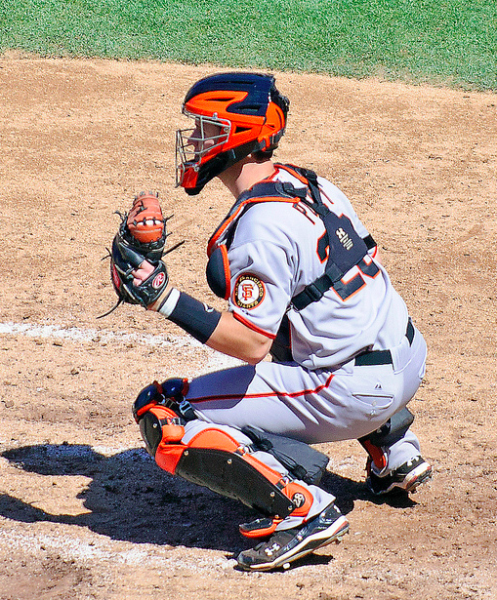 The award isn't simply the most valuable hitter, but the most valuable player. Buster Posey also ranks as one of the best defensive catchers in the league. He has logged almost 950 innings at catcher, and 200 more at first base, on what manager Bruce Bochy deems his "days off." In that time, he has a fielding percentage above .990 in both positions, rarely making errors.
He throws out 30 percent of the runners attempting to steal on him, and this is with the infamously slow and methodical Giants pitchers on the mound (Tim Lincecum is notorious for forgetting to check the runner while in the stretch). As a catcher, Posey is also in charge of calling and framing pitches, something he does exceptionally well. Matt Cain credits Posey's pitch calls as a big part of his record-tying 14-strikeout perfect game.
Normally, I would include an argument about WAR, or Wins Above Replacement, which attempts to measure how many wins a player is worth to their team. However, the organizations that calculate WAR (FanGraphs and Baseball-Reference) have admitted they have trouble quanitifying catcher defense, which means that overall WAR is all but useless for catchers. Offensively, Posey has 6.7 WAR, which ranks second in the NL behind McCutchen.
People may argue for Ryan Braun or Andrew McCutchen over Posey. Both lead Posey in power numbers, but neither of them have to play most of their games in AT&T Park, which has become death to home run hitters. Both also trail Posey in the other two parts of a traditional slash line. McCutchen's defense was below replacement level by some metrics.
There's also the small matter of neither McCutchen's Pirates or Braun's Brewers making the playoffs this season. While Posey was leading the Giants to the playoffs, the Pirates were eliminated from the playoffs and will likely finish under .500 for the 20th straight year, continuing a U.S. major sports record. The Brewers, while not officially out of the race at this point, are four games back of the second Wild Card, with two teams in front of them. They have only a 4.4-percent chance of making the playoffs.
Barring an absolutely outstanding season, a player on a non-playoff team will not win the MVP. It is hard to justify awarding a player the Most Valuable Player award when they weren't able to lead their team to the playoffs; how can they be the most valuable player if they didn't afford their team a chance to win the World Series? If the Pirates made the playoffs, McCutchen would likely be MVP (although it would mostly be because the Pirates finally broke their streak). As it is, there are three players who have very similar numbers and offensive value, and only one of them is headed to the playoffs.
That is why Buster Posey is the National League MVP.
-----------------------------------------
James Santelli says it is Pirates center fielder Andrew McCutchen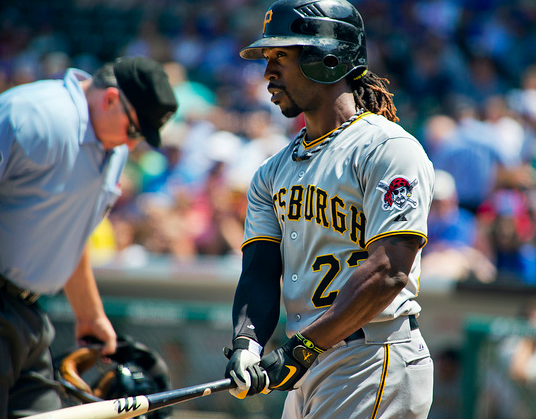 Amid a breakout 2012 season, McCutchen has become the best all-around player in the National League.
Hitting? He leads the NL in hits, and has been neck and neck with Posey for the best on-base percentage in the league. McCutchen brings both dynamite plate discipline (10.3-percent walk rate) and the ability to drive pitchers batty by spraying the ball to all fields. When you are hitting in front of power bats like Garrett Jones (25 HR) and Pedro Alvarez (30 HR), getting on the basepaths is paramount. "Cutch" has done so better than anyone else.
Power? You may not expect it from the 5-foot-10, 185-pound center fielder, but he has become one of the league's top sluggers. He won't win any home run derbies, but he became a 30-home-run hitter this season, along with being in the Top 10 in the National League for overall extra-base hits. And he is doing it while playing half his games at pitcher-friendly and right-handed-hitter-unfriendly PNC Park.
Speed? The 25-year-old McCutchen has been among the fastest and most opportunistic baserunners in baseball. He leads baseball in taking two or more bases on a teammate's single (42). And if offense is all about the ability to score runs, when is the last time you saw someone score from second base on an infield single?
Fielding? McCutchen has been an effective center fielder, the most important position in the outfield. No one will confuse him with Torii Hunter, but don't underestimate the importance of a steady young center fielder, especially in a spacious outfield like Pittsburgh's. Advanced stats like Ultimate Zone Rating may not like him, but keep in mind that UZR and similar metrics are not very reliable to judge even a full season's worth of defense.
In every other aspect of the game, McCutchen has shined. And perhaps most importantly, he has been more valuable to the Pirates than any other player has for his respective team. McCutchen has produced 19.5 percent of his team's offense this season (using Bill James' Runs Created stat), the highest percentage for any player in baseball.
Although the ballot clearly states, "The MVP need not come from a division winner or other playoff qualifier," let's address the elephant in the room anyway. The Pirates' collapse since the trade deadline has nothing to do with McCutchen. Just look at his strong .894 OPS in the month of September. The Pirates' missing the playoffs has everything to do with the poor play of others, the injury to second baseman Neil Walker and the 4.72 ERA of the pitching staff since the trade deadline.
If you want to blame Cutch for not taking the mound himself or performing surgery on Walker, so be it.
He has done what he can. McCutchen demonstrates the "general character, disposition, loyalty and effort" listed at the top of every MVP ballot. Even in just his third full season with the Pirates, he has become a bona fide team leader. And don't bother trying to find examples of McCutchen sulking or bringing down his teammates; it doesn't happen.
Were it not for Andrew McCutchen, the Pirates would not have even sniffed the pennant race this season. Taking every pillar of the game into account, he is simply the man we are looking for: the most valuable player in the National League.
Who do you think should win National League MVP? Make your pick in the comments below.