International
Mexico Captures Zeta Capo 'El Taliban'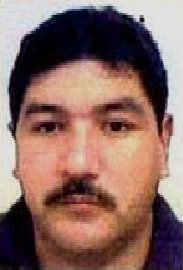 Mexican forces presented senior
Zeta cartel
leader Ivan Velazquez Caballero, most commonly known as "El Taliban", to the media Thursday, one day after capturing the 42-year-old drug lord who according to the navy, had been involved in a bloody intra-gang dispute.
According to the Mexican navy, Velazquez Caballero had been involved in the power struggle between old boss Heriberto "Z-10" Lazcano Lazcano and usurper Miguel "Z-40" Trevino Morales for control of the cartel's business. According to the BBC, this split is believed to have been confirmed by the brutal murder of 14 cartel members in the city of San Luis Potosi last month. Internecine battles within Los Zetas, who control much of northeastern Mexico, have been behind a recent spate of violence, as the AFP reports:
"Authorities have attributed a series of murders near the US border in recent months to disputes among the Zetas.

Two weeks ago, 16 bodies were found in the border city of Nuevo Laredo, the main land route for Mexican exports to the United States. Nine of the bodies were hanging from a bridge, with messages from Zetas-linked gangs accusing each other of treason.

A navy source, who requested anonymity, told AFP that Velazquez Caballero had approached Gulf Cartel leaders to seek an alliance against Trevino Morales.

The weekly magazine 'Proceso' has reported that Velazquez Caballero had posted online videos accusing Trevino Morales of betraying some of his lieutenants and ratting them out to the authorities. The accusations were repeated on signs put up in various northern cities."
The tenuous security situation in the Mexican-American borderlands has not only claimed thousands of lives, but as the Houston Chronicle reports, it has stunted the growth of Mexico's shale gas industry—potentially sabotaging a major economic opportunity for the country to create jobs and improve its infrastructure, including law enforcement.
Mexican president Felipe Calderon has waged an active military campaign against the three major drug cartels: Los Zetas, the Gulf cartel and the Sinaloa cartel. Despite capturing the Gulf cartel's alleged kingpin and another senior officer this month, the campaign is largely acknowledged to have not made Mexico any safer, and Calderon may just be trying to wrap up his term, which ends in December, with a cosmetic flourish.
Voters in Mexico threw Calderon out of office in what was largely seen as a referendum on his war on drugs. As the AP reports, this week at the United Nations, President Otto Perez Molina of Guatemala, another nation ravaged by drug gang violence, advocated the international legalization of drugs, saying that insatiable United States demand has made it the only realistic option for Latin American countries who are legitimately outgunned by criminal cartels. The Mexican navy will celebrate the capture of "El Taliban", but even as a boss, he is a very small cog in a multinational machine.
Reach Executive Producer Matt Pressberg here.