Los Angeles
Latest Metro Expo Line A Sluggish Disappointment For L.A. Commuters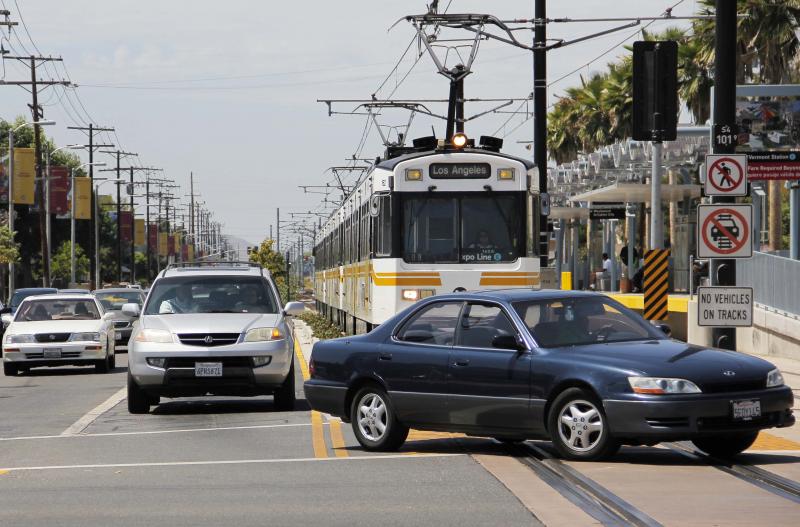 For many residents who take Metro's newest light-rail train that runs from downtown Los Angeles to Culver City, the
Expo Line
is a godsend. But for those who gave up their cars and bikes, eager for an alternative to driving, the new line is a slow-moving disappointment because the trains have to stop at traffic signals just like a bus.
"I wish it were faster," said Kyle Scanlan, a UCLA doctoral student studying mechanical engineering. "If it was below or above grade, you know, not at street level where there are certain intersections where you have to wait for cars, it would be a lot faster."
But even street-level trains aren't supposed to be stopped at traffic lights as if they were buses on rails. Mayor Antonio Villaraigosa's office acknowledged the problem and issued a statement saying it's working with the state Department of Transportation and Metropolitan Transit Authority to keep the lights green for both the Expo Line and the Gold Line Eastside extension, which opened on Nov. 15, 2009 but continues to be dogged by signal issues.
"Upon hearing complaints after the Expo Line opened, the Mayor's Office, Metro and DOT began working on a path forward to better signal timing," the statement said. "The agencies are piloting new signal phasing on the Expo Line and the Gold Line Eastside to develop a fully implementable plan that will provide faster and more reliable train service. This testing is happening outside of regular service hours so as to not inconvenience riders."
It's unclear how long it will take for the signals to be fully synchronized and allow the trains to reach full speed on its journey. The Expo Line is scheduled to go between Los Angeles to Culver City in 29 minutes, but arrives at stations a few minutes earlier or later because of the several stops that occur in between. Train operators also slow down at their own discretion at certain intersections and sections of the rail. Meanwhile, riders like Scanlan know the train can go a lot faster.
"It's possible for [the trains] to never have to stop, unless there's someone on the tracks that shouldn't be, if they make it a priority," said Scanlan, who called himself a technophile.
According to a LADOT engineer who worked on the signal timing for the Expo Light Rail, the train uses both signal priority and signal preemption. Signal priority is a type of operation that attempts to hold a green light longer or give a green early, but is limited to field conditions at that time and is not guaranteed. Signal preemption guarantees the train will not have to stop but it is limited to intersections with crossing gates.
Roberto Orozco takes the Expo Line regularly to work and said the only things remotely consistent about the train are the slowdowns for traffic lights.
"Sometimes the train stops or slows down from USC to downtown. Like right now, it's like a cruise," Orozco said. "From Vermont to Culver City, it's very fast. But from Pico to Jefferson it's slow."
Metro spokesman Marc Littman said it could be months before the ride becomes as fast as possible.
"We don't control traffic lights. Safety's first," Littman said. "We are working on giving trains a little more priority but don't want to create a situation where cars are backing up at intersections."
Similar delays caused by traffic signals kept the Gold Line from reaching its top speeds when the L.A.-Pasadena line opened in 2003.
"For the Gold Line, we eventually shaved six to seven minutes off but it didn't happen overnight," said Littman, who could not give an estimate for when the issue with the traffic lights and Expo operation would be better synchronized. "It's complicated. We're working with LADOT so our trains aren't stopped at so many lights but, at the same time, we must make sure we don't delay cross traffic at the intersections."
Dan Rosenfeld, senior deputy to L.A. County Supervisor Mark Ridley-Thomas, said of the Expo Line's issues, "The supervisor believes the community outreach process within the [MTA] was not as thorough and inclusive as it should've been. Greater public participation might have prevented some of the controversies that later ensued."
Although the changes have yet to be seen, riders with more open-ended schedules like Bryant Garth, a law professor at Southwestern Law School, said the inconsistent timing isn't an issue.
"One of the reasons why I moved to Culver City was because I knew this line was coming, and it's worked out fine. I have a flexible schedule so I don't have to look at the timetable," Garth said.
"My experience has been positive," James Conroy said. "Generally around the freeway corridor, the trains don't have the right of way there. I'm fine with that for now. I just have to time myself accordingly."
The opening of the Expo Line added 10 stations to L.A.'s existing 70-station Metro Rail system and over 87 miles of rail destinations across the county. According to the latest American Public Transportation Association report from the fourth quarter of 2011, L.A. ranked as the third busiest rapid transit system in the U.S.
Generating stronger interest in public transportation could give voters more incentives to push for the necessary funding to complete other projects.
Editor's note: The original version of this article stated L.A. had the ninth busiest transit system in the U.S. In fact, it is the third busiest when public transit buses are included.