USC Sports
Lane Kiffin On USC Football Getaway Day: Trojans Are "All Business"
In baseball, the term is "getaway day," playing a game in the afternoon and getting on a plane to the next city shortly thereafter.
For Lane Kiffin's USC football team, it was a getaway morning practice that leads to a unique situation: the Trojans will arrive in New York a full two days before their game against Syracuse at The Meadowlands.
"We'll maximize the time we have with our players, get them ready to go play a game," said the USC head coach.
The Trojans will conduct a walk-through at MetLife Stadium on Friday afternoon, the first such practice since Kiffin became head coach.
Often a baseball team may look sloppy in the getaway game on a travel day, but Kiffin did not seem too concerned.
"Lot of cleanup done today in all three phases of the game," Kiffin said after Thursday's practice. "We still have a lot of work to do and a lot of time left before the game."
SCOUTING SYRACUSE
Kiffin heaped the compliments on Orange senior quarterback Ryan Nassib, who was 25-of-37 for 230 yards against USC's defense last season at the Coliseum.
"Really, really good, extremely efficient, makes a ton of plays and is not making any mistakes," Kiffin said of Nassib.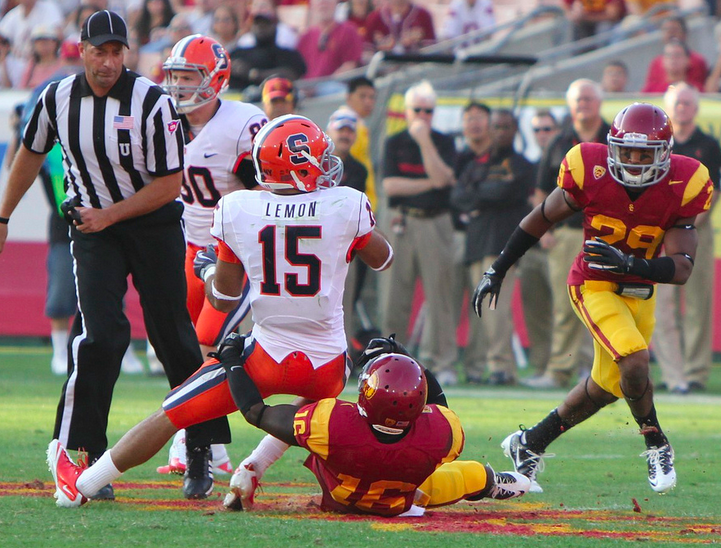 So how do you limit Nassib and a Syracuse offense that posted 470 passing yards last week in a loss to Northwestern?
"I think getting them in some third-and-longs," Kiffin said. "He's so efficient, whether he is completing balls or whether he is not taking some sacks. We have to find a way cover their guys, get a rush and get them into some third-and-long situations."
And Kiffin realizes he is still playing plenty of inexpereienced players, who will be tested.
"Even though we played a lot of guys last week, I believe this opponent is going to put more stress on us in certain areas. So we'll have to see how they react," Kiffin said. "We still have a lot of young players that haven't played a whole lot."
ON THE ROAD AGAIN... SORT OF
The Trojans will play their first game outside of the Coliseum, but it's not exactly a road game at New Jersey's MetLife Stadium. The game will be USC's first neutral-site game under Kiffin, and a four-hour drive from Syracuse University.
"Normally it takes out a crowd factor because the crowd's mixed... more Syracuse than SC," Kiffin said. "But I think you would also have another third that's going to the game just for the event, not necessarily for one side. So I wouldn't think crowd noise will be a factor."
And the head coach thinks his young players will adjust to the change in atmosphere.
"We do have some senior leaders, some veteran leaders, for them to learn from," Kiffin said. "And it's not about where you play, it's about playing really well regardless. That's our mindset.
"Our guys understand this is all business."