USC Sports
Hayes Pullard's Intensity, Modesty Critical To Success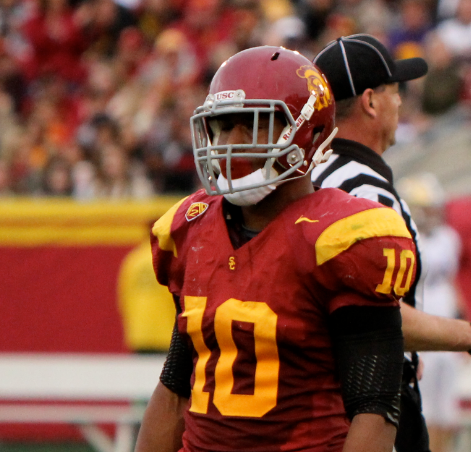 Upon first watching Hayes Pullard play linebacker, one thing surely sticks out: his relentlessness. The redshirt sophomore linebacker from Crenshaw -- birthplace of Ice Cube and Ice-T -- is the standout linebacker in USC's formidable all-sophomore trio.
But talking to the 20-year-old gives a different impression of the young man. He's very quiet and humble, speaking with an almost southern drawl, even though he's from an L.A. neighborhood not even five miles southwest of campus
It's not that he's just coming into his playing peak. He's quickly become a prominent leader on the defense and the team.
"Hayes is becoming a vocal leader," fellow redshirt sophomore linebacker Dion Bailey said of Pullard, even naming him first when asked about defensive leaders, ahead of co-captains T.J. McDonald and Nickell Robey. "He's more of a lead-by-example type of guy but taking on the Mike, he has to become a vocal leader."
"I never saw myself as a leader [on the team]," Pullard said. "Inside, I saw myself as a leader, but we have guys like Matt Barkley, T.J., Nickell; they've all played way more games than I have. I just try to come to summer camp and fall camp and work hard as heck and be the first one to the ball, and be able to set the tempo for everything, so I can become a leader like them, so people can watch me as I grow."
As a generally soft-spoken guy, was that unnatural?
"It was," defensive coordinator Ed Orgeron chuckled. "I think Scottie Hazelton, Monte Kiffin's done a good job coaching that guy and getting him along. But he earns respect by the way he plays, and that's important to everybody."
Speaking of letting the play speak for itself, Pullard's breakout performance was last year's Oregon game. He compiled 14 tackles, two sacks and a forced fumble in the Trojans' 38-35 upset in Eugene, where he exhibited his trademark fervor. In 2012's season opener, Pullard excelled in making big plays, as evidenced with his interception that he returned for a touchdown (see below). He traces his fire back to his pre-USC days.
"Ever since high school, [Crenshaw head coach Robert Garrett] used to tell me on the field, 'just play with the brother that's next to you.' Just go out there and play fast," Pullard said.
Not only did Garrett influence Pullard, but as did his namesake, Hayes Pullard II. Hayes Jr. wanted the younger Hayes to attend USC before the former's death in October 2008. Though a few teammates committed to UCLA, Pullard III followed his father's dream and selected to join the Trojans, where he keeps his father's lessons in his heart.
"Every time I touch in between the lines on the grass field, just go 100%, 110%," Pullard stated. "In my head, [that voice] is always saying, 'you'll only get better.' Something inside me, my heart, says, 'Keep going. You'll always get better, because in the end, you'll be a champion.' "
And his hard work and dedication are certainly not lost on his coaches.
"Hayes has had a great camp and great practice," head coach Lane Kiffin said. "He's always first guy in there, last to leave. He's doing a great job."
"[He's a] strong kid, tough," Orgeron said of Pullard. "I like that he's from here; it means a lot for him to play at USC. Great family, big recruiting battle for us, and I love to see those kids have that success."
The ninth of ten children, and the son bestowed with his father's name, Pullard had to grow up strong.
"Being the baby, everyone looked up to me because I was the third – I'm the one that got my dad's name," he said. "I was just like him: body type, acted just like him. So when I was growing up with him, I saw him doing great things, and I just wanted to follow in his footsteps and actually be better than he was."
Orgeron praised Pullard's attention to detail and his academic accomplishments as well as his upbringing, citing it as a reason that has made him into the man and player he is.
"Hungry, very humble, smart kid, raised right: All those attributes contributes to his success," Orgeron detailed.
Last season, Pullard was the recipient of the Bob Chandler Award, which recognizes an underclassman for their performance on the field and in class. Not surprisingly, Pullard pushed for it all last season.
"It was great to win that award. I was so happy," said Pullard.
"They just explained the humble and the scholarly and skillful player on and off the field," Pullard further explained. "I took pride in that all year – I actually wanted to win that award, 'cause I want to be a person that they look at on and off the field as the same person, a person that's humble, that goes out there and works hard."
Before the season, Pullard's name appeared in Butkus Award and All-American discussions. Did that psych him up?
"We don't read our own press," Pullard answered, dousing the hype. "We come out here and get better on the field. I want to be able to go out there and play as fast as possible."
Hayes Pullard expects the best from himself due to his fierce competitiveness and humility. No more, no less. And really, what more could one want from an athlete, student or friend?
Well, if you ask Pullard, he wouldn't say anything more.