USC Sports
Five Things You Should Know About Syracuse Football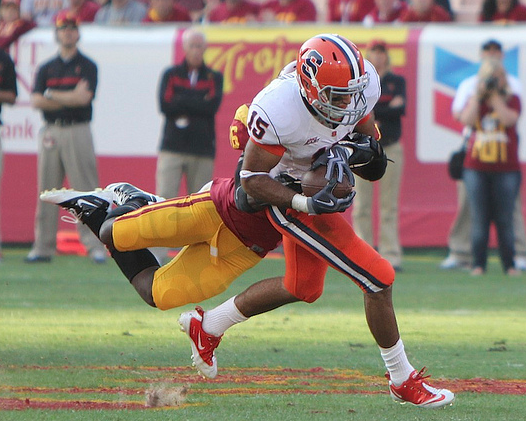 As USC readies to take on the Syracuse Orange Saturday night (3:30 pm eastern time),
Brent Axe
of The Score 1260 and
Syracuse.com
spoke with us about the team and its upcoming matchup with SC.
1. Syracuse's Game 1 Rust and Resilience
According to Axe, Syracuse fell behind, 35-13, last week mainly because of one costly turnover (Northwestern returned a loose backwards pass, one that the Orange incorrectly treated as an incomplete pass) along with a slew of special teams mistakes. However, the Orange got back into the game and nearly completed a historic comeback by victimizing the Wildcats' poor secondary. Whether Orange quarterback Ryan Nassib completed long passes, short-to-medium ones or simply drew defensive pass interference penalties, Northwestern had no answer for Syracuse's passing attack.
2. Scouting the Orange's Defense
The Orange are a deeper defensive team than they were a season ago. The pass rush has particularly improved now that Syracuse boasts more speed up front. The linebackers are young and athletic, but they still need to prove that they can drop back and cover some of the speedier guys on the field, especially given USC's offensive depth. The secondary is also young. For example, Axe believes sophomore cornerback Brandon Reddish can be a pro some day, but at this point in time, he remains very raw.
Brent Axe Preview Syracuse-USC Football by Neon Tommy Aaron
3. Defensive Approach Against Barkley and the Trojans
Although Axe is not sure many teams in the country can contain the Trojans' explosive offensive attack, he suspects that Syracuse will be aggressive with its pass rush. He argues that Syracuse doesn't have the personnel to sit back in the dime or nickel coverage. Also, doing so would allow Barkley to pick apart Syracuse's secondary. Scott Shafer, the team's defensive coordinator, runs an aggressive defense anyway, so expect to see some pressure Saturday night. Quick linebacker Cam Lynch is one guy to keep an eye on, according to Axe. Although he doesn't get on the field a whole lot, in certain packages, Lynch really likes to rush quarterbacks.
4. Nassib Isn't Much Of A Deep-Ball Threat
The senior quarterback's 482 passing yards last week may be misleading. He's not a quarterback who throws more than 25 yards down the field. Rather, he relies on his receivers to accumulate yards after the catch. Even the statistics show this. Despite completing 68 percent of his 66 attemps against Northwestern, Nassib's passing only gained 7.3 yards per attempt. By contrast, Barkley averaged 9.8 yards per attempt last week even though he completed a lower percentage of his passes (60.5 percent).
5. Talented WR Marcus Sales Returns and Prince-Tyson Gulley May Emerge As the No. 1 Back
After an entire season away from the game (he was facing drug charges that were ultimately dropped), Marcus Sales will be Nassib's primary receiver this season, according to Axe. If the Northwestern game was any indication, Axe could be right. Last week, the senior wideout easily led the Orange with 12 catches for 129 yards and a touchdown.
With the departure of running back Antwon Bailey, a primary running back has not yet emerged, but Prince-Tyson Gulley is Axe's favorite to ultimately come out on top. Gulley appears to have remedied the ball security issues that have dogged him in the past. Against Northwestern, Gulley only got seven carries but made the most of them as he gained 50 yards. He also made seven catches out of the backfield for a total of 46 yards.
I would like to sincerely thank Brent Axe for taking the time out of his busy schedule to speak with us about the upcoming game. Be sure to listen to him on The Score 1260 or check out his work at Syracuse.com.
Reach Senior Sports Editor Aaron Fischman here or follow him on Twitter.