Los Angeles and Region
Farmers Field Gets L.A. City Approval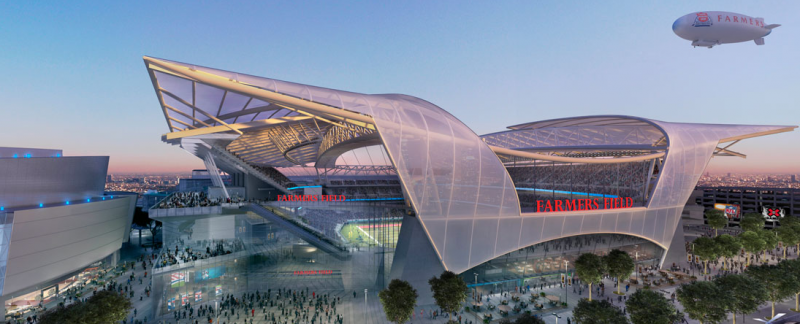 Los Angeles City Councilmembers, giddy and confident, signed off without dissent Friday on design plans and zoning changes that clear the path for Anschutz Entertainment Group to begin building a billion-dollar stadium in downtown Los Angeles near the Convention Center and Staples Center.
"Today we tell Roger Goodell that L.A. is open for business to bring football back to Los Angeles," AEG's Tim Leiweke said at Friday's hearing.
AEG also would use $391 million in bonds -- that the city has said it will not be responsible for paying off -- to build an adjacent events center that would replace the part of the Convention Center to be torn down to make room for the stadium. Construction, which would take about four years, will not begin until AEG finds a team to play in the stadium.
People with concerns about the project will have six months to challenge the project in court once Mayor Antonio Villaraigosa adds his signature to the paperwork approved Friday. Some low-income housing advocates already have sued for changes. And that shorter-than-normal six-month window has been challenged in court as well. Other downtown residents have told the council their worries about increased traffic, light pollution and noise.
Meanwhile, AEG now switches from lobbying politicians to wining and dining NFL team executives to lure at least one team -- and the company hopes two teams -- to move to Los Angeles to play in the potential stadium. AEG faces competition from other L.A. developers hoping to build NFL stadiums as well. NFL Commissioner Roger Goodell has said the league won't allow a team to switch cities until the owners can prove that they have exhausted all options to maintain its current home.
AEG, which is for sale, hopes to have a deal in place within months. Under AEG's best-case scenario, if NFL approved a relocation in March 2013, the stadium likely would open for the 2017 season.
Former Lakers star Kareem Abdul-Jabbar, former USC quarterback Rodney Peete, L.A. billionaire Patrick Soon-Shiong, state legislators, labor union officials and high school football players were among on those hand for Friday's council meeting.
Councilwoman Jan Perry and Villaraigosa have been key actors in discussions with AEG. Perry is running to replace Villaraigosa when he is forced out by term limits next year.
For more about the Farmers Field project, continue here.
Like reporter Paresh Dave on Facebook, follow him on Twitter, circle him on Google+ or send him an e-mail.