Science
Curiosity Finds Evidence Of Water On Mars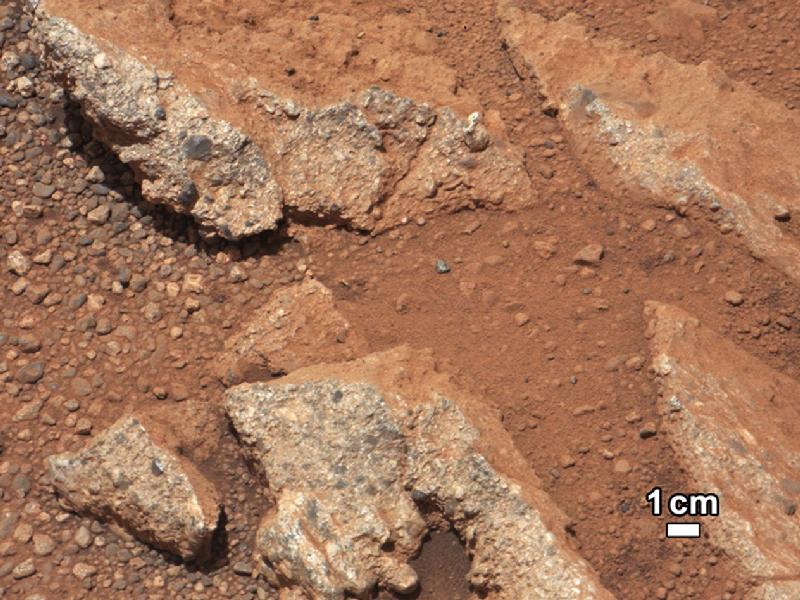 NASA announced Thursday afternoon that the Mars Curiosity rover's landing site, the Gale crater, was once covered by a rapidly flowing body of water that may have reached hip-high.
As SPACE.com reports, NASA determined that large and rounded pebbles found enmeshed together in concrete-like conglomerate rocks could only have been moved across the Martian surface by water currents.
The space agency took a closer look at these rocks after noticing three different groupings that seemed to have been shaped by an ancient stream. Upon investigating further, they found rocks that had been moved long distances with signs of erosion, but were too large and heavy to have been carried by wind.
Furthermore, scientists have observed an alluvial fan above the rover's landing site, which they also take as evidence of a long-term watershed. This discovery was the first ever proof of objects on Mars having definitively been moved by water, as NASA confirmed in its press release.
"'From the size of gravels it carried, we can interpret the water was moving about 3 feet per second, with a depth somewhere between ankle and hip deep,' said Curiosity science co-investigator William Dietrich of the University of California, Berkeley. 'Plenty of papers have been written about channels on Mars with many different hypotheses about the flows in them. This is the first time we're actually seeing water-transported gravel on Mars. This is a transition from speculation about the size of streambed material to direct observation of it.'"
The ancient river flowing through the Gale crater was not only vigorous, but ran for a long time, with NASA making a preliminary estimate in the thousands of years, raising the possibility that it could have once supported life.
While Curiosity chief scientist John Grotzinger described Thursday's announced discovery as "insurance", the rover continues to make deliberate progress toward its principal destination, Mount Sharp, where it will look for evidence of organic carbon that might signal the one-time existence of life on Mars, according to SPACE.com.
Read more of Neon Tommy's coverage of the Mars Curiosity rover here.
Reach Executive Producer Matt Pressberg here.