Sports
Connecticut's Jim Calhoun To Retire After 40 Seasons As Head Coach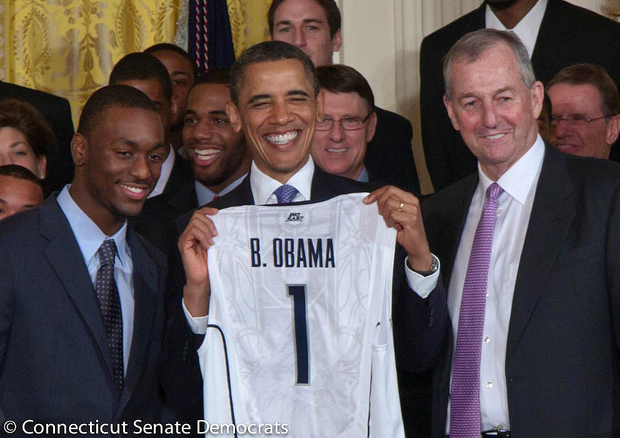 One of the greatest coaches in college basketball history is set to retire from his post as the head of the storied Connecticut program,
according to several reports
.
Jim Calhoun won three national championships and more than 600 games during his 26 years as head coach of the UConn Huskies men's basketball team.
An Associated Press source says the Hall of Fame coach will announce his retirement Thursday. Calhoun, 70, suffered a broken hip last month after falling from his bike. He also broke five ribs in a 2009 bike accident.
In the last three years, Calhoun has twice taken extended medical leaves: He missed seven games in 2010 to treat stress-related problems and took an absence last season due to back issues. He has also survived two bouts of skin cancer, along with beating prostate cancer in 2003.
The final tallies for Calhoun's coaching career include 14 seasons as head coach at Northeastern, a career coaching mark of 873-380 and a record-setting 17 league titles, according to UConn Athletics.
While Calhoun leaves behind a substantial legacy, he also leaves a program that is on probation and ineligible for the 2013 NCAA Tournament. Assistant Kevin Ollie is expected to take over as head coach, following reports last season that he was being groomed for the job. Ollie, a UConn grad, played 13 seasons in the NBA and just finished his second season coaching under Calhoun.
Kevin Ollie will take the reigns at UConn for this season and be evaluated after the season, source told CBSSports.
— Jeff Goodman (@GoodmanCBS) September 12, 2012