Sports
College Football Week 4 - Games To Watch And Predictions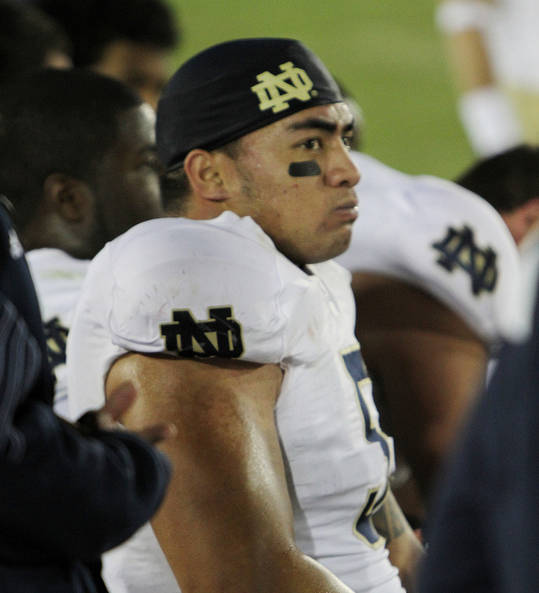 Will USC rebound from its early conference setback against Stanford? Will UCLA continue its impressive start to the season with a win over fellow Pac-12 surprise Oregon State, who also comes into the game with a Big-10 scalp under its belt?
Those predictions are below, plus the always exciting Notre Dame-versus-Michigan game, and some pivotal Big-12 and ACC matchups.
No. 18 Michigan at No. 11 Notre Dame
Fitch: Notre Dame 27 – Michigan 21: With Notre Dame on a roll this season, the team will manage to overcome the Wolverines if they manage to sustain their defense. Even though Jamoris Slaughter, Notre Dame's starting safety, tore his Achilles tendon last Saturday against Michigan State, the Irish will be able to close out a slight edge over the Wolverines.
Fuster: Notre Dame 28 - Michigan 14: Notre Dame is just too hot to be stopped right now. The defense held Michigan State to three points and bagged four sacks as well. Denard Robinson will have some good plays, but he is going to get smack around as the Irish get their first 4-0 record in a decade.
Piellucci: Michigan 35 - Notre Dame 31: I was wrong last week, so I'm doubling down on my prediction of Notre Dame losing to a Michigan school. As skeptical as I was about Michigan being a top-10 team to start the year, I'm even more so about the Irish now and expect Denard Robinson to run rings around an Irish defense short on top-end athletes.
Shapiro: Notre Dame 21 - Michigan 17: Notre Dame will make a statement in South Bend after last year's crushing last-minute defeat to the Wolverines. The Irish defense, led by linebacker Manti Te'o, will find a way to contain Robinson.
Tufts: Notre Dame 31 - Michigan 21: Notre Dame's stretch against ranked opponents started off well last week with a 20-3 thumping of Michigan State. The Fighting Irish defense has been solid in its first three games and needs to remain that way against the ever-dangerous Robinson to come out with a win against their arch rival.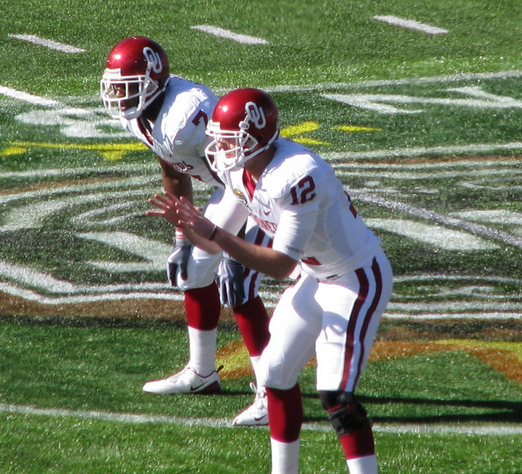 No. 15 Kansas State at No. 6 Oklahoma
Fitch: Oklahoma 28 – Kansas State 24: Known for their running game, Kansas State will have a tough time overcoming the defensive line of the Sooner squad. Oklahoma has won 42 of their last 43 games at home, but this matchup will bring nothing short of a thrilling test of protecting the football and managing the passing game.
Fuster: Oklahoma 31 - Kansas State 24: It's Week Four and the Sooners still have kinks to work out, particularly a thin D-Line wracked by injuries and suspensions. This will keep the game close, but RB Damien Williams will have a big 150-plus rushing-yard day and pull out the game winning touchdown in the fourth.
Shapiro: Kansas State 34 - Oklahoma 31: Kansas State will march into Norman and stun the Sooners, taking control of the wide-open Big 12.
Tufts: Oklahoma 38 - Kansas State 21: Sooners quarterback Landry Jones will set the tempo for this matchup, throwing the ball downfield for a couple early scores. While Oklahoma may run into trouble trying to contain the rushing attack of John Hubert and Wildcats quarterback Collin Klein, the Kansas State passing game won't be able to keep up to speed.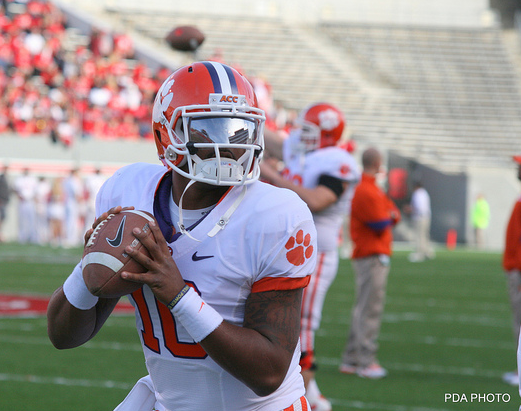 No. 10 Clemson at No. 4 Florida State
Fitch: Florida State 35 – Clemson 24: This is the game to watch this weekend as the Seminoles have the chance enter the driver's seat in the ACC Atlantic. For Clemson, its all about having a strong offensive line and Tajh Boyd having the ability to be versatile when working on getting the ball down field. Florida State, however, will manage to control the Clemson running game and prevent the Tigers from getting the "W."
Fuster: Florida State 34 - Clemson 21: Oh, this is going to be a good game, something that the ACC could really use right now. Quarterbacks EJ Manuel and Tajh Boyd are going to put on a show and both should get good stat numbers this week. However, the Seminoles will pull away in the second half because their defense far outmatches that of the Tigers.
Piellucci: Florida State 41 - Clemson 28: It's as simple as this -- if this is finally the year Florida State lives up to a decade's worth of hype as a national title contender, they win this game. Given how close they kept last year's game against Oklahoma before EJ Manuel went down injured plus the level of talent on the roster, I'm drinking the FSU Kool Aid.
Shapiro: Florida State 31 - Clemson 17: An early season clash with two ACC powerhouses will tilt in the favor of the 'Noles, as the number one defense in football is able to shut down Sammy Watkins.
Tufts: Florida State 45 - Clemson 38: Both teams need this win to legitimize their résumé, as each only plays one other (currently) ranked opponent all year. The Seminoles have not allowed a touchdown yet this season, but expect Tajh Boyd to change that quickly in a high-scoring battle. Florida State has the edge in a close matchup, but an unexpected turnover could easily swing the game.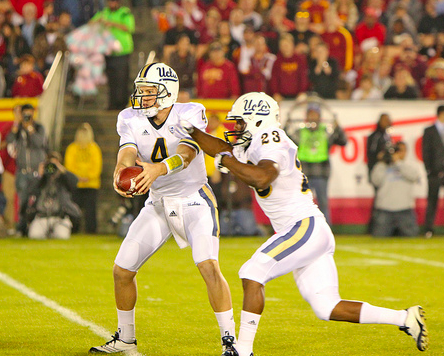 Oregon State at No. 19 UCLA
Fitch: Oregon State 31 - UCLA 28: Both teams have had outstanding starts to the season with the Bruins victory over No. 16 Nebraska and the Beavers over No. 13 Wisconsin. Oregon State needs to have its defense force plays to get the Bruins out of their comfort zone. By controlling the Bruins' running game like they managed to do against the Badgers, Oregon State will be able to bring themselves into the rankings.
Fuster: UCLA 17 - Oregon State 14: The Bruins will get a tougher challenge than they originally expected from a Beavers front seven that held Wisconsin to 35 yards rushing two weeks ago. Still, UCLA quarterback Brett Hundley and running back Johnathan Franklin should be able to improvise when their O-Line is collapsing around them and take advantage of a Rose Bowl crowd more excited for Bruin football than it has been for many years.
Piellucci: UCLA 28 - Oregon State 17: This is the battle of early season surprises in the Pac-12, but more than that, it's another test for young QB Brett Hundley against a surprisingly stout Beavers team that dominated Wisconsin in Corvallis and features the criminally underrated Jordan Poyer in the secondary. Regardless of how Hundley fares, though, UCLA has more horses in the barn than OSU. So as long as he protects the ball, Franklin should deliver the Bruins a comfortable win.
Shapiro: UCLA 17 - Oregon State 14: Franklin runs wild against the Beavers in the Rose Bowl, cementing the Bruins as legitimate Pac-12 contenders.
Tufts: Oregon State 21 - UCLA 14: Franklin is an absolute monster with the ball in his hands, and everyone, including Oregon State, knows it. However, this is the same Beaver defense that shut down Heisman hopeful Montee Ball in a 10-7 win over Wisconsin. If Oregon State can replicate that performance, look for the Beavers to come out of Pasadena with an upset win.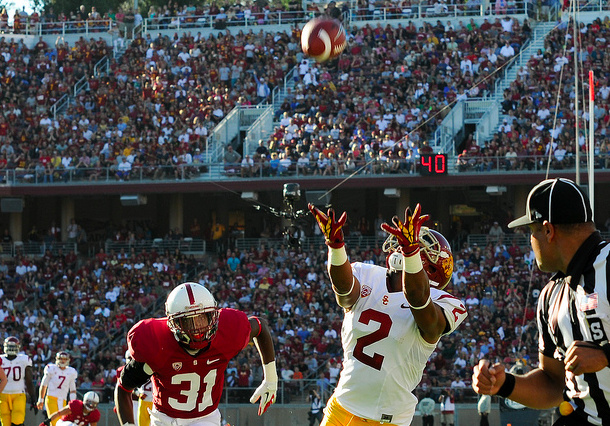 California at No. 13 USC
Fitch: USC 24 – Cal 14: Even though the Golden Bears lost by a narrow margin to the Ohio State Buckeyes last weekend, the Trojans will be able to pull away with a victory with the running game. With Matt Barkley staying on target to Robert Woods and Marqise Lee, there should be little standing in the way of a USC win.
Fuster: USC 35 - Cal 24: It's so hard to tell how the Trojans will bounce back after last week, especially since we may never get a gauge on practices again after Kiffin's little walk-out on Wednesday. I expect USC to get the victory, but the 11-point margin of victory will only come late in the fourth quarter on a Robert Woods TD. Until then, the lead goes back and forth and never gets larger than a touchdown.
Piellucci: USC 42 - Cal 24: The only thing more USC than Saturday's shock loss is the inevitable rebound win. Case in point, the Trojans are 5-1 with an average margin of victory of 17.3 points in the game following their first loss of the season. With or without center Khaled Holmes, expect more of the same on Saturday.
Shapiro: USC 45 - Cal 20: USC will take out their frustrations from last week's loss on an overmatched Berkeley squad. If Holmes is healthy, look for the offense to explode on Saturday in the Coliseum.
Tufts: USC 42 - Cal 20: After losing to Stanford for the fourth straight time, Cal has to be a welcome sight for USC. The Trojans have won eight straight against the Golden Bears going into this matchup, and you better believe Matt Barkley will be fired up. If the offense gets in a rhythm, don't expect USC to sit on a lead; look for Lane Kiffin to build momentum and keep his foot on the gas going into a bye week.