Sports
College Football Predictions - Week Two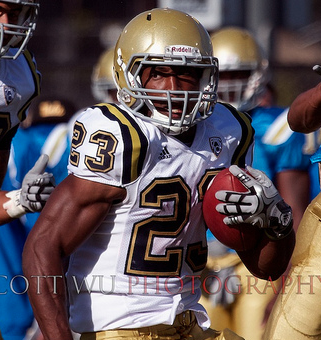 Week two of the college football season once again provides us with some intriguing non-conference matchups, as well as the start of league play for some teams. Let's find out how our writers feel the Pac-12 contingent will stack up against some tough SEC and Big-10 opponents, while also seeing if Texas A&M and Missouri will have trouble adapting to life in the big, bad Southeastern Conference.
Nebraska at UCLA
Trenise Ferreira: Nebraska - Sure, UCLA had a good showing against Rice, but what people seem to forget is that they played Rice! Nebraska easily comes into LA and wins this one. They might be playing without Burkehead (MCL injury), but UCLA's secondary will struggle to contain Taylor Martinez's passes. It won't be close.
Salomon Fuentes: Nebraska 28 - UCLA 13: Jim Mora's crew didn't exactly wow anyone last week in beating the Rice Owls, but they do have a keeper in RB Johnathan Franklin who should be able to get some yards on the ground against Nebraska. Meanwhile, the Huskers are bringing a very balanced squad into Pasadena and if Taylor Martinez can limit his turnovers like he did last week, this game should be a cakewalk for the visitors.
Jeremy Fuster: Nebraska 35 - UCLA 31: With Rex Burkhead still listed as questionable, this game will be very close. Still, the Huskers have enough offensive tools to pull out a victory over a UCLA defense that allowed the lowly Owls to hang 24 points on them last week.
Mike Piellucci: Nebraska 33 - UCLA 21: Lost in the hullabaloo of Brett Hundley's debut was UCLA allowing Conference USA also-ran Rice to put up 24 points on their new 3-4 defense. With or without injured tailback Rex Burkhead, expect Taylor Martinez and the suddenly potent Cornhusker passing game to do a lot more damage.
Jeremy Shapiro: Nebraska 20 - UCLA 24: Jim Mora, Jr. and the Bruins front line find a way to contain Taylor Martinez at the Rose Bowl. Freshman quarterback Brett Hundley will show composure and big-play ability as the Bruins squeak out a signature win to jumpstart the program.
Matthew Tufts: Nebraska 35 - UCLA 21: Nebraska's quarterback Taylor Martinez proved he could use his arm just as well as his feet in a five-touchdown performance last week over Southern Miss. Expect more of the same as the Corona, Calif. native returns home to the Rose Bowl against UCLA.
Washington at LSU
Ferreira: LSU - Though the Huskies bring a talented offense under the leadership of Keith Price, LSU is going to come away with this one. UW will make it a game though; Price is easily one of the most talented QBs in college football and Sarkisian will dial up plays for him to get the ball out quickly and evade LSU's menacing defensive line. They will also try to exploit LSU's inexperienced QB, but in the end, the SEC will prevail.
Fuentes: LSU 21 - Washington 14: Even if Huskies QB Keith Price plays perfectly, there's no chance of Washington coming out of Death Valley with a win. The Tigers are still iffy at QB with Zach Mettenberger remaining an unproven commodity, but he'll have a safety valve in RB Kenny Hilliard, who appears bound for big things.
Fuster: LSU 38 - Washington 14: Keith Price gets a couple of touchdowns against the LSU defense, but the Tigers offense uses their run game to shred the Washington defense. Expect the Tigers to roll and give the SEC fans more reason to gloat.
Piellucci: LSU 45 - Washington 20: Keith Price is one of the country's best at his position and someone who could walk into the fearsome Tigers' starting lineup. Unfortunately for the Huskies, he can't block, catch, rush the passer, and play coverage, too.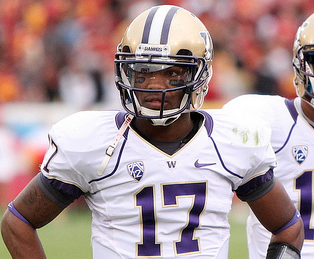 Shapiro: LSU 45 - Washington 24: Facing LSU in Death Valley will overwhelm the Huskies. The Tigers defensive line will set the tone and harass Washington quarterback Keith Price all evening.
Tufts: LSU 24 - Washington 0: Washington faces perhaps the nation's top defense in a hostile environment while starting a young offensive line. LSU won't allow the Huskies in the red zone.
Georgia at Missouri
Ferreira: Missouri - Mizzou is coming off a huge 62-10 win over Southeastern Louisiana, so they will have some momentum going into their first SEC conference game. These two teams are a very good match statistically, but a win would mean so much more to Missouri than it would to Georgia, who has to take on the Tigers on the road. Missouri will come away with the upset win and start a conversation its their new role in the SEC.
Fuentes: Georgia 24 - Missouri 17: Welcome to the SEC, Missouri. This rude awakening will be sponsored by Bulldogs QB Aaron Murray and his favorite target, WR Tavarres King. In actuality, the Tigers should be more than capable of holding their own at home, but they're going to need more from second-year starter at QB James Franklin, who only put up one TD last week, if Mizzou hopes to have its fans rush the field at the end.
Fuster: Georgia 31 - Missouri 21: This is likely to be the best game of the week. Missouri gets to an early lead and rides the wave of a home crowd ecstatic for Mizzou's SEC debut, but Georgia makes second-half adjustments and pulls out the win. Georgia solve its defensive problems in time for this big conference clash.
Piellucci: Georgia 24 - Missouri 20: I so badly want to pick the Tigers in this one, as much for the din we'll hear at Faurot Field as for James Franklin's ability to exploit a depleted UGA secondary. But then Mizzou DT Sheldon Richardson opened his mouth, and the last time Georgia got angry, they stomped on Florida's end zone and then stomped on Tim Tebow's Gators to boot. Prediction: When the year is over, we'll look at this as Aaron Murray's signature game.
Shapiro: Georgia 31 - Missouri 27: Georgia quarterback Aaron Murray establishes himself as a legitimate Heisman contender in the first conference road test, justifying the Bulldog's top-10 ranking.
Tufts: Missouri 31 - Georgia 28: Mizzou will be extremely amped up going into its first game in the SEC at The Zou. If Georgia isn't starting its top defenders and it gets into a shootout, the Tigers could have a shot at pulling off the big upset.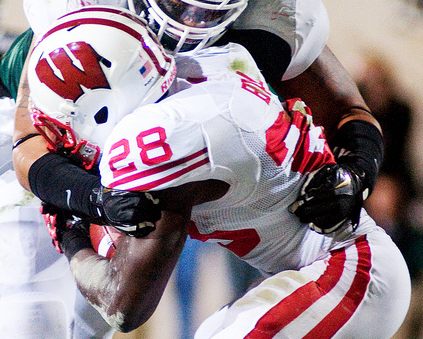 Wisconsin at Oregon State
Ferreira: Wisconsin - This is a game, more than anything, for Wisconsin to flex its muscles. Coming off an unimpressive win against Northern Iowa 26-21 to open the season, and being pitted against an Oregon State team that it routed 35-0 last year is just the game Wisconsin needs to get back on track. Wisconsin wins this one, and oh yes, there will be blood.
Fuentes: Wisconsin 21 - Oregon State 13: The Beavers will have a full plate on their hands with Wisconsin RB Monte Ball on the field and it's unlikely they'll be able to stop him. Even if they contain the Badger attack, will coach Mike Riley have a game plan against a talented Wisconsin defense? It doesn't look promising.
Fuster: Wisconsin 31 - Oregon State 14: Upsets can happen at any time in Corvallis (just ask USC), but it probably won't happen against the Badgers. The Beavers run defense was ranked 101st in the nation in 2011, which means a big chance for Montee Ball to build his Heisman campaign.
Piellucci: Wisconsin 52 - Oregon State 20: The Badgers are really good and playing with plenty of fire after a sluggish first week against Northern Iowa - and these aren't your older brother's Beavers on the other side. The fire rises under Mike Riley's already hot seat with a whipping at home.
Shapiro: Wisconsin 34 - Oregon State 17: Montee Ball shreds the Beavers defense, and Wisconsin rebounds off of last week's underwhelming five-point victory over Northern Iowa.
Tufts: Wisconsin 27 - Oregon State 14: Montee Ball is coming off of a strong game against Northern Iowa and intends to keep his streak of 21 straight games with a touchdown alive. Expect him to live up to that goal and for Wisconsin to roll past Oregon State.
Florida at Texas A&M
Ferreira: Florida - Texas A&M didn't get to start its season last week due to Hurricane Isaac, so this is it's big moment so shine. Both teams are playing with new, inexperienced quarterbacks, and without having seen them play yet, it's hard to say what new head coach Kevin Sumlin and A&M plan to bring into this game. Texas A&M could bring it, but Muschamp and his Gators have a slight experience edge and will get the win.
Fuentes: Texas A&M 31 - Florida 21: The Aggies are looking to make a splash in the SEC and hiring former Houston head coach Kevin Sumlin was definitely a step in the right direction. Freshman QB Johnny Manziel will be making his debut at Kyle Field and the question will be whether the support around him will be good enough to help him win. The Gators will throw everything they can at him, but the Aggies are at home and for the first time in a while, they'll have some good signal callers on the sidelines.
Fuster: Florida 28 - Texas A&M 21: Like Missouri, the Aggies get fired up for their SEC debut and pull out ahead, but Florida gets things fixed just in time. Florida has already played a game this season, and that experience could very well help them prevail in a match against an Aggies team that is strong but could be rusty. Expect this one to be close and for the 12th Man to be loud all the way to the end.
Piellucci: Texas A&M 27 - Florida 13: Starting nod or not, Jeff Driskel will be looking over his shoulder at Jacoby Brissett - and distractions are the least thing anyone needs setting foot into Kyle Field. Meanwhile, keep your eyes on Johnny Manziel, Ryan Tannehill's successor in Aggieland and a Texas high school legend who broke all sorts of prep records. All you need to know is this: Oregon tabbed him as their next QB before he decommitted to play closer to home.
Shapiro: Texas A&M 24 - Florida 17: The Aggies get a huge win in College Station, proving to both themselves and the rest of the SEC that they can play with the big boys.
Tufts: Texas A&M 21 - Florida 17: In a match-up between two young quarterbacks, the deciding factor will be the protection up front. Texas A&M is returning four of five players from last year's fourth best O-line.