Sports
College Football Predictions And Games To Watch - Week Three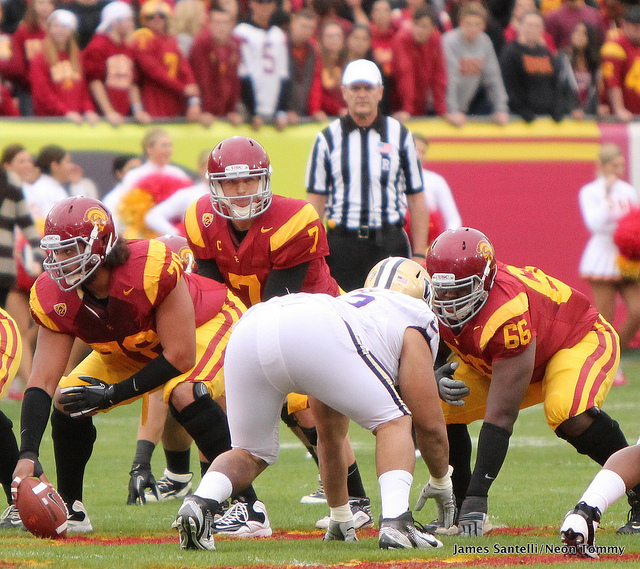 Week 3 of the college football season should provide us with some more insight into who's for real and who's not in the race for conference championships. USC opens its PAC-12 season with a tough trip to Palo Alto to try to beat the Cardinal for the first time in three years.
Meanwhile, the SEC and Big 10 also have some juicy grudge match-ups in store. Tennessee hasn't beaten Florida since 2004, and Notre Dame will certainly be on the lookout for the fake field goal this time around against Michigan State. Let's see how our writers think it will all play out.
No. 2 USC at No. 21 Stanford
Trenise Ferreira: USC 34 - Stanford 17: USC has struggled against Stanford recently, dropping four of the past five games in the series, including a triple-OT thriller in 2011. Stanford won because of a fluke fumble last year, but this time around their quarterback will be playing his third college game ever, going up against Matt Barkley and all his weapons. Stanford's defense won't be able to combat everything USC throws at them, despite the fact USC will be playing without place kicker Andre Heidari and possibly center Khaled Holmes.
Salomon Fuentes: USC 45 - Stanford 35: As if last year's game wasn't enough proof, these two teams are built for scoring. Even if you take Andrew Luck out of the equation, the Cardinal is more than capable of putting points on the board. New QB Josh Nunes bounced back from a shaky first start against San Jose State to toss 3 touchdowns against Duke last week, although he's never been tested by an offense this dangerous.
Jeremy Fuster: USC 50 - Stanford 17: USC fans want a big victory and so will the players. The D-Line, which has found new life through the excellent performance of Morgan Breslin, will force Nunes to throw bad passes, thus taking the pressure off the Trojans secondary. Barkley and company will be ready to go and will score fast and often with a two-point conversion thrown in.
Mike Piellucci: USC 35 - Stanford 27: The contrast between the Trojans' athleticism and the Cardinal's physicality make this seem more of a Pac-12--Big 10 battle than a typical Pac-12 clash, and we all know how those tend to play out. Watch out for another big game from Stanford killer Robert Woods, who gas averaged 10.5 grabs for 156.5 yards and two TDs in two career games against the Farm.
Jeremy Shapiro: USC 31 - Stanford 20: Barkley gets the last laugh in Palo Alto, avenging last year's devastating triple-overtime loss. The dynamic duo of Woods and Marqise Lee will run circles around Stanford's secondary.
Matthew Tufts: USC 45 - Stanford 24: The Trojans will be looking to get revenge after last year's heartbreaking triple-overtime loss at the Coliseum. Expect Barkley to continue his Heisman-level play and to come out of Palo Alto with his first career win against Stanford.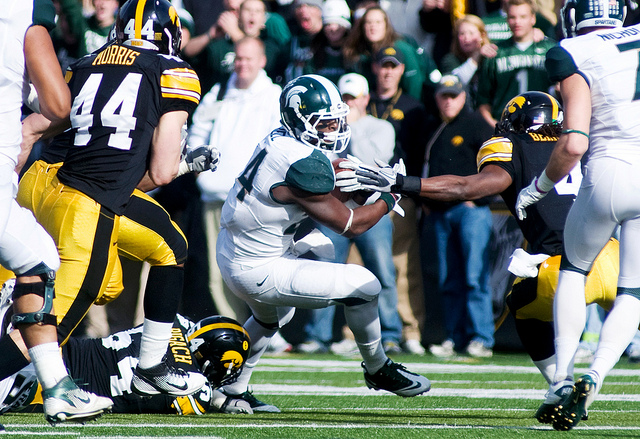 No. 20 Notre Dame at No. 10 Michigan State
Ferreira: Michigan State 37 - Notre Dame 31: Michigan State hasn't allowed an offensive touchdown in its first two victories, but Notre Dame QBs Everett Golson and Tommy Rees could change that. Michigan State ranks eighth in the FBS in holding opponents to 225.5 scrimmage yards per game, and the only two touchdowns scored against the Spartans came from pick sixes. Both teams come into this with similar stats, but Michigan State has the edge; since Oct. 1005, Notre Dame is 0-6 against ranked opponents on the road, losing by an average 16.7 points.
Fuentes: Michigan State 21 - Notre Dame 10: If you're a Trojan fan hoping for a perfect day, this might be your week. The Irish barely handled business last week at home against Purdue, and Michigan State is clearly the top dog in the Big Ten. Behind QB Andrew Maxwell, the Spartans have a more than capable pass attack and William Gholston is overdue for a major game against the Fighting Irish O-line.
Fuster: Michigan State 28 - Notre Dame 24: This will be Le'Veon Bell's biggest test yet, as he faces a formidable Irish front seven led by Manti Te'o. Expect the touchdowns to come in slowly in this game. But Bell will be able to wear out the ND defense enough to get through one big play in the fourth quarter that will give the Spartans the victory.
Piellucci: Michigan State 31 - Notre Dame 13: Three months from now, we're going to look back at this game as the moment when Notre Dame's season unraveled. Golson plays like a freshman against the talented Spartan defense; Bell runs like a man possessed through the Irish front seven; and Michigan State takes its third straight game in this series in East Lansing.
Shapiro: Michigan State 27 - Notre Dame 24: Michigan State's swarming defense will smother the Fighting Irish in the second half, while Le'Veon Bell sets the tone as the Spartans' workhorse.
Tufts: Michigan State 24 - Notre Dame 14: The Spartans' defense has been lights out this year, allowing zero offensive touchdowns in their first two games. Notre Dame, meanwhile, is seeking momentum to start a six-game set that features five current AP Top-25 teams.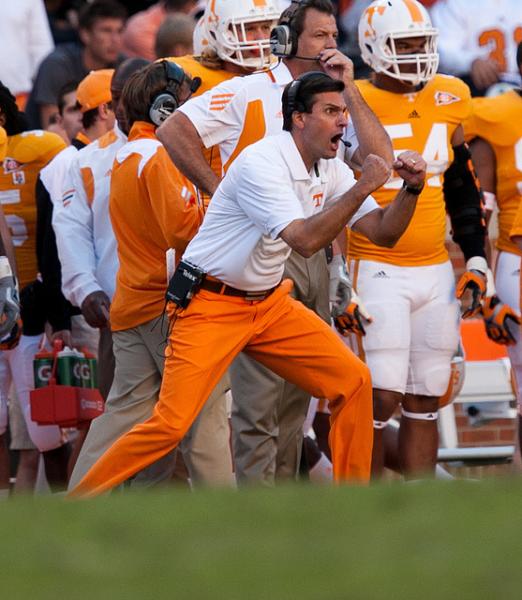 No. 18 Florida at No. 23 Tennessee
Ferreira: Tennessee 28 - Florida 14: Tennessee comes into this contest ranked for the first time in four years and is going to throw everything but the kitchen sink at Florida to keep it that way. Two key Florida defensive players, LB Jelani Jenkins and CB Cody Riggs, will be out due to injury, and the Vols could really capitalize. Tennessee is going to bring their "A" game and make a case for themselves as SEC contenders.
Fuentes: Tennessee 24 - Florida 17: The Volunteers should be able to stick around the AP poll for at least another week. Junior QB Tyler Bray has come out strong with six TDs and no interceptions to start the year. One the other sideline, Jeff Driskell has looked shaky with only one TD pass this season, and he'll be facing a improved Tennessee defense that includes DE Darrington Sentimore, who has promised a victory.
Fuster: Florida 24 - Tennessee 20: This will be a very close game and my least confident pick. The Gators defense should step it up in the second half just like they did against the Aggies and shut the Vols down at crunch time.
Piellucci: Florida 23 - Tennessee 20: I don't think either of these teams are very good. But Florida has shown it can win a tough game on the road after knocking off Texas A&M in College Station; all Derek Dooley's proven at Tennessee is that he has no plan at all.
Shapiro: Tennessee 27 - Florida 21: Dooley's boys get a signature win at home and put the program back on the national map after eight years of irrelevance.
Tufts: Tennessee 21 - Florida 17: Bray has been absolutely shredding secondaries in the Vols' first two wins of the season. A win against an 18th-ranked SEC rival could legitimize their position in the nation's toughest conference.
No. 1 Alabama at Arkansas
Ferreira: Alabama 52 - Arkansas 24: Arkansas is coming off an ego-crippling overtime loss to Louisiana-Monroe that resulted in them falling from No. 8 to unranked – the second largest ranking drop in rankings history. The way the team fell apart after QB Tyler Wilson went down due to injury does not bode well. With Wilson, the Razorbacks stood a chance against the Tide. But now that he has reportedly broken his collar bone, there is no way they will move the ball against Bama's brick wall of an offensive line.
Fuentes: Alabama 31 - Arkansas 14: The eyes of the college football world were supposed to be all over this SEC matchup, but that unraveled with the Razorbacks stunning loss last weekend. Arkansas remains dangerous because it'll be playing at home and with the extremely capable QB Wilson. But the Crimson Tide is just too strong on both sides of the ball to lose this one.
Fuster: Alabama 28 - Arkansas 10: You can bet that Nick Saban has been pouring through Arkansas' loss to ULM in the film room. Even if Wilson is ready to start after taking a head injury last week, the running game will be eaten up by Alabama's tough defense.
Piellucci: Alabama 42 - Arkansas 17: I'm assuming that Wilson will sit this one out after suffering a head injury in the Razorbacks' loss to Louisiana-Monroe, but even if he plays, last week's flub is proof enough that Arkansas is a team with several flaws. That's a recipe for disaster when pitted against the most complete team in the country.
Shapiro: Alabama 38 - Arkansas 27: A fired-up Razorback squad looking to put last week's debacle behind them will come up short at home against the seemingly flawless Crimson Tide.
Tufts: Alabama 38 - Arkansas 7: It won't get any better for the Razorbacks this week when Alabama rolls into Little Rock. The Crimson Tide's defense has been stellar of late compared to a poor Razorback secondary that was burned by last Saturday by Kolton Browning for 412 passing yards.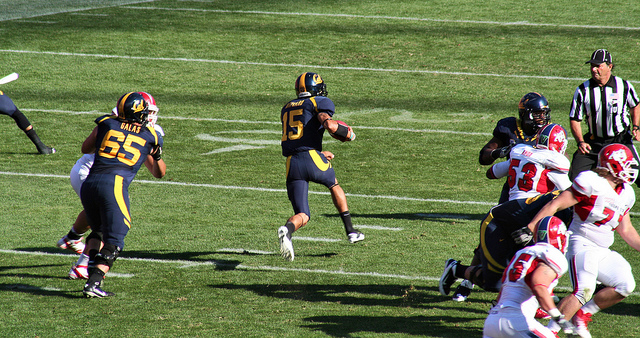 California at No. 12 Ohio State
Ferreira: Ohio State 37 - Cal 14: This is the first time the Bears and the Buckeyes face each other in 40 years, and the Buckeyes are looking for their first 3-0 start since 2008, while the Bears are looking to get back on track after a shaky season opener against Southern Utah. The Buckeyes have the advantage and the manpower to put this one away; QB Braxton Miller has done well for himself in two starts and if he can capitalize on Cal's weak run defense and put their pass defense to the test, Cal is going to be in for some trouble.
Fuentes: Ohio State 31 - Cal 21: The Buckeyes have been a little under the radar this year with most of the early attention in the Big 10 going to Michigan State, but they've quietly got a talented dual-threat QB in Miller, who should have a big game on national TV. Zach Maynard might be able to keep Cal in the game for a bit, but its defense has been gashed in their first two games and this will be little different.
Fuster: Ohio State 34 - Cal 21: With the backfield not fully stocked for Ohio State and Jeff Tedford looking to get his prized recruit Bryce Treggs a breakthrough day in the Horseshoe, expect lots of passes to be thrown. After losing to Nevada, the Bears just don't look like they have what it takes to beat Urban Meyer's boys on the road.
Piellucci: Ohio State 38 - Cal 17: Meyer and Miller in the Horseshoe, or Jeff Tedford and Zach Maynard on the road? I'm going with the coach who hasn't posted a 12-13 record over the last two seasons and the quarterback who has played like a Denard Robinson that can actually complete passes. Thanks and please drive through.
Shapiro: Ohio State 35 - Cal 20: Meyer's crew takes care of business in Columbus, establishing themselves as serious contenders in the Big Ten.
Tufts: Ohio State 35 - Cal 17: The Golden Bears' defense has been far from a strong point, surrendering over 30 points in their first two games. Don't expect this to change against the Big Ten's rushing leader, quarterback Miller, who had three rushing touchdowns in a 31-16 drubbing of UCF.