USC Sports
Lane Kiffin Issues Non-Apology After Reporter's Suspension Is Overturned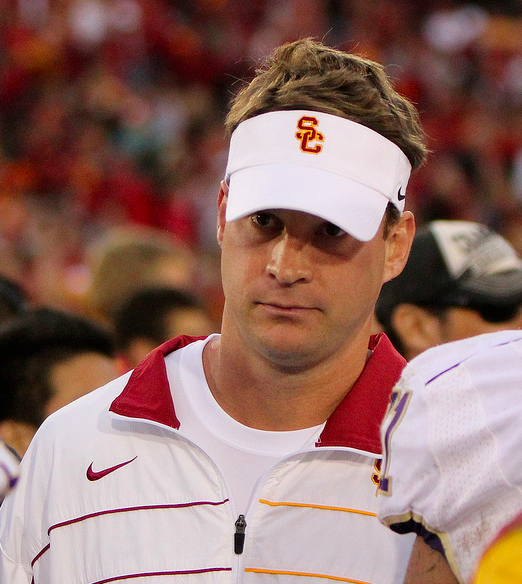 The USC athletic department overturned its two-week practice ban of
Los Angeles Daily News
reporter Scott Wolf on Wednesday. Prior to the reversal, Athletic Director Pat Haden and Sports Information Director Tim Tessalone met with editors from the
Los Angeles Times
, the
Daily News
and the
Orange County Register
.
Wolf had been suspended for his Monday report that Trojans kicker Andre Heidari had undergone knee surgery and would miss approximately three weeks of action. Football beat writers were notified before the season that as a matter of policy, they would no longer be allowed to report injury information obtained from practice, including which players were not participating in practice. The only problem? Wolf's Daily News report did not cite any practice-related information, leading many to question the fairness of his suspension.
With his suspension overturned, Wolf was at practice Thursday. Towards the end of practice, not a single reporter in the Kiffin media scrum asked about the Wolf situation. Since no one asked, Kiffin made this statement before returning to his team for the remainder of practice:
"What we're trying to get done is really to come up with the best situation for all of us. And I think after hearing from Scott's people, what Scott was trying to get done wasn't against what we were trying to say. So Scott's back. I apologize if that was taken the wrong way. We viewed it differently. It's not necessarily right or wrong. And so the editors [and] our people are going to try to get together, so you guys do your job the best you can, but also for us not to be at a competitive [disadvantage]. I know it's not exactly the best thing for you, but we're also trying to protect our team, too."
Here's my take on Kiffin's remarks: The apology is telling, and I use the term "apology" loosely. The one time Kiffin said "sorry," he employed the immature tactic of apologizing that USC's action was "taken the wrong way," rather than for the action, itself. If one looks closer, Kiffin acknowledges that after hearing from Wolf and "his people," it was determined that Wolf's actions did not violate USC athletic department policy. Then, why did he fail to apologize or admit that the suspension decision was the wrong one? The coach is also extremely vague throughout the statement. Kiffin's half-hearted and insincere "apology" was unfortunate, but not surprising.
Going forward, representatives from the university and the three aforementioned papers will continue to flesh out what can and cannot be reported from practices. While the discussion will continue, Wolf's report did not appear to cite any practice-related information, and the university acknowledges that.
For more background on this story, be sure to check James Santelli's report from yesterday's practice.
---
Reach Senior Sports Editor Aaron Fischman here or follow him on Twitter.