Arts+Culture
City Shortlist: September 22-28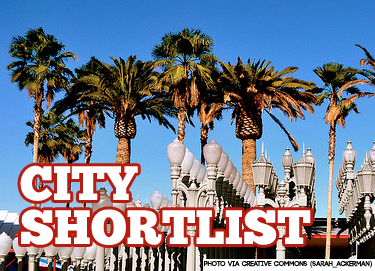 City Shortlist is a weekly roundup of the city's best events handpicked by NT staffers.
If chocolate, beer, and cutting edge local art are your scene, this week will make you very happy.
Los Angeles CHOCOLATE SALON| Sept. 23 | 11AM - 5PM | Santa Monica Civic Auditorium
Calling all chocolate lovers! TasteTV's 6th Annual International CHOCOLATE SALON is coming to Santa Monica this weekend. Chocolatiers from all over the world will gather to showcase their finest creations. Attendees will have the chance to sample artisan chocolates and watch chocolate crafting demos, as well as listen to talks and commentary from master chefs and authors. Tickets required. Children 6 and under: free; ages 6-12: $10; adults: $20. Tickets and more information can be found here.
Around the Clock: 24 Hour Donut City II | Sept. 22-23 | 6020 Wilshire Blvd.
Forget the hordes of over-priced cupcake, pie, and macaroon bakeries littering this town. It is time for the doughnut to usher in a new era of trendy desserts and L.A. is taking note by dishing out some of the best confectionary goods the city has to offer. In conjunction with a screening of artist Christian Marclay's "TheClock," a 24-hour film constructed entirely of found footage from various other sources, at LACMA, For Your Art will host a simultaneous reception across the street featuring a smorgasbord of free doughnuts and fun activities. Among the selection of sugary treats are Green Tea doughnuts from Café Dulce in Little Tokyo to the New Orleans Beignet from Gumbo Pot and many more. (For Your Art)
L.A. Beer Week | Sept. 20-30 | Los Angeles and Orange County
The week of beer is here. Actually 11 days of events, L.A. Beer Week boasts offerings for the brew lover in all of us. Our favorite picks? Tuesday's free Musical Beer Crawl on Sunset Boulevard and beer ice cream at Scoops (the Guinness Tiramisu sounds divine.) At Beer Belly's "Craft for Crap" event on Sunday, you can trade in your can of crappy beer for one of their locally made craft beers for just one cent. Check out all of the beer week offerings here.
Bold Rush Los Angeles | Sept. 28-29 | 12PM (Fri) - 9PM (Sat) | Poketo @ the Arts District
The Bold Italic is a San Francisco-based art collective that produces its own magazine and local events, among other things. Now, this creativity collective is setting up shop in L.A.'s Arts District for a two-day stay as part of its pop-up tour up the West Coast. From 6PM to 9PM on the night of the 28th, celebrate the kick-off of this tour at the newly-opened Poketo in DTLA's Arts District. Throughout The Bold Italic's stay in L.A., check out work by local and S.F.-based artists, alongside food from Vietnamese vendor Rice Paper Scissors and complimentary drinks. For more information, check out the event's official page here.