National
Chicago Teachers Union Strike Ends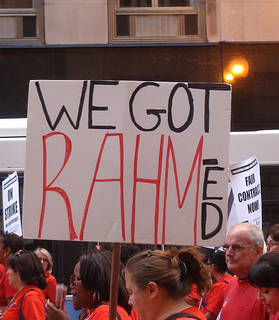 The Chicago Teachers Union
voted Tuesday
to end the strike that kept 350,000 students out of the classroom and highlighted tensions with Mayor Rahm Emanuel. The vote was passed down after 800 union delegates debated behind closed doors for two hours. Contract negations hit a snag Sunday after union officials wanted additional days to review the tentative deal, prompting Emanuel to seek legal action Monday to suspend the strike. The proposed deal includes a compromise from Emanuel that reduces the impact of standardized tests on teacher evaluations. The contract also calls for a 17.6 percent raise for teachers over a four year time span and improved benefits. Classes will resume Wednesday after seven days with no school.
Read the full story at Reuters.
For more of Neon Tommy's coverage on the Chicago Teachers Union strike click here.
Reach Supervising Executive Producer Amanda Martinez here.