National
Chicago Teachers Scheduled To Vote On Ending Strike
Chicago Teachers Union (CTU) delegates will vote Tuesday on whether or not to end the Chicago Public Schools (CPS) strike that has caused 350,000 students to miss school for seven days.
According to The New York Times, it is hard to tell whether a deal will be accepted but a simple majority is all that is needed to end the strike.
Union President Karen Lewis told Reuters that she was "always an optimist" but delegates "very well could" decline the offer.
CPS and CTU reached a tentative deal to end the dispute Friday but just two days later, union members decided they would continue their strike while they reviewed the bargain.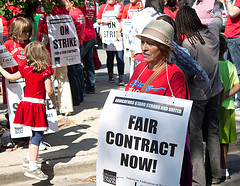 "It wasn't ready," James Dongas, a delegate at Lane Tech College Prep high school told the Times. "It wasn't cooked."
If a deal is not reached, Cook County Circuit Court Judge Peter Flynn will decide Wednesday morning whether or not teachers will be ordered back to work per Mayor Rahm Emanuel's request.
According to CNN, the judge will not settle the dispute that led educators to walk off the job Sept. 10.
After meeting with a school district lawyer Monday morning, Flynn asked for more time to look over the district's lawsuit, which is aiming to end the strike on the grounds that it is illegal under state law.
"While the union works through its remaining issues, there is no reason why the children of Chicago should not be back in the classroom as they had been for weeks while negotiators worked through these same issues," Emanuel said in a statement Monday.
The union fired back calling the lawsuit "a vindictive act instigated by the mayor" and an "attempt to trample our collective bargaining rights and hinder our freedom of speech and right to protest."
CTU is striking over compensation, evaluation procedures and classroom conditions among other things.
"If this was an illegal strike, the Chicago Public Schools would have sought injunction relief on day one," CTU spokeswoman Stephanie Gadlin said.
Meanwhile, parents are becoming frustrated with their children's lack of schooling. The teachers are now running the risk of losing the support of families that supported them in the first week of the strike.
"Kids are supposed to be in school," parent Mohamed Kallon told the Wall Street Journal. "I don't know how they are going to catch up. I mean, are they going to recover the material?"
Home to one of the poorest student bodies in the nation, approximately 84 percent of CPS students are eligible for free and reduced-price meals served at schools.
Having their kids away from school has been a financial burden for parents.
"I might be losing my job over this," parent Martina Watts told the Chicago Sun-Times. "As long as they're on strike, I can't work. I'm not getting paid, either."
Chicago teachers last went on strike in 1987 when students remained at home for 19 days. School and union leaders eventually came to an agreement, in which teachers received a pay raise and smaller classes.
Reach Staff Reporter Steven Covelman here.