National
Chicago Teacher Strike Enters Day 3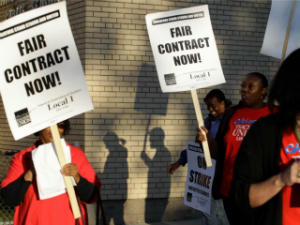 Chicago's school board resumed its conversation with striking teachers on Day 3 of the protest that put 350,000 students out of class,
CNN reported
.
Negotiations over contract forms and teacher evaluations continued after no resolution Tuesday night.
"It's time to get serious," board President David Vitale said after talks lasting more than 10 hours.
While the conversation continues, parent Terrilyn Alexander is joining her husband to tutor their three children untli their school reopens. She called the walkout "selfish," reasoning that children should be in school regardless of teacher uprising.
The strike began with teacher frustration over their evaluations, a system that could force 6,000 of them to lose jobs, said union President Karen Lewis. An issue equally important to teachers are the provisions dealing with jobs for laid-off teachers.
The median base salary for Chicago public schools was $67,974 in 2011, according to an annual finance report.
For more on Neon Tommy's coverage of the Chicago strikes, click here.
Reach Executive Producer Sophie Elkus here. Follow Sophie on Twitter here.