National
Chicago Strike Deal Unlikely, Parents And Children Take Big Hit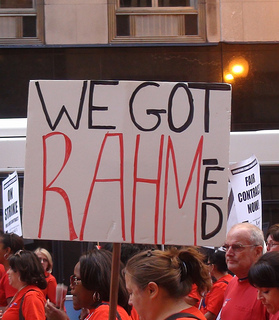 For the second day in a row, Chicago public schools went on strike outside the school system's headquarters, but union officials say no immediate deal is close, forcing parents to seek alternatives for their children.
Union spokeswoman Stephanie Gadlin said the union has only signed off on six of the 49 points offered in a contract with the district. The union said they went on strike after a plan established to evaluate the effectiveness of teachers drew concern. They also wanted teachers who had been fired to be the first ones hired back.
"It is not accurate to say both sides are extremely close -- this is misinformation on behalf of the Board and Mayor (Rahm) Emanuel," said Galin in a news release.
Emanuel said Tuesday the strike was one of choice, "totally avoidable, totally unnecessary."
With all the attention turned toward Emanuel, what can be said for the impact on parents and their children who have been forced out of school?
Parents and police alike expected an increase in "trouble" now that they're no longer secure inside the classroom. To prepare for these uprisings, police transferred some of their work force from desk duty to street patrol. More than a dozen churches and organizations offered activities for the thousands of students locked outside the school walls.
One of the biggest groups impacted by the strike are the Latino families whose children attend Chicago public schools.
According to Fox News Latino, nearly 180,000 Latinos attend Chicago public schools, which makes up 44 percent of the student population. Twenty-seven percent of the families who reside in the Latino neighborhood of Pilsen, on Chicago's Southwest side, live below the poverty line. Due to the strike, many of these families were forced to make the decision of whether one parent could afford to stay home from work and care for their children or seek other means of child care.
For now, parents stand behind the teachers on strike but their support may wane if the strike continues to drag on.
One reform advocate whose parent volunteers include those vital to pushing legislative reforms in Illinois said support is now "all over the map" and could drop off completely if teachers fail to respond to any district offers.
Read more of Neon Tommy's coverage on the Chicago Teacher Strike here.
Reach Supervising Executive Producer Amanda Martinez here.