International
Bombs In Syrian Capital Leave At Least Five Dead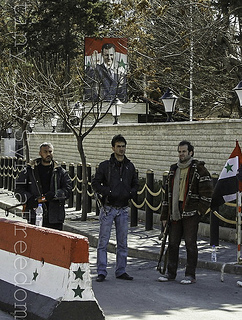 Two bombs exploded in the Syrian capital of Damascus on Friday, killing at least five members of the security forces, according to BBC News.
The New York Times reported that residents have grown accustomed to these regular bombings that particularly seem to occur on Fridays:
"The car bombs and blasts have become a daily thing in Damascus and its suburbs," said one 50-year-old resident of the northern neighborhood of Ruknideen, where one of the bombings occurred Friday.
"These blasts and car bombs are the biggest proof that the Assad regime no longer has control on the ground," he said, speaking on condition of anonymity for his safety. "The regime closes the city's entrances to prevent such an attack, but today's explosion proves there are sleeper cells inside the city that can carry out any attack in any time."
The fighting in Syria has resulted in at least 5,000 deaths in the month of August, an all-time high since fighting began in March 2011. More than 100,000 refugees also fled the country in August.
Read the full story at The New York Times.
Find more Neon Tommy coverage on Syria here.
Reach Executive Producer Paige Brettingen here.