Science+Tech
Big Picture Mode Beta for Steam Shows Big Potential
Valve
launched
the beta for its new television-friendly interface for Steam last week, giving players a way to browse the PC gaming's top digital distribution platform with a gamepad from the comfort of their couch.
"Big Picture Mode," Valve says, is aimed at making PC gaming more appealing to gamers who prefer to play in their living rooms, as well as testing the waters for a possible expansion into console hardware territory.
The interface Valve designed certainly succeeds in making Steam easy to navigate with a controller, but we will have to see whether different players actually find Big Picture useful enough. Actually connecting a PC to a television could present its own barrier, depending on your chosen method. Plus, for many PC gaming enthusiasts, moving their expensive rigs next to their TVs and using a gamepad instead of a keyboard and mouse might defeat the purpose of their chosen platform.
With that said, Big Picture is truly impressive and does what it sets out to do well. Testing the interface myself, I found it simple, intuitive, and genuinely enjoyable to use when navigating Steam. It was hampered by some technical issues when it came to actually playing games, though, which could be chalked up to the expected bugs you'll find in any beta.
Big Picture primarily reorganizes all the essential elements of Steam and makes them easy to view. The interface is separated into menus for the store, your game library, and your friends list. Navigation using a gamepad is smooth and responsive, allowing for quick selection of items and options.
Also, information is nested well in submenus and tabs with extraneous information excluded, such as with library items listing individual tabs for achievements and friends' activity. The easier-to-digest layout almost felt better to use than Steam's default interface, at least in regard to browsing and buying games.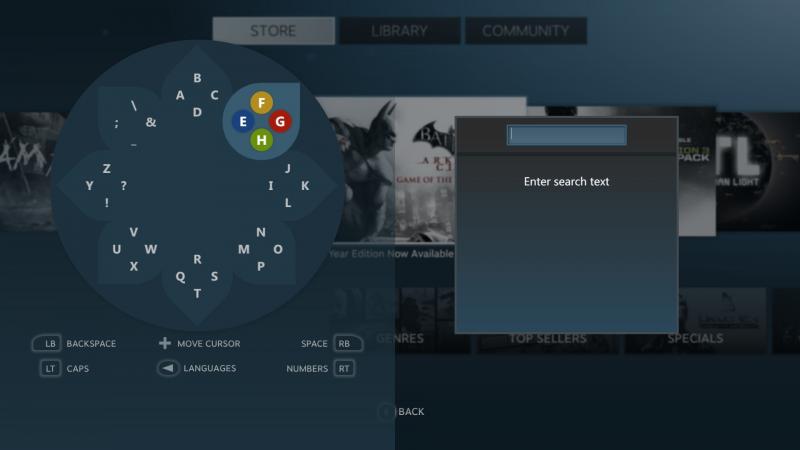 One of the strongest elements of Big Picture, however, is the radial keyboard used for typing with the controller, called "Daisywheel." When activated, the keyboard places four letters or symbols each in eight sections placed around a wheel, and using the thumb stick to highlight a section then makes the symbols correspond to one of the main buttons on the controller (a, b, x, y on an Xbox controller for example) which are then used to type.
In contrast to other virtual keyboards used on consoles, using "Daisywheel" becomes second nature within minutes. You won't be able to type as fast as you would with a traditional keyboard, but you probably won't miss it too much.
The interface also features controller-friendly optimizations for Steam's web integrated browser, which functions mostly the same as with the normally formatted Steam. The gamepad controls for browsing are smooth and responsive, and all the features you would expect, like tabbed browsing and cloud-saved favorites, are there.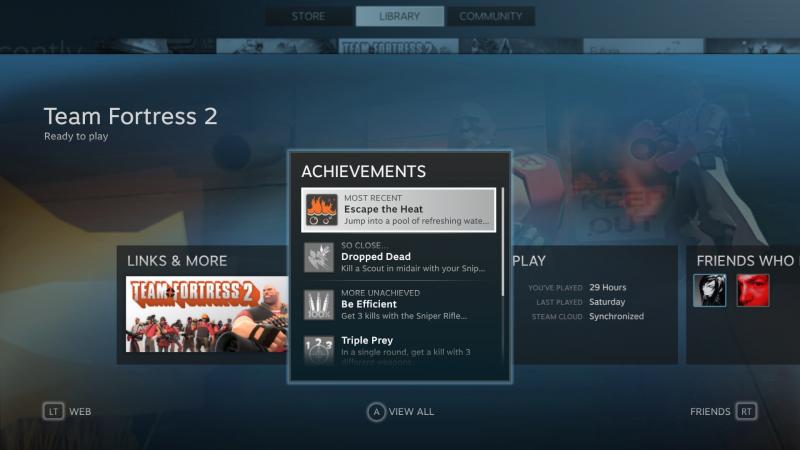 Big Picture runs into some problems when it comes to actually playing games, however, which is less a fault of any design choices by Valve, and more a fault of the openness and diversity of PC gaming making it hard to standardize the medium into a living room-friendly format.
The biggest problem is that not all games on Steam are compatible with gamepads, which isn't good for an interface that emphasizes them. You can still use a keyboard and mouse, of course, but that requires its own setup that may be intolerable for many gamers.
Moreover, those games that do support gamepads might feel awkward when you make the switch from keyboard and mouse, especially if the gamepad support wasn't well implemented. In the case of highly competitive multiplayer games like the new Counter Strike: Global Offensive, using a controller could place you at a significant disadvantage (and would likely be considered sacrilege by purists).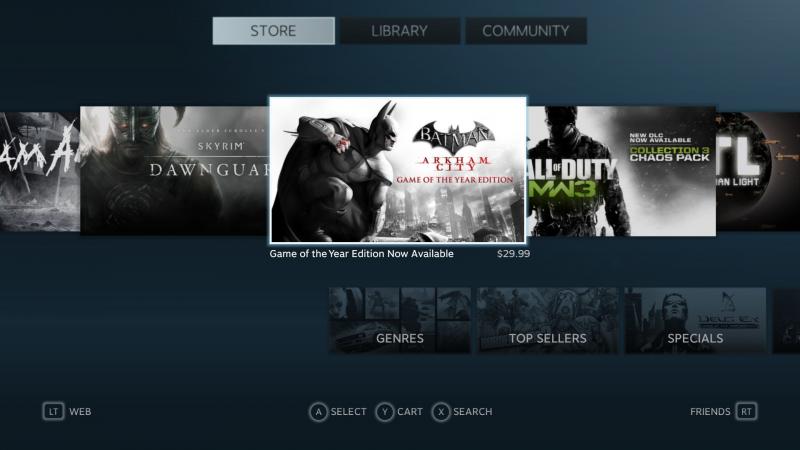 Other issues will vary according to each player's setup, as I encountered problems with displaying games launched through
Big Picture
(but not through normal Steam) on the different televisions on which I tested. Similarly, the Steam in-game overlay would have inconsistent problems (disappearing after a few seconds or not working entirely) on different displays.
When Big Picture works properly with a game well-suited to gamepads, however, it feels as seamless as any console interface.
The future success of Big Picture will depend mostly on how players decide to use it, as Valve is keeping a close eye on what is popular in the beta and what it could mean for their hardware ambitions. As it stands now, Big Picture is a well designed and easy-to-use interface held back by the fact that most PC games themselves aren't really designed to be played in the living room. This could be an important first step for Valve, though, that might push the PC closer into console territory.
You can reach Staff Reporter Shea Huffman here or follow him on Twitter.