Sports
Appreciating Andy Roddick

Timing can be everything. In comedy, timing determines whether a joke works or not. Timing is also essential in tennis, when career success can be determined by the quality of opposition. It is comedic, though, that there are tennis fans who still consider Andy Roddick an underachieving, one-hit wonder. As quick-witted as Roddick is behind a microphone, he might have the worst timing in tennis history. This fact has not only cost him titles, but also a defined legacy, particularly in terms of his role in American tennis. Even though the 2012 U.S. Open has been an utterly positive celebration of his career, his impact and success is still largely debated, and that shouldn't be the case.
Andy Roddick was born in 1982. Roger Federer was born in 1981. For the first five years of Federer's unprecedented reign over the tennis world (before Rafael Nadal reached his prime in 2007 and Novak Djokovic shortly after), the Swiss legend faced nine different opponents in his first 12 major victories. Since then, Federer, Nadal and Djokovic have won all but one of the Slams. Prior to that, though, Federer had reached his prime during a historically weak era in the game. Nadal has always been Federer's greatest foe, but their age difference never totally coordinated their primes. During Federer's dominating run, it was Roddick who played the role of rival.
In 2001, Federer finished 13th in the rankings, while Roddick was 14th. The next year, they finished sixth and 10th, respectively. In 2003, it was Roddick who finished the year as the world's No. 1, with Federer in second. From 2002-2010, Federer and Roddick were the only players to finish each year in the top 10, something tennis fans will acknowledge is a stunningly difficult task. Over that stretch, Roddick faced Federer in four Slam finals, losing each time, including the epic 2009 Wimbledon final. Roddick certainly has suffered his fair share of low moments in majors, including 2005's first-round U.S. Open exit, and his 9-10 career French Open record. In the end, though, five Slam finals, one victory and four losses to the greatest player in history at his absolute peak, doesn't qualify as underachieving. Roddick's career has been affected more by the presence of Federer than anything else, and Federer has damaged Roddick's legacy more than any player has to another in modern tennis. When Roddick was asked about retiring at 30 while Federer is still winning titles at 31, he said, "I didn't want to make it through this press conference without a direct comparison to Roger, so thank you for that…if you look at my contemporaries that started with me, Roger is the only one that's still going and still going strong." It's only fitting that even in his retirement announcement, he is asked about not being as great as Roger. And in typical Roddick fashion, he answered sharply and humorously.
Roddick is not the first player to have an unfortunately timed career. Andy Murray is unlucky enough to be the fourth-best player in an era when the top three are historically dominant. However, Roddick's poor timing isn't just related to his opponents, but also his role in American tennis. Murray, for example, has to deal with the pressure of bringing the Brits their first Wimbledon since 1936, but he isn't responsible for carrying the torch for British tennis, because there isn't one. Roddick, on the other hand, won his lone Grand Slam title at probably the worst time, in retrospect, which is the exact opposite of how it felt in 2003. That victory was the last American men's major singles title. From 1990 to 2003, Pete Sampras, Andre Agassi and Jim Courier combined to win a mind-boggling 27 slams, following in the footsteps of American champions such as John McEnroe and Jimmy Connors. As Sampras and Agassi's careers began to wind down, Roddick was labeled as the new face of American tennis after winning two junior majors and finishing as the top-ranked junior in 2000. When the U.S. Open came around in 2003, Sampras had retired (after winning the tournament in 2002), and Americans were waiting on Roddick. This was during a brief lull in men's tennis, between Sampras and Federer, and Roddick took advantage shockingly quickly by winning the '03 Open. Not only had Roddick earned the No. 1 ranking at 20, but he did it under the bright lights of Arthur Ashe Stadium on his home turf, defending the US Open title for America after Sampras had magically won it the year before. His charisma, energy, blasting serve, and freshness immediately brought him huge celebrity, and he had no chance to top himself again. He had reached his finest moment at 20.
Roddick's resume is inarguably impressive, though, and he became unfortunately defined by the burden of expectations he put on himself after reaching the mountaintop so early. In addition to his Slam record and consistency in the top ten, Roddick put together a stellar Davis Cup record, which goes largely unnoticed. In 2007, Roddick led the U.S. to its first Davis Cup title since 1995 and became the first American since Sampras to go undefeated (6-0) en route to victory.
Roddick has always been as aware and conscientious as anyone on tour. He is honest, clear-headed, and fully aware of his status in the game. Roddick, who grew up idolizing Agassi, didn't take the role of "Top-Ranked American" for granted. He knew how important of a role that was, and worked every day to live up to it. "It's been a pleasure," Roddick said about being the face of American tennis. "It's not something that's easy every day, for sure, especially when you get kind of anointed at a young age. For the moments where it's been hard, I've had 25 positive things that have come from it… I've loved every minute." Critics will still be disappointed in his inability to win another major or adjust to Federer, or the lack of diversity in his game. Perhaps the most stubborn fans might bitterly blame Roddick's lack of major titles to the current lull in American tennis. Personally, though, tennis fans should be proud of how Andy Roddick represented American tennis for over a decade.
The truth is, Roddick wasn't blessed with natural abilities or athleticism like so many great ones are. He isn't fast or flexible, doesn't have the best reflexes or hands, and lacks any natural touch. He could pound big serves and forehands with a forceful shoulder, but didn't possess any diversity or creativity into his game. Basically, he is a workingman's tennis player, improving through hard work and a passion for the job. And Roddick approached tennis as serious work. Roddick, born in Omaha and a resident of Texas, did it the American way.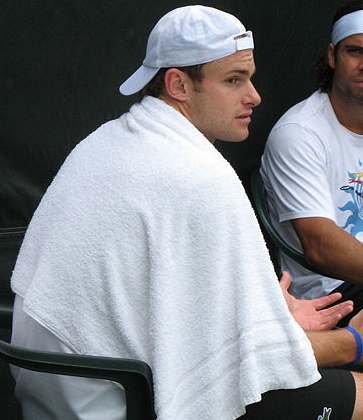 As a tennis fan, Roddick's 2009 Wimbledon is still one of the most impressive tournaments I've witnessed, and it will always be my favorite Roddick memory. After a disappointing 2008, which was plagued by injuries and the firing of coach Jimmy Connors, Roddick's career prospects looked bleak. With Djokovic and Murray emerging, the window for Roddick to claim that elusive second Slam looked bolted shut. He hired coach Larry Stefanki, however, and diligently reworked his game. He improved his backhand, started keeping his slice lower, came to the net more, and became craftier. He also improved his conditioning, which allowed him to willingly play longer points and be more patient on the court. This newfound diversity sparked a surprising run to the final, in which he suffered one of the hardest defeats ever, losing 16-14 in the fifth set to Federer, despite being broken just once all match. During those two weeks, Roddick regained the respect of the tennis world, and perhaps more so in defeat. Any questions of Roddick's dedication or ability to win a major should have been answered after that run. He didn't win the tournament, but proved he was more than capable. Again, that Federer guy.
Roddick understood the stage and enjoyed being a professional tennis player as much as anyone. He liked barking at chair umpires, joking with the media, interacting with fans, and never took anything for granted. He is refreshingly honest and articulate and never spoke like a mundane typical athlete. Off the court, his charity work is unparalleled in the sport and he's always been one of the most vocal activists for a players union on the tour.
So is Roddick to blame for the lackluster state of American tennis? Is it his fault that James Blake, John Isner, Mardy Fish, Sam Querrey, Robbie Ginepri, Donald Young and others have failed to make any serious impact in Slams? The bottom line is, as Americans, we ask that you work as hard as you can, do your best with what you have while remaining grateful, and that you win and lose with class. Andy Roddick did all that, while under intense pressure and scrutiny for over a decade.
At his retirement press conference, Roddick explained his reasoning for hanging it up: "I've never done anything halfway…I don't know that I want to disrespect the game by coasting home. I had plans to play a smaller schedule next year. But the more I thought about it, I think you either got to be all in or not." And that is why we should respect and appreciate Andy Roddick. He possesses an undying respect for tennis and a whole-hearted appreciation for the privilege of playing on the ATP tour. He can still play, but not well enough to compete for Slams, and as usual, he is aware of his current place in the game: "Frankly, these guys have gotten really, really, really good. I'm not sure that with compromised health that I can do what I want to do right now. I just feel like it's time. I don't know that I'm healthy enough or committed enough to go another year. I've always wanted to, in a perfect world, finish at this event."
Andy Roddick has done enough for the game of tennis. He has nothing more to prove. Finally, his timing seems just about right.
Reach staff writer Michael Corvo here or follow him on Twitter.