Nation and World
African-American Christians Stand Behind Obama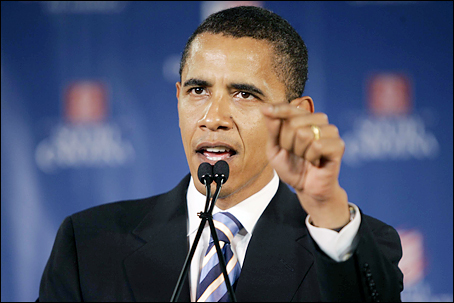 On Sept. 16,
The Associated Press
published an article where they stipulated that because of President Obama's backing of same-sex marriage, African-American pastors were urging their flock to avoid the vote and "stay home."
"When President Obama made the public statement on gay marriage, I think it put a question in our minds as to what direction he's taking the nation, " the Rev. A.R. Bernard, founder of the African-American Christian Cultural Center in New York, told the AP. Bernard, who voted for Obama in 2008, is not sure he will do the same this year.
Rev. George Nelson Jr. of Brenham, Texas, stated that Obama's statement caused a "storm" in the African-American community and that the day after Obama's endorsement of gay marriage, he and other African American pastors held a conference call where they resolved to oppose gay marriage.
Some pastors have even started to call for the congregation to stay home instead of voting for Obama who they feel betrayed the church by supporting a cause that goes against one of the principal beliefs of Christianity: that of the marriage as a sacred institution shared by a man and a woman for reproductive purposes.
While the pastors and church clergy have publicly chosen their stance, churchgoers are much more ambivalent.
"I will vote for [Obama] because of his promises and values he exemplifies," Linda Walker, a retired schoolteacher, said after exiting the Sunday service at West Los Angeles Cathedral. "I just believe that he can get things done if he is given the opportunity."
Walker went on to say that she trusted Obama and implied that the reason why Obama wasn't able to do as much was because of a Republican Congress adamant on blocking him.
Nick Washington, a photographer also in attendance, was not so trusting. He said he voted for Obama last time and would be doing so again merely because he was "the lesser of two evils."
He, like Walker, listed a stagnant economy and the increasing rate of unemployment as the most pressing worries in his mind.
Other congregants were so disillusioned by politics that they indicated they were not going to vote, but would rather ask God to oversee the election of the best candidate.
"Whoever God chooses I will stand behind," responded an elderly gentleman who asked to remain anonymous.
"[Obama] wasn't voted in, God sent him. For him to be there [the White House] and not get killed, that is godsent," Rita Stevens explained as to why she didn't vote last election and would also be abstaining on this one.
Regardless of whether the congregation members will vote or not, one thing is for sure: their pastors, as lauded and beloved as they may be, are not ultimately influencing their political opinion.
Read more of Neon Tommy's coverage of the 2012 presidential campaign at our blog Politically Correct.
Reach staff reporter Francesca Martens here.
Watch the video of President Obama's groundbreaking public endorsement of gay marriage: