Los Angeles
99Rise Protest Will Hit Downtown Bank Friday Afternoon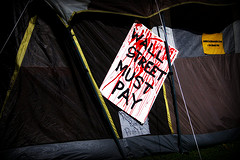 99Rise, an anti-corporate protest group associated with the Occupy movement, will be staging a civil disobedience in downtown Los Angeles Friday afternoon, from three to six p.m.
They will be staging at Pershing Square at 5th and Olive and will march to a "nearby downtown bank" as part of "launching a nonviolent movement to reclaim democracy from the corruption of Big $$."
"IMPORTANT: You don't have to risk arrest to join the action," the groups Facebook page said. "If you are down for risking arrest, you need to attend a nonviolent action training before the 28th," which has already passed.
"Bring American flags, a dollar bill to tape over your mouth, and your love of liberty and justice. This is just the beginning…" the page said.
The group said that the action is the beginning of a campaign that will continue in Los Angeles and New York and other cities through October.
Reach Assistant News Editor Michael Juliani here.
Follow him on Twitter here.