Sports
2012 Junior Grand Prix Of Figure Skating: Top 10 To Watch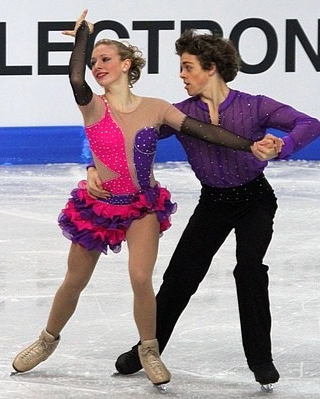 The International Skating Union continues its annual Junior Grand Prix (JGP) series in Linz, Austria this weekend. The JGP series consists of a total of seven competitions.
The top skaters under the age of 19 (or 21, if they're male pair skaters or ice dancers with a partner 19 or under) attend a maximum of two JGP events to earn points towards qualification into the Junior Grand Prix final, to be held in December in Sochi, Russia. At the final, the top six skaters in each of the four disciplines (ladies', men's, pairs, ice dance) compete for the chance to win more medals and compete on next year's Senior Grand Prix circuit.
Want to know which skaters to keep an eye on at the 2012 JGP Austria? Here are 10 skaters (including singles, pairs and ice dance) with strong potential for success this weekend:
10. Rachel Parsons/Michael Parsons (USA)
The Parsons siblings (yes, they're a brother-sister ice dancing team) placed fourth at the 2012 Youth Olympic Winter Games in Innsbruck, Austria and the 2012 U.S. Nationals (on the junior level). This is their first event of the 2012-2013 Junior Grand Prix season. This year, they have the potential to set themselves up as solid juniors, an absolute must if they hope to advance to seniors in the next few years (especially since the U.S. is such an ice dancing superpower).
9. Jessica Calalang/Zack Sidhu (USA)
Jessica Calalang and Zack Sidhu placed fourth in junior pairs at the 2012 U.S. Championships. Last year, they won a bronze at the JGP Talinn and qualified for the Grand Prix final. Much like Parsons/Parsons, Calalang and Sidhu seem likely to exhibit their potential this season.
8. Samantha Cesario (USA)
Samantha Cesario is an interesting case. She placed 14th in senior ladies at the 2010 U.S. Nationals, but she hasn't been able to attend Nationals since, due to a series of injuries. Nonetheless, she won two bronzes on the 2011 JGP circuit, and many believe that if she finally gets to compete a full season, she'll break through this year.
7. Polina Agafanova (RUS)
Linz is Polina's seventh JGP event! She began on the circuit during the 2009-2010 season and has since won three JGP medals. But sadly, her record is relatively inconsistent: Russia's on the rise in ladies' singles, and Agafanova's never been able to hit when it counts. Still, it's a new season and, as they say, ice is slippery.
6. Risa Shoji (JPN)
Like Agafanova, Risa Shoji is a seasoned veteran of the JGP scene and a four-time JGP medalist. She also won the bronze at the 2012 Japanese Junior Championships. Shoji may be able to peak at just the right time, as she is one of a few current Japanese senior ladies, who hope to continue past the 2014 Olympics. A successful junior season now could help set her up as one of the top Japanese ladies in a few years.
5. Hannah Miller (USA)
Hannah Miller made waves when she won the 2011 U.S. Novice National title and revealed that she had a one-on-one conversation with skating legend Kristi Yamaguchi prior to her free skate (her father had a connection). She also placed third at the 2011 JGP Milan and on the junior level at the 2012 National Championships.
4. Gabriella Papadakis/Guillaume Cizeron (FRA)
Papadakis and Cizeron ice-danced their way to the gold medal at the first JGP event of the 2012 season, making them contenders for a spot at the final if they can medal or win here. They placed fifth at the 2012 World Junior Championships, too, making them a team to watch for this season. This is a team on the rise!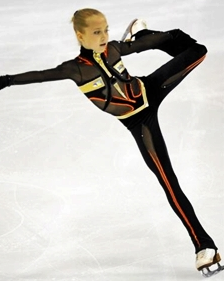 3. Brittany Simpson/Matthew Blackmer (USA)
Simpson and Blackmer teamed up after the former's partnership with Nathan Miller dissolved, and they've since taken the junior pairs scene by storm. In addition to placing third on the junior level at the 2012 U.S. Nationals, they won gold and silver medals in the 2011 JGP and placed third at the Junior Grand Prix finals! Definitely keep an eye on them since they're a top-notch junior pairs team.
2. Elena Radionova (RUS)
Remember when I said that Russia's on the rise in ladies' singles? Look no further than the last two Junior Grand Prix champions: Adelina Sotnikova (2010) and Julia Lipnitskaya (2011). Each also went on to win the World Junior title and placed in the top 5 at Russian Nationals the season before her JGP breakthrough. Can Radionova keep it going? She solidly won gold at the JGP France earlier this season (her junior debut). If she wins gold here, she'll purchase her ticket to the JGP final; a medal of any color all but officially guarantees her a spot.
1. Nathan Chen (USA)
Nathan Chen stunned the skating world when he won the 2010 U.S. Novice National title at just ten years old! He repeated the feat the next year and topped himself by winning the Junior National title in 2012. Finally, this season, he is age-eligible to try his hand at the JGP, and fans have waited three years to see what he can do on the international stage. This event marks his Junior International debut, and whether he wins or not, he's already been interesting enough the last few years to earn the top spot on this list.
Reach Staff Writer Victoria Gordon here or follow her on Twitter.