Sports
USC Football Behind Enemy Lines- Q&A With Hawaii Journalists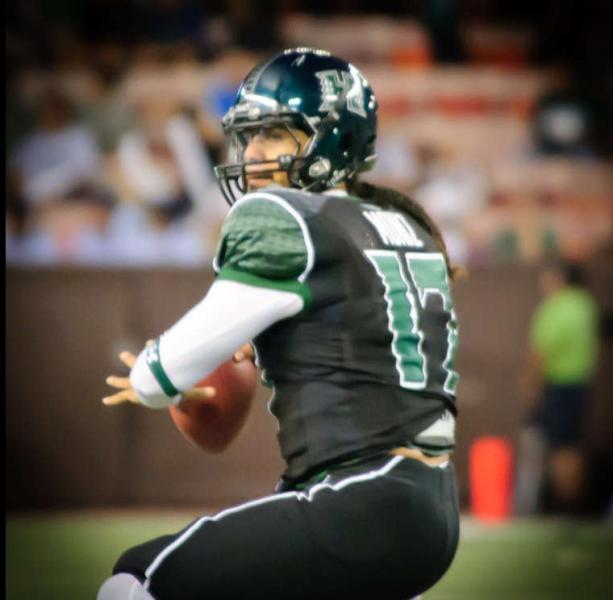 The college football season is already underway, and expectations for the USC Trojans are sky high. Ranked either No. 1 or 2 in almost every national forecast, the motto for the 2012 edition of the Trojans is "unfinished business."
Considering how quarterback Matt Barkley and safety T.J. McDonald turned down millions as surefire first-round NFL draft picks, anything short of a national title will likely be viewed as a letdown.
Last season, the Trojans finished with a 10-2 record and would have qualified for the first Pac-12 Championship Game if they weren't ineligible due to a two-year postseason ban.
Barkley and McDonald return, while wideouts Robert Woods and Marqise Lee form what should be the best wide-receiving duo in the country. Additionally, the tandem of Curtis McNeal and Penn State transfer Silas Redd at running back, combined with an experienced line led by center Khaled Holmes, make for an exciting offense.
On the other side of the ball, McDonald and cornerback Nickell Robey lead an up-and-coming secondary. Meanwhile, the sophomore trio at linebacker of Hayes Pullard, Dion Bailey, and Lamar Dawson will be the Trojans' best group at the position since a certain trio four years ago. The defensive line is even greener than before due to a serious injury to senior defensive end Devon Kennard, but there is raw talent up and down the front four.
Last season's opener was a stinker, in which the Trojans needed a last-second blocked field goal to win 19-17 over a Minnesota squad that won just three games in 2011.
This year, the Trojans host the Hawaii Warriors in a game beginning at 4:30 PST. In order to get a deeper perspective into USC's first opponent of the year, we reached out to Dave Reardon, a sports columnist for the Honolulu Star-Advertiser and Josh Pacheco of ESPN Radio Big Island and ESPN 1420 Honolulu. Here's Aaron's podcast with Josh, followed by a transcript of our interview with Dave.
Jacob Freedman: After a long career, Norm Chow is finally a head coach for the first time. As one of his first orders of business, he's implemented a pro-style offense to replace the run-and-shoot formation. What should be expected from this drastic change in offense style?
Dave Reardon: Obviously, at least somewhat more conservative in some ways. But also expect all kinds of multiple formations and tweaks of the pro set designed to keep the defense off balance.
Aaron Fischman (on podcast): Other than the introduction of head coach Norm Chow and the depature of talented quarterback Bryant Moniz, what are some of the main changes from last year's team?
Josh Pacheco (on podcast): One of the big, glaring differences will be the kind of offense that people will see from the University of Hawaii. Well, one of the things that made Hawaii famous, going back to the last decade when June Jones was the head coach, was that spread, run-and-shoot offense. Moniz or Colt Brennan or any other quarterback during that time threw the football a lot. Hawaii got known for that.
With Norm Chow coming in, that offense is gone. We're talking about more of a pro-style offense that's going to feature a lot of the running game. We're still going to talk about the quarterback with Sean Schroeder the new starter, but you're not going to see him throw it 45, 50 times a game. It's not going to be normal to see 500 yards, 400 yards, 300-yard passing games. The offense is going to have a different feel. You won't feel like at times you're watching a video game.
Full interview with Pacheco:
Josh Pacheco Discussing Hawaii Warriors (Behind Enemy Lines)
Freedman: Duke transfer Sean Schroeder has never taken a college snap, but has been named the starter over David Graves, who played down the stretch after Moniz's injury. Schroeder is the better fit for the pro-style offense Chow is implementing, but what did he show in training camp to earn him the starting nod, and what should be expected from him as the signal-caller?
Reardon: Schroeder's biggest asset is his brain. He quickly picked up the system, and even though he didn't have spring ball at Hawaii, Schroeder quickly emerged as the best UH quarterback for this offense. He's also got really good size, throws accurate passes, and we're told he has a very good huddle presence. The biggest question mark is his lack of college game experience. We need to see how he reacts after getting knocked around a bit.
Freedman: The Trojans' defensive line is the team's weakest and most inexperienced unit. For Hawaii, leading rusher Joey Iosefa returns, but he still only rushed for 548 yards last season in a running game that averaged around 95 yards per game, 113th in the FBS. How will the running game be incorporated with this new offense, and to what level will it be improved on Saturday compared to 2011?
Reardon: Iosefa has been practicing at both fullback and running back, and will be a key part of the attack. He's a bull of a runner, and has worked hard to improve his speed and quickness. He was a quarterback in high school, so don't be surprised if he plays some wildcat or ends up in some other situation where he throws the ball.
Freedman: Led by T.J. McDonald and Nickell Robey, the Trojans have a strong secondary. What will Schroeder and the Warriors' wideout duo of Billy Ray Stutzmann and Miah Ostrowski (who combined for over 1500 yards and nine touchdowns in 2011) need to do in order to establish a necessary passing attack against the Trojans?
Reardon: Ostrowski will play in only a portion of the Warriors offensive formations since he is a slot receiver. But Chow said he expects a lot from the senior, especially in underneath routes. It seems like Stutz has been around forever but he's just a junior. He's become an experienced polished all-purpose receiver who has some burst to go with his solid route-running and hands. Look for sophomore Scott Harding, a former Aussie Rules player, to continue to improve; he is still learning the finer points of American football.
Freedman: After the Warriors' defense allowed 29.1 points per game last season, Chow brought in Thom Kaumeyer as the new defensive coordinator. What alterations will Chow and Caumeyer make on the defensive side of the ball this season, and what changes have you seen so far?
Reardon: The secondary looks strong with corners Tony Grimes and Mike Edwards. They are both former SEC players who got PT as freshmen, Grimes at Ole Miss and Edwards at Tennessee (I believe the head coach then was Lane Kiffin). So maybe more man-to-man allowing UH to stack the box. But maybe not this game because USC's receivers are so talented.
Formerly, the Warriors were bogged down with a huge defensive playbook. Kaumeyer has condensed that and it should translate to fewer players being out of position or "over-thinking." Of course, there's the possibilities of being too predictable and "under-thinking" too.
Freedman: Matt Barkley, Robert Woods, and Marqise Lee form what should be one of, if not the best passing attack in the country. Hawaii takes in the former Ole Miss starter in Grimes, but also lost stalwart linebackers in Aaron Brown and Corey Paredes, both of whom are now scrapping for an NFL roster spot. What will be the Warriors' strategy in containing the Trojan passing game?
Reardon: I don't know. Is there a chapel on the way to the stadium?
Freedman: Defensive end Paipai Faemalu is one of the Mountain West's most dangerous defensive players. What kind of trouble can he cause for both Matt Barkley and the USC running attack?
Reardon: Falemalu is definitely a Pac-12 starter level talent. If he's not double-teamed he will disrupt the Trojans. Probably not enough to make a decisive difference though.
Freedman: The Warriors struggled down the stretch last season, losing four of their last five as well as their starting quarterback Bryant Moniz to injury. After such a tough end to 2011, what do you think Norm Chow and the coaching staff is doing to prepare their team for an opener against a USC squad being touted as a national title contender?
Reardon: UH wants to try to play ball control, but, again, without being too predictable. Chow said the best way to defend USC is to not allow it on the field.
Freedman: What is your prediction for Saturday's game (including score)?
Reardon: Hawaii will have some success at moving the chains due to USC's young defensive front. But losing punter Alex Dunnachie for this game puts it at as severe disadvantage piled upon the overall talent imbalance. If UH wants to play a field position war, Dunnachie was a key.
USC won't score at will, at least early on. But eventually, its great talent will make the difference and the Trojans will break away midway through the second quarter or late in the third. Early on, Chow's coaching acumen and the emotion of going up against such a huge favorite will help the Warriors. But, if this plays out like 2003, something will go against Hawaii and the young team will doubt itself and find it difficult to recover. It will be a great learning experience for Hawaii, and the Warriors will play the Trojans tougher than most of the country expects.
Final prediction: 35-14.
Pacheco answering Fischman's similar question on the podcast: I've been kind of wavering back and forth on this one, actually. I would go...Oh man. I like being put on the spot. This is kind of fun. I would go 48-13, USC. I think USC will get to some of its second and third-string guys later in the game. I think Hawaii will try to move the football a little and will have some success later in the game.
Many thanks to Dave Reardon and Josh Pacheco.
Reach Associate Sports Editor Jacob Freedman here. Follow him here.
Reach Senior Sports Editor Aaron Fischman here or follow him on Twitter.