Sports
USC Fall Camp, Day 14: Turnovers Take Center Stage In Second Scrimmage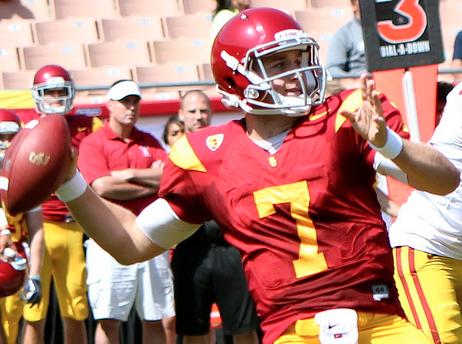 The USC Trojans played their second intrasquad scrimmage at the Los Angeles Memorial Coliseum Sunday in front of family members and the media. In the game, the typically dominant aerial attack struggled, but Ed Orgeron's defense dazzled.
Offensive Starters Struggle
Matt Barkley completed fewer than half of his passes (9 of 19) and was intercepted twice before he connected on a 25-yard touchdown pass to fullback Soma Vainuku. The pass was a fairly easy one to make, as Barkley found a wide-open Vainuku on the left side of the field. Both of the highly touted quarterback's interceptions came on tipped passes. On Sunday, the starting signal caller took too many risks, and the defense capitalized on those risks and turned them into mistakes.
Sophomore wide receiver Marqise Lee also had a day he'd like to soon forget. Not only did he only make two catches for 21 yards, but Lee also lost his cool in the second half. On the play, freshman cornerback Ryan Dillard was whistled for defensive pass interference against Lee, but rather than run back to the huddle, the sophomore wide receiver shoved Dillard. As a result, Lee triggered a personal foul penalty and the ire of his head coach: "You can't get frustrated. We took away an explosive play. There was a pass interference play for 15 yards that we gave it right back and so we took him out and didn't play him again."
Kiffin was, however, pleased that Lee took it upon himself, without any prodding from coaches, to apologize to his teammates. After the game, Lee told reporters he was frustrated by his team's offensive struggles, as well as the excessive contact from Dillard. He said he understood that Dillard was just trying to get under his skin and vowed to never let his emotions get the best of him like that in a practice or game ever again.
Backup Quarterback Battle Remains Tight
Kiffin maintained that he would have to look at the film to determine anything, but for now, he remains unsettled on who will be Barkley's backup on Sept. 1. Neither Cody Kessler nor Max Wittek looked sharp on Sunday. Wittek was the more aggressive of the two, which allowed the Mater Dei alum to convert on a few downfield passes, but it also resulted in two ill-advised interceptions. Kessler, on the other hand, did not turn the ball over but he only passed for 29 yards. Kessler's lone touchdown came on a 1-yard pass to an uncovered Victor Blackwell. Both quarterbacks completed just 38 percent of their passes, and it was really 37.5, so they can thank me for rounding up.
Starr and Bowman Impress
Freshman linebacker Scott Starr led the Trojans with two interceptions on a day where S.C. forced five turnovers, including four interceptions. Last season, USC recorded nine interceptions for the entire season. "We were fortunate to be 10-2 without getting many turnovers, which is unusual, so it's something that we talked about," said Kiffin. "I think our defensive staff has done a good with that." Veteran safety T.J. McDonald similarly highlighted the importance of forcing turnovers. "We just try to get the ball out however we can," said McDonald. "If we do that, we're going to put oursevles in a good position, because we know our offense is going to put up points, so if we ge the ball back in their hands, that makes us a better team."
Junior college transfer Gerald Bowman deflected one of the passes Starr ultimately intercepted. Bowman also added three tackles, including one for a loss. "I thought our safeties played really well today," said Kiffin. "Gerald Bowman showed up and made a couple plays in there." Fellow safety McDonald also praised Bowman for turning in a solid performance despite being new to the team's defensive system.
Who Will Be SC's Third Receiver?
The final question posed to Kiffin during post-game was the following: "Did any of the receivers not named Robert or Marqise stand out to you today?" The coach's one-word answer? "No."
Statistically, freshman receivers Victor Blackwell (three catches for 39 yards and a touchdown) and Nelson Algholor (three catches for 33 yards) made some noise, but neither looked especially impressive. Blackwell was completely unguarded on his touchdown route, and Algholor dropped at least one pass. Sometimes specific insight can be gained by reviewing the tape, but for now, Kiffin seems not be leaning in any direction when it comes to the third wide receiver slot.
Ball Security
Silas Reed's running looked explosive and quick on Sunday, rushing for 59 yards on 9 carries, but he made one costly error on his first run of the day. On an inside run, the Penn St. transfer fumbled the ball, which ultimately landed in the hands of freshman defensive tackle Antwaun Woods. The tailback explained the fumble: "I actually had a stinger the other day, and I got hit in the shoulder, and my arm kind of went numb a little bit and then the ball got poked out. But still no excuses, though. I should've had two hands on the ball."
A Real Game
The Trojans will host the Hawaii Warriors on Sept. 1 in the very same stadium in which they scrimmaged on Sunday. Until then, the team will prepare by holding 11 practices over the next 12 days.