Sports
USC Fall Camp, Day 11: Kevin Graf Adds Strength, Flexibility Through Yoga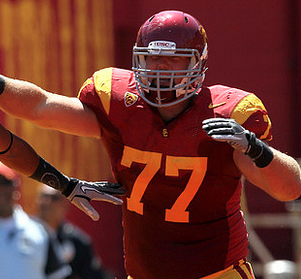 Thursday's practice was dominated by the mental aspect of the game. The players were told to leave their pads at home, as they went through a series of situational drills.
According to coach Kiffin, Robert Woods is still on a one-a-day schedule. On most days, there's only one practice, so Woods practices like everyone else. On days like Friday, however, when two practices are scheduled, Woods will continue to sit out the morning practice. He did not appear hampered in practice, but the coaches are taking extra precautions with his surgically-repaired ankle.
Junior Kevin Graf, who will be returning for his second season as a starting offensive tackle, says he added strength this offseason by doing yoga and extra weights every chance he got. Not only does Graf credit yoga for increasing his lower body strength, but he also says it vastly improved his flexibility. The 6-foot-6, 300-lb lineman did not specify whether he prefers hot yoga or the more traditional type.
And now let's give Kiffin the floor:
Kiffin on junior college transfer Gerald Bowman (safety): "Gerald's done such a really good job mentally, but now we've got to see how he's going to tackle in our live periods. It's one of the big disadvantages to play safe the way that we do for the most part of training camp, with our numbers. We just don't tackle much."
Kiffin on finding a go-to-blocker out of the receiving corps: "Our two starting guys are really physical in Robert and Marqise. We don't have that exact guy. That's kind of our team issue. We don't have a lot of upperclassmen backups. We actually overplay guys sometimes, so luckily De'Von Flournoy does some of that stuff, but not exactly like Carswell yet, but he's helping us out."
Kiffin on Penn State transfer Silas Redd's (running back) smooth transition: "This would not have worked, just to bring in a really good player if he was not the right person, because these kids wouldn't have accepted him. How do you sign a guy four days before you start? So he better be the right type of guy, who's going to work extremely hard and be very humble just like our great players are here. He is, and I think that's why the players have totally accepted him. They have some tables they sit at for certain meetings and things and you would think he's been here since Day 1 with that class of Robert, because that's really his class."
---
Aaron can be reached via email or Twitter, especially if you want to discuss yoga poses.