USC Sports
USC Fall Camp 2012, Day 8: Lane Kiffin Relinquishes Coaches' Poll Vote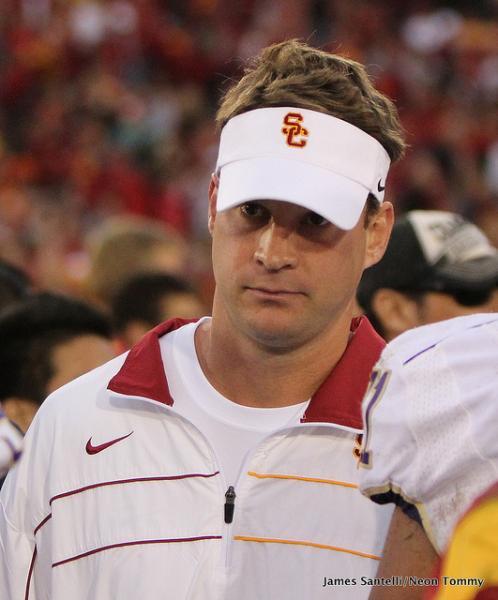 USC kicked off its second week of fall camp Monday afternoon at Howard Jones Field. Here are some notes and highlights from today's practice.
KIFFIN RELINQUISHES POLL VOTE
After last week's "Pollgate" in which USA TODAY publicly revealed Lane Kiffin's coaches' poll vote because the paper felt the coach gave misleading information regarding his vote, Kiffin relinquished his vote Monday. "I apologize if anyone thought that I was misleading them," Kiffin said. He also noted that the AFCA and USA TODAY said removing him from the poll wouldn't be an "inconvenience," because the season had not started yet.
BAXTER IN FAVOR OF RULE CHANGES
One of several rule changes in college football this year include moving kickoff up from the 30 to the 35 yard line and moving touchbacks from the 20 to the 25. Theoretically, by kicking the ball from the 35, more touchbacks will occur, and less injuries will happen on returns. USC special teams guru John Baxter seems to be quite a fan of the new changes. "I think it's a good rule," he said. "With the offensive personnel we got, let's let them just have the ball [at the 25]. I know our philosophy, with our numbers, we gotta protect our players."
INJURY UPDATE
Several Trojans were out with injury, as Kiffin noted was normal for this time of year across the country. Of note, all three starting linebackers were out. Lamar Dawson has his foot in a boot; Hayes Pullard has his ankle taped; and Dion Bailey's left arm was in a sling. Wideout Marqise Lee and cornerback Nickell Robey both sat out as well. Also, left tackle Aundrey Walker continued to sit out with an injury. In his place once again was true freshman Max Tuerk.
NUMBER CHANGE
Speaking of Tuerk, he was one of three players who had his number changed Monday. Tuerk switched to number 75 (the worn by former All-American and first-round NFL draft pick Matt Kalil). Fellow offensive linemen David Garness switch to number 67, and Ryan Bernstein is now 64. Kiffin was asked about Tuerk's number change and if there was any significance after using number changes as a reward in previous camps, but indicated there wasn't. "It's just kind of a better tackle number, in general. It just looks more normal out there," Kiffin said.
USC will resume practice tomorrow afternoon.
Reach Scott by email, or follow him on Twitter.