Sports
Robert Woods, Collegiate Return Men Will Have To Adjust To New Kickoff Rules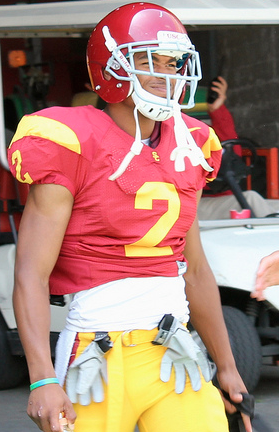 Junior wide receiver Robert Woods was given a spot on the 2012 Jet Return Specialist Award watch list this week, but his task of returning kicks may be significantly distinct from prior seasons.

While the players honored obviously know what they're doing as they return kicks, new NCAA rules may force them to alter their various approaches. Beginning this upcoming season, kickoffs will be placed on the kicking team's 35-yard line as opposed to the 30, while touchbacks will be brought to the returning team's 25-yard line rather than its 20. This means the kicking team begins five yards closer, so more kicks will naturally fall into the end zone, not to mention the fact that the returning team is now being rewarded with five extra yards when a touchback occurs.

Considering the new rule changes, which are designed to improve player safety, some are concerned that the nation's best returners may not be able to showcase their athleticism as they once could.

Named for 1972 Heisman Trophy winner Johnny "The Jet" Rodgers, this award honors the best return specialist in college football. For a player to win, he must rank among the nation's leaders in return categories and essentially avoid being a troublemaker on and off the field.

On the list, Woods is joined by 28 other returners, including two of last year's finalists, T.J Thorpe and Dustin Harris, as well as two Pac-12 compatriots, Oregon's De'Anthony Thomas and Jamal Miles of Arizona State. Interestingly enough, the 29 players listed are nearly evenly split when it comes to class rank with 10 seniors, 8 juniors and 11 sophomores.

Last season, Woods returned 17 kickoffs and 13 punts for averages of 23.1 and 9.1 yards, respectively. We all know how bold Lane Kiffin is, but could Bane Kiffin start telling his best returner to take a knee in the end zone? That doesn't sound like Kiffin to me, but it's possible.

If Woods' average remains between 23 and 25 yards per return, and the opposing kicker typically finds SC's end zone, there would be little to no incentive for Woods to bring the ball out of the end zone. Not only would Woods probably not get past the 25-yard line on most occasions, but he is so highly valued at the wide receiver position that it would make virtually no sense to risk injury with a few exceptions (e.g. a bad kick or if the Trojans were facing a poor special teams coverage team).

As our Scott Enyeart reported on Monday, USC special teams coach John Baxter is in favor of the rule change. "I think it's a good rule," said the coach. "With the offensive personnel we got, let's let them just have the ball [at the 25]. I know our philosophy, with our numbers, we gotta protect our players."

Judging from what Baxter told reporters, it seems like Woods will be getting fewer return opportunities this year and that may not be a bad thing. To echo Baxter, USC has an explosive offense. Give Matt Barkley the ball on the 25-yard line, and you probably shouldn't blink or you might miss a quick touchdown strike. Furthermore, as one of Barkley's two favorite targets, a Woods injury on a kickoff return would be extremely costly for the team.
---