National
RNC Day 2: GOP Platform Moves Party Further Right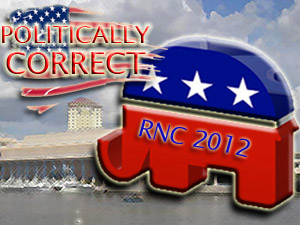 Delegates at the Republican National Convention overwhelmingly approved a new
party platform
Tuesday which includes Paul Ryan's plan to make deep cuts to Medicare, an abortion ban with no exemption for rape or incest, and a personhood amendment. The party also opposed limiting the capacity of ammunition clips for firearms, despite the recent spate of mass shootings which left dozens dead.
The Medicare plank of the platform calls for the program to be converted into a partially privatized system where seniors would have the option to keep the current program or receive a subsidy to buy private insurance. The plan also calls for Medicaid to be converted into a state grant program which would give states the power to decide which benefits would be available and how many people would be eligible.
The Sanctity and Dignity of Human Life plank calls for the Fourteenth Amendment to be extended to unborn children, an end to the "barbaric" practice of partial birth abortions and a ban on embryonic stem cell research. It does not include any language for exemptions to the proposed ban on abortions.
Perhaps most controversial in light of recent events, the Second Amendment plank of the platform opposes any legislation limiting the capacity of ammunition clips or magazines for firearms. Gun control has been a national topic ever since several high-profile shootings, namely the Arizona shooting which killed six people and injured 13 others, including Rep. Gabrielle Giffords, the Aurora, Colo. movie theater massacre which left 12 people dead and 58 injured and the Wisconsin shooting at a Sikh temple which left six people dead.
"Gun ownership is responsible citizenship," according to the platform.
While the platform seeks to protect the right to use high-capacity ammunition clips despite a rising civilian death toll, the document did express outrage over the death of one U.S. Border Patrol Agent in connection to the infamous "Fast and Furious" program. But even though Border Patrol Agent Brian Terry was killed in Arizona, the platform also includes language opposing the "improper collection of firearms sales information in the four southern border states" because it was imposed without congressional authority.
Reach Staff Columnist Dawn Megli here.
More RNC 2012 News