Opinion
Right-Wing Extremist Terrorism Must Be More Widely Discussed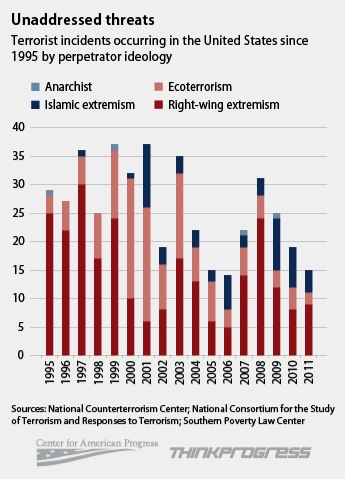 Current statistics by Center for American Progress (image) show that while Islamic terrorism does remain a threat to domestic security, right-wing extremism is on the rise. Yet right-wing extremist terrorism continues to receive little public attention.
According to Think Progress:
"Fifty-six percent of domestic terrorist attacks and plots in the U.S. since 1995 have been perpetrated by right-wing extremists, as compared to 30 percent by eco-terrorists and 12 percent by Islamic extremists. Right-wing extremism has been responsible for the greatest number of terrorist incidents in the U.S. in 13 of the 17 years since the Oklahoma City bombing."
If the statistics are to be believed, why is there more focus on Islamic terrorism?
Daryl Johnson, writer of the 2009 Department of Homeland Security report on right-wing extremism, accused Homeland Security of ignoring the growing threat of right-wing violence in the face of political pressure. Johnson said that DHS employed just one analyst to monitor all non-Islamic extremism. On the other hand, the department had at least two dozen personnel assigned to analyzing the threat of homegrown Islamic extremism. Although several of those referrals led to criminal cases, conservatives still went ballistic over his team's 2009 report on the threat posed by right-wing extremists.
The report was presented in 2009. It has been three years since then, and the danger posed by right-wing extremists still exists, as demonstrated by the recent Sikh Temple massacre in Wisconsin. Attacks targeting Muslims or people perceived to be Muslim are only increasing.
Some may think of Islamic extremism when they hear the word "terrorism." However, as the tragedy in Wisconsin unfortunately highlights, the vast majority of these attacks in the U.S. are carried out by non-Islamic American extremists.
In the case of domestic terrorism on Muslims or people perceived to be Muslims, there hasn't been much of a response from politicians other than expressions of grief and sorrow. When a white supremacist goes on a killing spree, it's just another tragic inevitable consequence of living in an imperfect world. When a Muslim does the same thing, we actually expect the government to do something about it.
As an Indian Sikh student of Pakistani origin studying at the University of Southern California (USC), I have always felt comfortable and welcomed in the United States. I have never encountered a single racist incident that made me question my cultural and religious ideals. Yet, when I switch on American news channels, there are reports of attacks on people who are thought to fit in the stereotypical categories of "terrorist" and "outsider." And even though the United States citizens I meet every single day display great capabilities for sympathy, there is also a degree of intolerance hidden under the surface.
After a few days following the Sikh temple shooting, I noticed that none of my colleagues at university had condemned the attacks on their social networking pages, like most of them generally do when something goes terribly wrong. But clearly such blatant, extreme examples of intolerance and hatred cannot be ignored.
I believe that one way to tackle the issue of domestic terrorism targeting the non-white minority is to make the attacks known among friends and colleagues, and to discuss them widely and openly. If the issue of right-wing extremist terrorism is discussed more openly, there is a greater chance that stopping right-wing domestic terrorism will become a priority for the United States to focus on in its overall policy to counter terrorism.
If this does not happen, we may just live in a country that is even less secure, even less free, and even more frightened.
Reach Contributor Naina Sethi here.