National
Presidential Candidates Remain Silent on Chick-fil-A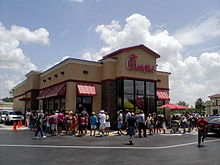 Chick-fil-A may have been
making headlines lately
, due to the private company's personal views on gay marriage; however neither Mitt Romney nor Barack Obama has wanted to address the controversy, according to Politico.
During a news conference in Las Vegas on Friday, Romney told reporters that he did not want to comment on the issue.
"Those are not things that are part of my campaign," Romney said.
Politico added that President Obama, who has also not commented on the issue, has stayed away from the issue.
"Obama, already in favor of gay marriage, has little to gain by weighing in against a private company that operates primarily in red states on an issue that has already inflamed social conservatives.
Party bases have not hesitated to take a stand on the issue, however. A "Chick-fil-A Appreciation Day" was held Wednesday which boasted record sales and a subsequent "national same-sex kiss day at Chick-fil-A" held by gay rights activists on Friday.
Chicago's mayor, Rahm Emanuel, Boston's Thomas Menino and a handful of other mayors also made headlines by threatening to ban Chick-fil-A.
Ralph Reed, the founder of the Christian conservative Faith and Freedom Coalition, said that Romney is making a mistake by not taking a stand on the issue, On Top reported.
"The vast majority of the American people, even those who might not agree with [President of Chick-Fil-A] Dan Cathy's personal views, think that it was incorrect for Rahm Emanuel and the mayor of Boston to suggest that they wouldn't be allowed to get a permit in their city," said Reed. "I think anything for anybody running for office in either party right now would benefit" from a visit to Chick-Fil-A.
Read the full story at Politico here, On Top here, Huffington Post here and CNN here.
Read more of Neon Tommy's coverage of the Presidential election here.
Reach Executive Producer Jackie Mansky here.