Sports
Olympics 2012, Day 15: Mixed Results For Team USA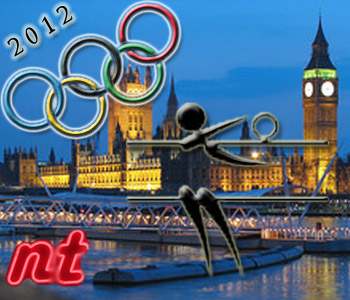 Team USA's overall performance on day 15 of the London Olympics was a mix of dominance in some sports and shocking defeat in others. The track team got at least one athlete on the medal podium in every event final held today, while the women's beach volleyball final at Horse Guards' Parade was an all-American affair between two USC alums and the greatest duo the sport has ever seen. On the other hand, two men's teams collapsed completely in their quarterfinal matches, leaving the USA without medals in tournaments in which they were expected to contend for gold.
Story of the Day: May-Treanor and Walsh-Jennings Beat American Trojans for Third-Straight Gold.
Just in case it was still in question, Misty May-Treanor and Kerri Walsh-Jennings proved once again they are the greatest beach volleyball duo of all time.
The Stars and Stripes could be found everywhere in the crowd at the most popular venue of these Olympics, as two American teams competed for gold. May and Walsh's opponents were Jennifer Kessy and April Ross, two USC alumnae who won the FIVB World Championship in 2009. Both earned All-American honors as Trojans, and Ross helped USC to back-to-back national championships in 2002 and 2003.
Kessy and Ross pulled off an upset victory against May and Walsh at a California tournament four years ago, but on the Olympic stage, the defending gold medalists would not be stopped. May and Walsh won in straight sets, 21-16, 21-16.
May announced before these Olympics that this tournament would be her last, as she wanted to retire to start a family. So if this is the end of this legendary pair, they have gone out in style. With three gold medals, an undefeated Olympic record, three world championships and 110 tournament titles, their success may never be matched.
As for Kessy and Ross, their silver medal at these Olympics could be the start of their rise to the top of the beach volleyball rankings, as they will be expected to continue the winning tradition May and Walsh have established. But for now, they will enjoy the run they have made at their first ever Olympics.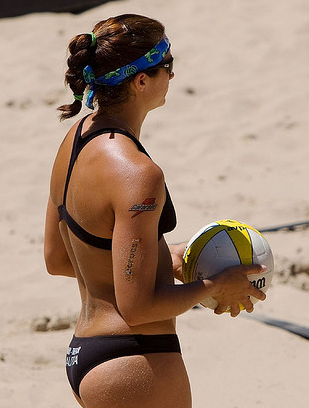 "The field was so tough, coming into this tournament I couldn't imagine going home with a medal," Ross told the Associated Press. "We're going to be wearing these medals when we're old ladies drinking coffee by the fire," added Kessy.
USA Wins Seven Medals In Track
The American track team put forth a breakthrough performance today at Olympic Stadium, winning more gold medals in 90 minutes than they had won in the past five days.
In the 200-meter sprint, USC alum Allyson Felix lived up to the hype, taking the gold with a time of 21.88 seconds. While the lack of distance in the 100-meter dash prevented her from accelerating fast enough to win a medal, the 200-meter race allowed her to demonstrate her incredible speed in the homestretch. Carmelita Jeter also won a bronze medal for the USA in this event, making her the first American woman to medal in the 100- and 200-meter sprints since Florence Griffith-Joyner in 1988.
In the men's 110-meter hurdles, the USA took a 1-2 finish thanks to Aries Merritt and Jason Richardson, who won the gold and silver, respectively. It's the first American gold in this event since 1996.
In the women's long jump, Brittney Reese won the gold with a distance of 7.12 meters, while teammate Janay Deloach took bronze with a distance of 6.89, just one centimeter ahead of fourth-place finisher Ineta Radevica of Latvia.
Finally, in the women's 400-meter hurdles, Lashinda Demus finally won an Olympic medal after eight years of disappointment, taking silver with a time of 52.77 and ensuring that the USA came away with at least one medal in every final.
USA Basketball Advances While Other American Teams Fall
The USA basketball team advanced to the semifinals with a 119-86 victory over Australia. While LeBron James earned another triple-double, the star was Kobe Bryant, who scored 20 points and made three consecutive shots from behind the arc to help his team pull away in the fourth quarter. It was by far the best performance from the Black Mamba at these Olympics.
Unfortunately, not all the USA men's teams had the same success. The men's volleyball team fell to Italy in a stunning quarterfinal upset. The Italians, who had finished fourth in their preliminary pool, showed up with an incredible service game, racking up nine aces. The Americans, on the other hand, didn't seem to show up at all, making uncharacteristic mistakes and losing in straight sets to end their hopes for a second consecutive gold medal.
Meanwhile, the USA men's water polo team lost its quarterfinal to Croatia, 8-2. The Americans found themselves outmatched as the Croatians shut them out during the first half. They attempted a comeback in the third quarter by scoring two goals, but were quickly stopped when Croatia responded with two goals of their own in the closing minutes.
Trojan News
Jennifer Kessy, April Ross, and Allyson Felix: Mentioned Above
Eva Orban: Representing Hungary, Orban finished in 17th in the qualifying round of the women's hammer throw with a distance of 68.64 meters.
Aaron Brown: The Canadian Trojan finished just outside of the qualifying window in the semifinals of the men's 200 meters. He tied for ninth place with a time of 20.42.
James Clark and Joel Dennerley: The two Trojans on the Australian water polo team saw their hopes for a medal end with an 11-8 quarterfinal defeat to Serbia. Dennerley made two blocks as a goalkeeper.
Day 15 Medal Results
Canoeing
Men's Sprint K-1 1,000 meters | Gold: Eirik Verås Larsen (Norway), Silver: Adam van Koeverden (Canada), Bronze: Max Hoff (Germany)
Men's Sprint C-1 1,000 meters | Gold: Sebastian Brendel (Germany), Silver: David Cal (Spain), Bronze: Mark Oldershaw (Canada)
Men's Sprint K-2 1,000 meters | Gold: Rudolf Dombi & Roland Kökény (Hungary), Silver: Fernando Pimenta & Emanuel Silva (Spain), Bronze: Andreas Ihle & Martin Hollstein (Germany)
Women's Sprint K-4 500 meters | Gold: Hungary, Silver: Germany, Bronze: Belarus
Equestrian
Individual Jumping | Gold: Steve Guerdat (Switzerland), Silver: Gerco Schröder (Netherlands), Bronze: Cian O'Connor (Ireland)
Sailing
Men's 49er | Gold: Nathan Outteridge & Iain Jensen (Australia), Silver: Peter Burling & Blair Tuke (New Zealand), Bronze: Peter Lang & Allan Nørregaard (Denmark)
Table Tennis
Men's Team | Gold: China, Silver: South Korea, Bronze: Germany

Taekwondo
Women's 49-kilogram (108 lbs) | Gold: Wu Jingyu (China), Silver: Brigitte Yagüe (Spain), Bronze: Lucija Zaninovic (Croatia) and Chanatip Sonkham (Thailand)
Men's 58-kilogram (128 lbs) | Gold: Joel González (Spain), Silver: Lee Dae-Hoon (South Korea), Bronze: Oscar Muñoz (Colombia) and Alexey Denisenko (Russia)
Track and Field

Women's Long Jump | Gold: Brittney Reese (United States), Silver: Elena Sokolova (Russia), Bronze: Janay DeLoach (United States)
Women's 400-meter Hurdles | Gold: Natalya Antyukh (Russia), Silver: Lashinda Demus (United States), Bronze: Zuzana Hejnová (Czech Republic)
Women's 200 meters | Gold: Allyson Felix (United States), Silver: Shelly-Ann Fraser-Pryce (Jamaica), Bronze: Carmelita Jeter (United States)
Men's 110-meter Hurdles | Gold: Aries Merritt (United States), Silver: Jason Richardson (United States), Bronze: Hansle Parchment (Jamaica)
Volleyball
Women's Beach | Gold: Misty May-Treanor & Kerri Walsh Jennings (United States), Silver: Jen Kessy & April Ross (United States), Bronze: Larissa & Juliana (Brazil)
Wrestling
Women's Freestyle 48-kilogram (105.5 lbs) | Gold: Hitomi Obara (Japan), Silver: Maria Stadnyk (Azerbaijan), Bronze: Clarissa Chun (United States) and Carol Huynh (Canada)
Women's Freestyle 63-kilogram (138.5 lbs) | Gold: Kaori Icho (Japan), Silver: Jing Ruixue (China), Bronze: Lyubov Volossova (Russia) and Soronzonbold Battsetseg (Mongolia)
Read more of Neon Tommy's 2012 Olympic coverage here.
Reach Jeremy via email.