Sports
Olympics 2012, Day 13: Alex Morgan, U.S. Women Pull Off Stunner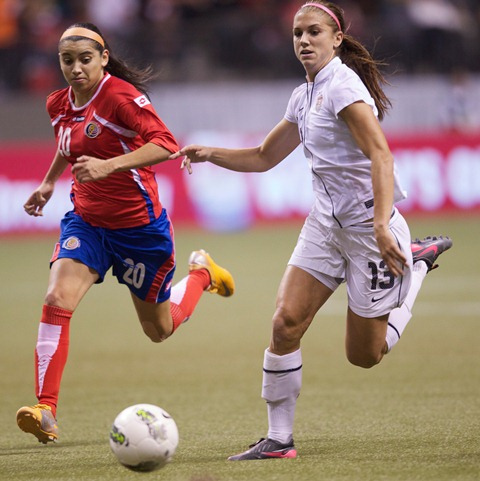 Slow day in London, ladies and gentlemen. Michael Phelps and Missy Franklin are doing their victory press laps; Usain Bolt is taking a day off from striking poses, breaking records and
loving America
; and an overload of equestrian events is absorbing my television screen. But fear not: Monday's action in London — and Manchester — did leave us with one of the greatest moments of these 2012 Summer Games so far.
Alex Morgan, U.S. Women Stun Resilient Canada
The United States national soccer team knows its way around. Donovan's winner in the 92nd in South Africa. Abby's header in the 122nd in Germany. Well, call late-match heroics an American trend, because Alex Morgan has provided one of her own, our country's third in three consecutive summer tournaments.
The American women didn't hold a lead until the 123rd minute of the match and the last minute of extra time, showing equal parts heart and endurance in a 4-3 thriller against Canada.
Favored to win and move on to the final, the United States women did not take their border rival Canada lightly. The Canadian women's team is now 3-44-5 against the American national team but put together one of its grittiest, best performances in the team's history.
The match escalated quickly. Led by team captain and all-time leading scorer Christine Sinclair, Canada jumped out to a 1-0 lead in the 22nd minute, following a flurry of American chances.
For 32 minutes — plus halftime — the score remained unchanged. Then came a most amazing 26-minute, five-goal flurry form both squads that lit Twitter afire.
First, in the 54th minute, U.S. midfielder Megan Rapinoe curled in a Beckham-like corner from the near flag just past the near post and through three Canadian bodies. 1-1.
Then, in the 67th minute, Sinclair stuck again to give Canada a 2-1 lead. The lead lasted just three minutes, after which Rapinoe produced a wonder strike from outside the box that knuckled under the Canadian keeper to tie it up at 2-2.
But that lead also lasted just three minutes. For a third time on the day and the 143rd time in her international career, Sinclair netted one for the Canadians. Her 73rd minute header off of a corner put her team up 3-2.
But the Americans battled back tying it up in the 80th with a bit of skill, but a whole lot of luck.
After a rare indirect free kick was given in the Canadian box because keeper Erin McLeod held the ball too long, Rapinoe struck the arm of a Canadian defender in the box, prompting a penalty kick. American soccer legend Abby Wambach proceeded to sneak the PK off the left post, tying it up 3-3.
The match moved into extra time, where for nearly both periods of play, no goals were scored. But in the 123rd minute, a beauty of a cross by Heather O'Reilly found the head of a leaping and fearless Alex Morgan, who knocked the ball right over the slow McLeod to clinch the victory and trip to the Olympic final.
The goal prompted not only incredible celebrations on the field, but marriage proposals and exclamations towards Morgan all across Twitter, Facebook, and the social media blogosphere, including from this unashamed and love-struck writer.
The U.S. will now play Japan in the gold-medal match on Thursday, a rematch of the heartbreaking World Cup Final loss in 2011. With the insane momentum from today's crazy win, there's no doubt the Americans will give it their all and more to take the gold later this week.
And if you don't believe my account of how amazing and gripping this match was, watch for yourself.
In Other News…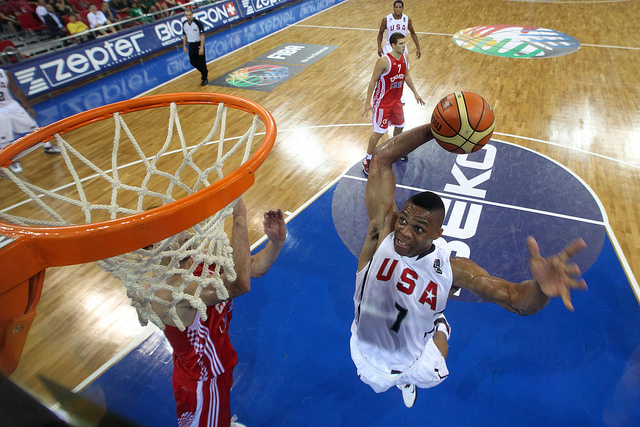 The
U.S. men's basketball
team made mince meat of a talked-up Argentine squad in the second half of its 126-97 win after a tight first half. The Americans pulled away with help from Kevin Durant, who dropped 28 points, most of them from behind the arc, and Russell Westbrook, who dropped
this hammer
on an Argentine player to be named later — or, for his sake, never. Coach K's squad finished 5-0 in group play and now will move on to a quarterfinals matchup against Australia on Wednesday at 2:15 p.m. PDT.
Riding the wave of attention and admiration coming from her gold-medal performance in the women's gymnastics all-around, Gabby Douglas was hoping today would be, as Phelps described, the "cherry" on the top of her Olympics. A gold in her best event, the individual uneven bars final, would have been a most satisfying conclusion to an already rewarding week (ahem, Corn Flakes). But it was not to be today. Douglas finished eighth (dead last) in the final, while Aliya Mustafina of Russia took gold.
Trojans in the Olympics
Felix Sanchez won his second career Olympic gold with his winning performance in the Men's 400-meter hurdles final. The Dominican ran the full lap in 47.63 seconds, finishing .28 seconds faster than silver medalist Michael Tinsley. Sanchez previously won gold eight years ago in Athens in the same event. With this win, Sanchez becomes the oldest ever champion and medalist in the 400 hurdles in the Olympics.
U.S. women's soccer head coach Pia Sundhage didn't sub Amy Rodriguez in off the bench in today's semifinal clash with Canada, but that doesn't mean Amy was any less a part of the team's amazing, hard-fought, dramatic 4-3 victory.
Allyson Felix qualified for the semifinals in the women's 200 meters with a 22.71 sprint. Duane Solomon also qualified for a semifinal in track and field today, running the men's 800 meters in 1:46.05.
U.S. men's volleyball veteran Donald Suxho contributed with one point off a spike in today's 3-0 sweep of Tunisia, the team's last match in group play.
In the pool today, Shea Buckner and the U.S. men's water polo suffered its second loss in two matches, falling to Hungary, 11-6. The Americans' next match is Wednesday against Croatia, whom they lost to just two days ago. For Australia, Joel Dennerley and James Clark helped spring an upset over Greece, stealing their foe's place in the quarterfinals.
And welcoming to the Trojan Family… Margaux Farrell. The French swimmer is planning to enroll in the Annenberg School of Communication and Journalism in the broadcast journalism master's program in the fall of 2013. But she's started doing us proud at least one year early, earning the bronze medal as member of the French 4x200 freestyle relay.
Day 13 Medal Results
Cycling
Men's Sprint | Gold: Jason Kenny (Great Britain), Silver: Grégory Baugé (France), Bronze: Shane Perkins (Australia)
Equestrian
Team Jumping | Gold: Great Britain, Silver: Netherlands, Bronze: Saudi Arabia
Gymnastics
Men's Rings | Gold: Arthur Zanetti (Brazil), Silver: Chen Yibing (China), Bronze: Matteo Morandi (Italy)
Women's Uneven Bars | Gold: Aliya Mustafina (Russia), Silver: He Kexin (China), Bronze: Beth Tweddle (Great Britain)
Men's Vault | Gold: Yang Hak-Seon (South Korea), Silver: Denis Ablyazin (Russia), Bronze: Igor Radivilov (Ukraine)
Sailing
Women's Laser Radial | Gold: Xu Lijia (China), Silver (Marit Bouwneester (Netherlands), Bronze: Evi Van Acker (Belgium)
Men's Laser | Gold: Tom Slingsby (Australia), Silver: Pavlos Kontides (Cyprus), Bronze: Rasmus Myrgren (Sweden)
Shooting
Men's 50-meter Rifle, 3 positions | Gold: Niccolò Campriani (Italy), Silver: Kim Jong-Hyun (South Korea), Bronze: Matthew Emmons (United States)
Men's Trap | Gold: Giovanni Cernogoraz (Croatia), Silver: Massimo Fabbrizi (Italy), Bronze: Fehaid Aldeehani (Kuwait)
Track and Field
Women's Pole Vault | Gold: Jennifer Suhr (United States), Silver: Yarisley Silva (Cuba), Bronze: Yelena Isinbayeva (Russia)
Women's Shot Put | Gold: Nadezhda Ostapchuk (Belarus), Silver: Valerie Adams (New Zealand), Bronze: Yevgeniya Kolodko (Russia)
Men's 400-meter Hurdles | Gold: Félix Sánchez (Dominican Republic), Silver: Michael Tinsley (United States), Bronze: Javier Culson (Puerto Rico)
Women's 3,000-meter Steeplechase | Gold: Yuliya Zaripova (Russia), Silver: Habiba Ghribi (Tunisia), Bronze: Sofia Assefa (Ethiopia)
Men's 400 meters | Gold: Kirani James (Grenada), Silver: Luguelin Santos (Dominican Republic), Bronze: Lalonde Gordon (Trinidad & Tobago)

Weightlifting
Men's 105-kilogram (231 lbs) | Gold: Oleksiy Torokhtiy (Ukraine), Silver: Navab Nasirshelal (Iran), Bronze: Bartlomiej Bonk (Poland)

Wrestling
Men's Greco-Roman 60-kilogram (132 lbs) | Gold: Omid Noroozi (Iran), Silver: Revaz Lashkhi (Georgia), Bronze: Ryutaro Matsumoto (Japan) and Zaur Kuramagomedov (Russia)
Men's Greco-Roman 84-kilogram (185 lbs) | Gold: Alan Khugaev (Russia), Silver: Karam Gaber (Egypt), Bronze: Damian Janikowski (Poland) and Danyel Gadzhiev (Kazakhstan)
Men's Greco-Roman 120-kilogram (264.5 lbs) | Gold: Mijaín López (Cuba), Silver: Heiki Nabi (Estonia), Bronze: Johan Euren (Sweden) and Riza Kayaalp (Turkey)
For more of Neon Tommy's coverage of the London Olympics, click here.
Follow Jeremy on Twitter.