International
Murder Trial Of Gu Kailai Ends In Seven Hours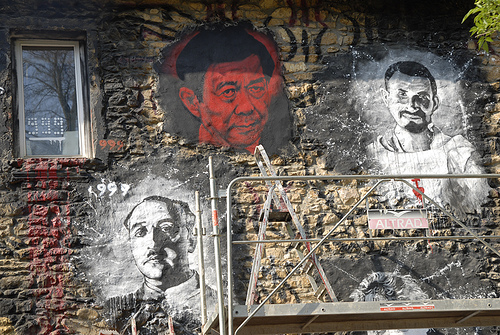 In China's highest-profile criminal trial in decades, Gu Kailai, wife of deposed Politburo member Bo Xilai, "all but confessed" to murder charges brought against her for last November's poisoning of British businessman Neil Heywood, who allegedly threatened her son in a dispute over a business deal, according to the
New York Times
.
Gu, aided by a family employee, Zhang Xiaojun, is alleged to have poured poison into the mouth of an intoxicated Heywood in a Chongqing hotel room last fall. A longtime ally of Bo, claiming to be worried for his safety, went to the American Consulate in Chengdu, revealing details of the crime. Chinese authorities then removed Bo from his senior government position, effectively overseeing the city of Chongqing, and arrested Gu and Zhang based on these allegations.
China has sought to minimize coverage of this trial, as probing further into the type of business dealings Bo, Gu and Heywood were involved in threatens to expose corruption among government officials that could prove not just unsightly but politically damaging. Therefore, the seven-hour trial, which took place far from Chongqing in Hefei and was open only to approved Chinese media, was to be expected. As the New York Times reports:
"Although Xinhua has broadly described the crime as born from "a conflict of economic interests," most analysts predicted that the details of those interests would not be discussed during the trial, given their potential to complicate the case against Mr. Bo, who is still awaiting his fate.

Cheng Li, an expert on Chinese politics at the Brookings Institution, said party leaders might also be leery of publicly airing details about financial dealings that could involve tens of millions of dollars, according to those with knowledge of the investigation. Although few Chinese have illusions about the integrity of their leaders, party officials do not necessarily want such dirty laundry to be aired so prominently, especially about Mr. Bo, who still enjoys strong support among certain factions of the leadership and among ordinary Chinese.

'They are eager to keep the focus on murder, which is so much easier to deal with than corruption,' Mr. Li said."
While it is all but certain Gu and Zhang will be convicted of intentional homicide, the official verdict will come at a later date. Analysts feel that the court official's portrayal of Gu as frail and weak, as well as mentioning that she acted in defense of her son, is a sign that she might not face the death penalty, despite China being the world leader in executions.
Reach Executive Producer Matt Pressberg here.