International
Kofi Annan Quits As Special Envoy To Syria, Rebels Use Heavy Artillery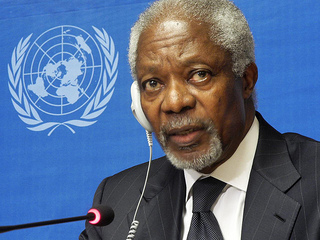 Kofi Annan will leave his post as U.N. special envoy to Syria when his mandate expires in August, the UN Secretary General Ban Ki-moon announced Thursday.
Annan developed a six-point peace plan to help quell the fighting but neither side complied with the terms of the agreement and a true cease-fire was never achieved, the BBC reported. Annan criticized "finger pointing and name calling" on the U.N. Security Council as a reason diplomatic efforts have failed thus far. The Ghanaian diplomat was appointed to be the U.N.-Arab League special envoy to Syria in February.
180 people were killed in Syria on Wednesday, according to the Syrian Observatory for Human Rights. 18,000 have been killed since the fighting began 17 months ago and more than 200,000 refugees have fled their homes.
Annan deserved "our profound admiration for the selfless way in which he has put his formidable skills and prestige to this most difficult and potentially thankless of assignments," Ban said.
The announcement of Annan's departure came as rebel forces in the commercial hub of Aleppo began using the gun on a captured tank to shell a military airbase used by warplanes, according to Reuters. This is one of the first known instances of rebel forces comandeering heavy artillery.
Forces loyal to President Bashar al-Assad's regime have focused on bombarding the Salaheddine district in Aleppo, using tank and artillery munitions and suported by combat aircraft. Mobile phone connections were cut Wednesday night, leading to fears that the government was preparing for a major assault.
Fighting has continued in Damascus, as well. Videos reportedly shot in and near Damascus showed bodies piled up in streets.
"I counted 52 bodies," Abu Abdullah, a resident who said he had helped move the dead to a local mosque, told the New York Times. "I'm really shocked. Why here?"
From the New York Times:
This week, it has become increasingly clear to outside military analysts that the fighting is likely to drag on in Aleppo. Helicopters thwacked overhead Wednesday as clashes broke out around several more police stations, which have become a focal point for rebels seeking to hold neighborhoods or gain ground...
With the rebels now possessing tanks — United Nations observers did not have information on how many, or where they might be deployed — the conflict seems to be moving ever further away from the six-point plan for peace outlined by Kofi Annan, the special Syria envoy for the United Nations and the Arab League, whose plan seems increasingly irrelevant. Instead of steps toward a cease-fire, both sides appear to be rushing into the breach of civil war.
Meanwhile, food and supplies are becoming scarce for ciillians trapped by the violence. 3 million Syrians require food, crop and livestock assistance according to Businessweek. Half of those need urgent assistance within the next three to six months.
It is estimated Syria's agricultural industry has lost $1.8 billion due to the conlfict, according to a joint statement released by the UN Food & Agriculture Organization and the World Food Programme.
Even with Annan leaving, the U.N. said it would continue to follow the six-point peace plan as the "best hope for the people of Syria."
Follow Neon Tommy's coverage of the fighting in Syria.
Reach Executive Producer Dawn Megli here; follow her on Twitter here.
[View the story "Follow reaction to Annan's resignation:" on Storify]