National
Job Growth In July But Unemployment Slightly Rises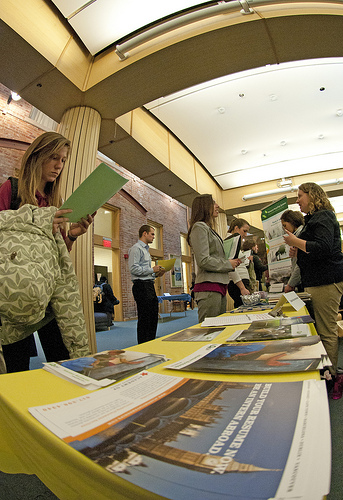 Employers have added 163,000 jobs in July after a string of disappointing job figures from April through June, according to a report released Friday by the Labor Department, but the unemployment rate has risen just slightly to 8.3 percent from 8.2.
Prior to Friday's report, economists were worried that a slowdown in hiring and growth could lead to something more long-lasting said the San Francisco Chronicle.
Paul Ashworth, a senior U.S. economist for Capital Economics, said July's job gains "were a 'vast improvement' over the past four months." Still, they were well below the average 252,000 jobs a month added from December through February said the San Francisco Chronicle.
"It also isn't strong enough to drive the unemployment rate lower, which is what the Fed really wants to see. So, on balance, we doubt this would be enough to persuade the Fed to hold fire in September," Ashworth said.
According to The Lexington-Herald Leader, the government does one survey to learn how many jobs were created and another to determine the unemployment rate. Both surveys can produce results that sometimes seem to conflict.
The payroll survey produces the number of jobs gained or lost and asks large companies and government agencies how many people they have employed during the month. July's survey showed 172,000 jobs were added and 9,000 were cut by federal, state and local governments.
The household survey measures unemployment. It asks whether adults in a household have a job. If not, those who are looking for one are considered unemployed. The survey captures farm workers, those who are self-employed and people working for new companies, unlike the payroll survey. The Lexington-Herald Leader said it does a better job of tracking hiring by small businesses.
Yet, economists prefer the job figures from the payroll survey. It seeks information from 140,000 companies compared to the 60,000 households the Labor Department surveys for its household survey.
A better outlook on hiring could make the Federal Reserve reluctant to take more action to spur growth. The Fed, which ended a two-day policy meeting Wednesday, signaled in a statement a growing inclination to take further steps if hiring doesn't pick up.

Stronger job creation could help President Barack Obama's re-election hopes. Still, the unemployment rate has been above 8 percent since his first month in office — the longest stretch on record. No president since World War II has faced re-election with unemployment over 8 percent.

In remarks at the White House, Obama said the private sector has now added 4.5 million jobs in the past 29 months. But he acknowledged there still are too many people out of work.

"We've got more work to do on their behalf," he said.
Reuters reports that the real question is whether the spike in jobs during July will be sustainable. Economists are skeptical as potential tightening in fiscal policy and Europe's debt crisis continues.
"We're still in an environment where productivity is slowing, where profit growth is slowing, and we don't think that is a robust environment to see meaningful job gains," said Tom Porcelli, chief U.S. economist at RBC Capital Markets.
Fed Chairman Ben Bernanke said at a news conference in April, citing a "very rough estimate," that monthly payroll growth of about 100,000 is needed to keep the jobless rate stable, while growth of roughly 150,000 to 200,000 is needed to lower unemployment.
Through June, the U.S. recovered about 3.8 million of the 8.8 million jobs lost as a result of the 18-month recession that ended in June 2009 said Bloomberg.
Clayton Hopkins, 25, told Bloomberg that he is starting a new job at the consulting firm ICF International Inc. with a salary 30 percent more than what he was paid at his previous job.
"It's pretty grim out there, so I'm excited to be doing something that both feeds my soul and my wallet," said Hopkins.
Tania Dougherty, owner of The Little Wine Bus in New York, told the San Francisco Chronicle that she is looking to hire three or four new tour guides because more companies are booking her daylong winery tours for employee outings.
She said companies were cutting back on bonuses, raises, vacation days and other perks during the financial crisis but are realizing the need to spend more on their employees to retain them.
However, not all business owners are looking to hire and spend more. Sherry Sheppard owns an I Love Cupcakes store in Florida and is deciding to hold off an a new employee until the economy performs better.
"Maybe after the election we'll get a better picture," said Sheppard.
As businesses like Sheppard's hold off on hiring, it is giving many job seekers a tougher time in the job market.
Charlie Jones, a Washington resident, told Bloomberg the job market is becoming discouraging. He has been out of work for more than a year and is relying on food stamps for meals while his girlfriend pays the rent. He signed up with a temporary agency for jobs in office installation and is searching for other openings.
"I keep waiting but they haven't called me in a long time. I have a friend like me who recently got work, so I think hopefully something should turn up for me," said Jones.
According to Bloomberg, Fed officials said the unemployment rate "remains elevated" and plans to "closely monitor incoming information on economic and financial developments and will provide additional accommodation as needed to promote a stronger economic recovery and sustained improvement in labor market conditions in a context of price stability."
For more of Neon Tommy's coverage on the jobs market, click here.
Reach Executive Producer Subrina Hudson here; follow her on Twitter here.