Arts+Culture
City Shortlist: August 4-10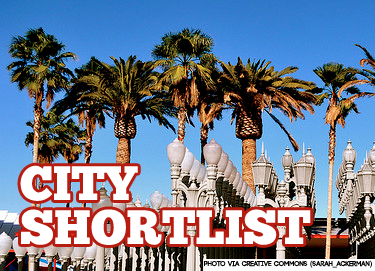 City Shortlist is a weekly roundup of the city's best events handpicked by NT staffers.
This week's picks will have you fully prepped and excited for Shark Week, the Oscars, and even a martian landing, among other things.
The Great West Coast Migration: A Benefit for Sharks and Oceans |August 2-4 | Lebasse Projects in Culver City
Shark Week is coming! Break out your Megalodon shirts and watch the great predators of the sea in action--and enjoy some fine art? International nonprofit Pangeaseed brings its shark saving art tour to the West Coast with an art exhibition that combines works by over 70 artists, graphic designers, filmmakers and photographers. Shown at Lebasse Projects, these artworks focus on raising awareness about cruel fishing practices that are threatening sharks, like sharkfinning. Show those great whites some love by hitting up this exhibition! If you miss it in L.A., there are upcoming shows in Costa Mesa and San Diego. (Lebasse Projects)
The 3rd New Los Angeles Folk Festival | August 4 | 1 pm – 1 am| Zorthian Ranch
Let music and sunshine surround you during this all-day and through-the-night folk festival at Zorthian Ranch, where a pool, various animals and junkyard remnants of former soirees abound. There are no shortage of talented and quirkily-named bands jamming throughout the day, from Kera and the Lesbians to Cowboy and Indian and Ketchup Soup. Proceeds from the event will go to ilovemountains.org, a nonprofit that seeks to preserve, protect and promote awareness about mountaintop removal. Sonic sounds and social consciousness: these folksters know how to party!(LA Folk Fest)
Oscars Outdoors | August 3 & 4 | 6:30pm | Academy Hollywood
Bring a blanket and escape to the movies under the stars this Summer! Oscars Outdoors is a summer screening series at the Academy's new open-air theater, located on the Academy Hollywood campus. Because it wouldn't be an outdoor L.A. event without some nosh, Roaming Hunger food trucks will be there to sate your appetite. Trucks vary on different nights, and they are usually tailored to the film being screened. On this weekend? "North By Northwest" and "Steamboat Bill, Jr." Check the site for future viewings and get tickets while you can! (KCRW).
The Feel Good Film Festival | August 3-5 | various times | Laemmle Theater North Hollywood
Now in its fifth year the Feel Good Film Festival is all about, well, feeling good. The showcase revolves around movies with happy endings. Organizers of the festival aim to show films that "capture the beauty of our world," So if you're feeling a little blue this weekend and need a pick me up a stroll over to the Laemmle theaters might do the trick. Try to bring lots of smiles with you. (Feel Good Film Festival)
Planetfest | August 4 & 5 | Pasadena Convention Center
How often do you get a chance to party with Bill Nye, that science guy, let alone during the landing of Curiosity on Mars? At this year's Planetfest, scientists, celebrities, and space enthusiasts will unite for a celebration that is bound to be out of this world. Among the festivities scheduled for this two-day event will be a smorgasbord of esteemed speakers and stimulating discussions all leading up to an intergalactic bash that includes a raffle for a trip to space. If this is considered to be a geek gathering, then we don't ever want to be cool. (Planetfest)
T.E.E.D. | August 9 | 8:30p.m. | The Echoplex
KCRW's putting together a totally kickass concert series--Dirty Projectors last Saturday, anyone? This time, in conjunction with FYF, the station's fêting T.E.E.D. (which stands for Totally Enormous Extinct Dinosaurs). T.E.E.D.'s performed in L.A. before, most notably last March alongside Fake Blood, Destructo, and Simian Mobile Disco, but his international profile and body of work are both way up this time around. Check out this British import's tunes at the link, and block out your Thursday night for some costumed shenanigans (seriously; T.E.E.D.'s known for both sporting a Native American headdress and a dinosaur costume while performing). (KCRW)
Have suggestions on what to do and see in L.A. for next week? Email us!