Film and TV
"Bunheads" Recap: "A Nutcracker In Paradise"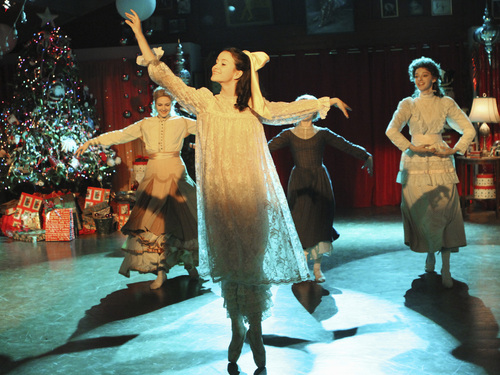 The Bunheads' summer finale was jam packed with excitement and encompassed exactly what a summer finale should.


This week the episode centers around "The Nutcracker," the biggest show of the season for the dance studio. Michelle shows Fanny the evil rat dance she choreographed for the show. Not only is Fanny in shock to see Sasha back, but she loves the dance. Michelle's interpretation of the dance was ingenious and refreshing with the rats being interpreted as Wall Street guys.

Fanny is happy that the opening week of the show is completely sold out. However, since Fanny makes a large part on her annual income from the two weeks of the show she is counting on Michelle's fundraiser at the Oyster Bar to help. Fanny asks Michelle about running the dance studio for a while so she can go off to Montana with Michael for a while. Michelle thinks the idea is sweet and is glad to help, but it wouldn't be Michelle if she didn't make a funny remark. So Michelle asks Fanny who would be Heath Ledger in the scenario, which Fanny doesn't find amusing.

The Ringer, an insanely talented ballet dancer who is more like a robot comes into the dance studio and begins practicing. With Sasha back, Fanny no longer needs the Ringer, but is too afraid to tell her.

Upstairs in the changing room tensions are running high between Ginny, Boo, and Melanie. When Michelle comes in she insist they explain what's going on, and when no one says anything Sasha explains they're having a blood feud over Charlie. Michelle suggests that since Boo likes Carl she let go of her dibs on Charlie so that Melanie could possibly be okay with Ginny being with her brother. Boo agrees to let go of Charlie since she likes Carl and Melanie gives Ginny her blessing as long as she doesn't have to hear about Charlie. In return Ginny promises not to make any short jokes about Carl and to help Boo get him back.

Sasha confronts Fanny about the Ringer who explains that as punishment Sasha would break the news to her that she would no longer be Clara and would get another part. The Ringer listens to Sasha but still insists on playing Clara.

The fundraiser at the Oyster Bar turns out to be a big success and even Fanny is impressed with the work Michelle did to pull it off. When Michelle sees Boo looking down she tells her to make things right with Carl. Boo heads to the stage and makes a public apology to Carl and pours her heart out to him. Carl is touched by Boo's words and they perform their Ginger and Fred dance.

Elsewhere Fanny is upset when she finds out that the Montana trip Michael always talked about were for him not "them." Fanny tells Michelle that Michael bought land in Montana and is planning on building a house with a recording studio in it for himself. Michelle decides to meddle and tells Michael about Fanny's feelings, her plans for Montana, and how she was hoping they'd spend more time together.

Sasha spends the night hiding from the Ringer who was following her the whole night. While hiding out Sasha meets Tyler, a boy from school on the basketball team who recognizes her from when she was a cheerleader. Michelle runs into Godot who tells her he's leaving for Australia in a week and wants to move things along. His charm and flirting wins her over and they end up making out in the middle of Oyster Bar.

The next day in the studio, Ginny tells one of the dancers, Matisse, all about her night with Charlie. She even tells her about their awkward moment when he tried to kiss her and instead hit her head with his mouth. Matisse finally tells Ginny to stop telling her this since she's only twelve and doesn't want to hear about it. At the end of dance class Ginny is crushed when she sees Charlie pull up in his car with another girl.

On the opening night of "The Nutcracker" Michelle is backstage with her trusty show bag that has everything from eyelash glue, condoms, hair spray, boob tape, mace and bandages. Michelle fixes Fanny's eyelashes before the show starts. Meanwhile backstage Ginny is mad at Melanie because she blames her for things not working with Charlie.

The shows is going great until the girls line up backstage for more hairspray, which ends up being a disaster since Michelle accidentally sprays them (and herself) with mace. The dancers attempt to go back out and dance but instead they just crash into each other. While Sasha is down on the floor the Ringer takes her bow and creepily tells Sasha she told her she'd be Clara.

Everyone ends up in the hospital to get checked out. While there, Ginny and Melanie make up and Ginny says she hates Charlie and Melanie agrees with the sentiment. Sasha also runs into Tyler, the basketball player at the hospital. He tells her he quit the basketball team and is now going by his middle name Roman, which she says fit his new look. The two seem to hit it off and who knows it could possibly be a love connection for Sasha in the future.

Fanny checks in on Michelle who feels horrible. Fanny explains she had to cancel the two weeks of the show and said that bad luck was in the air especially since Michael left that morning. Michelle is surprised he left since she explained to him how Fanny felt. When Fanny hears Michelle told Michael everything she is livid and tells Michelle she's the bad luck.

Michelle has one of her audition dreams where she is performing "Maybe This Time" from "Caberet." At the end when she asks the director what he thought Hubble appears. Michelle is so happy to see him and tells him she's tried to keep things stable, but he insists she's there to shake things up.

Michelle wakes up to the sound of parents complaining to Fanny about her and realizes she has to leave after messing things up so bad. When Sasha sees her leaving she stands up and yells "O Captain, My Captain!" a reference from Dead Poets' Society. The other girls do the same. Michelle is touched by the gesture and thanks them but says that even in the movie the teacher had to leave in the end.

The summer finale leaves many twists and changes on the horizon. Now we must wait until next season and to find out what happens to Michelle, Fanny and the bunheads we've grown to love so much over this always interesting season.

Reach reporter Phoebe Abraham here or follow her on Twitter.