Film and TV
"Bunheads" Recap: No One Takes Khaleesi's Dragons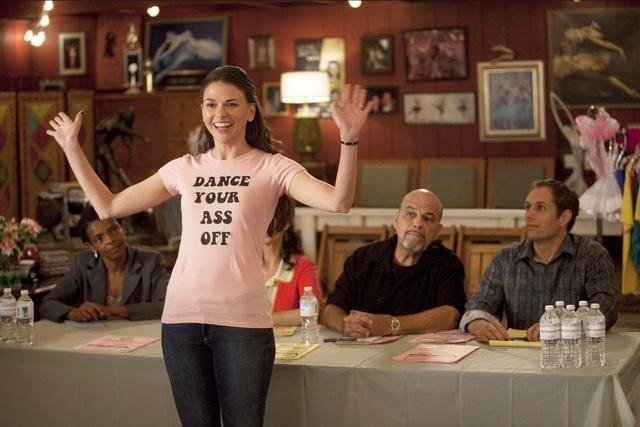 It seems like everyone is a tad bit wackier than usual this week on
Bunheads
perhaps there's something in the water?
This week we start off with Michelle waiting in line to get her coffee fix at the new coffee shop. The cafe turns out not to be new, but instead a local hotspot that's been closed while the owner Sebastian or Bash was gone. Nonetheless it's safe to say Michelle didn't fit in with any of the customers who quietly waited, reading while she simply interrupted them to chat. When Michelle finally gets a chance to order after waiting forever, she meets Bash, who's best described as a temperamental coffee artist. Bash is played by none other than Gilmore Girl alumni Sean Gunn better known as Kirk to fans. Being the artist that Bash is he immediately tells Michelle he doesn't take customer orders and he creates what he feels is best for them, code for this is going to be a wait.
Elsewhere Fanny holds rehearsal for the Nutcracker, which for those participating was more torture than anything else. Fanny is frustrated that she can't find a replacement for Clara since Sasha quit. After nonstop rehearsal for three hours Fanny finally gives the dancers a break, with no sitting down of course.
Michelle tells Fanny about her friend Richard becoming a successful choreographer, which prompts Fanny to suggest she call him. At first Michelle has reservations but eventually calls him and leaves a message with his secretary.
Ginny and Melanie avoid Fanny by hiding in the bushes outside, because neither of them wants to play Clara since they know they won't stack up to Sasha.
At the Oyster Bar the bunheads talk about how strange it is not having Sasha around and how they need to get her to come back to dance. When Sasha gets to the Oyster Bar she tells the girls all about cheerleading and how much free time she has now. When Sasha gets a text from her secret sister she leaves in a strange cheery mood. The bunheads are left in shock over the change in Sasha. Ginny says, "She's one ponytail away from needing an intervention."
Boo is excited to rehearse with Carl at least until Michelle offers to stay and give them some pointers. Boo takes Michelle outside where she tells her how she likes Carl and would rather not have her around, which Michelle understands and leaves. Carl is unusually standoffish with Boo and just wants to get to work on rehearsal.
Michelle makes a last attempt at getting coffee from Bash's coffee shop. Bash still annoyed from Michelle's last visit, where she seemed to knock everything of importance to him down-- literally, wasn't happy to see her. Bash purposely decides to take his sweet time making Michelle's coffee pushing her to finally loose it. Michelle shares how she can't wait for the new supermarket to open so she won't have to wait a million years for her coffee.
After teaching her tap class Michelle finds out from Sam that the Association for the Preservation for Keeping it Real in Paradise got the supermarket on a zoning violation so it won't be opening. This news obviously crushes Boo who to wanted spend more time with Carl. Michelle takes the news hardest, because of her need for coffee. She vows to change this decision and says, "They're not taking Khaleesi's dragons" an apparent Game of Thrones reference.
Boo, Ginny, and Melanie go to the school basketball game to watch Sasha cheer, which she isn't too happy about. It turns out cheerleading may not be as amazing as Sasha made it sound especially since the cheerleaders may be the worst and least skilled cheerleaders in the history of the sport. At the game Ginny acts strange when Melanie's brother Charlie comes and sits next to her. Sasha finally loses it and tells the cheerleaders they shouldn't cheer on their losing team, and if anything should tell them to stay in school, because they don't have a future in sports.
Later on while Ginny is sleeping over Melanie's house and continues act weird Melanie asks her about what's going on. Ginny then tells her how ever since she found out her brother likes her she hasn't been able to be to think straight. Melanie doesn't take the news well and tells Ginny how she can't go after Charlie, because of how Boo feels about him and that if she did it would go against girl code.
Michelle continues on her crusade to have the supermarket open and she starts by giving a stack of flyers to Godot. She instructs the Oyster Bar cutie to give everyone who comes in a flyer. Michelle also recruits other people to come to her meeting by telling them various lies that spark their interests. Needless to say Michelle isn't successful in saving the opening of the supermarket meaning no coffee for her. Godot tells Michelle she needs to relax and stop trying to control things. He proceeds to tell her she needs to go surfing and offers to take her, but she turns him down making him want her more.
Carl comes by the dance studio after getting Boo's message. He tells her how it hurt him when she just let her friends talk to him so rudely. Boo apologizes and tells him she likes him as more than just as a dance partner and he kisses her. Ginny and Melanie walk in on them kissing, but the conversation changes to the topic of Charlie and Ginny wanting to date him. Boo isn't happy that Ginny would even consider doing that knowing how she feels. Carl hearing all this leaves and when Boo realizes this she feels like an idiot.
Michelle goes to talk to Sasha who is benched during cheerleading practice for not having enough team spirit. Michelle puts prospective on things for Sasha and tells her to consider apologizing to Fanny so she can come back to dance. Michelle tells Sasha she doesn't want her to regret her decision to leave later on in life.
The episode ends with Michelle finding a coffee maker outside her house from a mysterious stranger could it be Godot.
Reach reporter Phoebe Abraham here or follow her on Twitter.