Film and TV
"Bunheads" Recap: Blank Up, It's Time
Change and romance are definitely in the air this week on Bunheads.
This week we meet some old and new romantic connections, and learn that in many cases we must expect the unexpected when it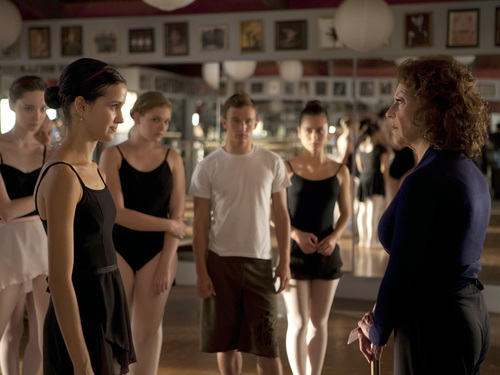 comes to love. We also get a taste of Sasha's attitude, which is nothing new but always welcomed for added drama.

After her extended vacation Fanny is finally back in action this week, and let's just say she didn't come back alone. Michelle heads to Fanny's kitchen for her usual breakfast grab only to be greeted by a man in a robe cooking breakfast-- or as Michelle likes to call it a "kinky breakfast." Who is the guy you wonder? His name is Michael, a piano player Fanny met a while back after her husband left her and Hubble. Fanny and Michael have stayed in touch all these years and get together when he's in town.

In the dance studio the bunheads are enthralled by the elegance and magic that is Ginger Rogers. Sasha arrives in her usual I hate the world attitude, at least until her and Jordan show off their Ginger Rogers and Fred Astaire dance. A dance they've perfected from performing it every year.

Fanny announces to the dance class that show season is around the corner. She notices the tan lines on Sasha's back quickly calling her out on it since everyone knows tanning is a no, according to Fanny's rules. Sasha rudely apologizes, which doesn't fly with Fanny who then decides to give the part of Ginger Rogers to Boo.

Fanny tells Michelle she's going with her to see a show called "Blank up, it's Time" tomorrow afternoon. It wouldn't be a theatre matinee if Michelle didn't get into some sort of dramatic tizzy before the opening curtain. In true Michelle fashion she runs into the audience member from hell who refuses to let her get by to get to her seat. Michelle attempts to beat out the bathroom lines during intermission by using a carefully thought out strategy, but by the time she gets back the show has resumed. She is forced to watch from the back where she meets the show's director Conor, played by Chris Eigeman (fans of Gilmore Girls may recognize him as Jason). Michelle and Conor hit it off while analyzing the parts of the play that aren't working. When Fanny finds Michelle at the end of the show she is relieved since she thought Michelle had left her. Michelle explains to Fanny what happened. Fanny suggests she stay behind to sleep with the director, an idea Michelle immediately shoots down.

Boo finds out that Jordan will no longer be the Fred Astaire to her Ginger Rogers since he backed out when Sasha was replaced. Fanny tells Boo that Carl will be Fred Astaire leaving Boo disappointed considering the height difference and the fact that Carl isn't as skilled as Jordan. Fanny tells Boo to give him a chance because what he lacks he makes up for in enthusiasm.

Michelle gets a call from the director, Conor who invites her to dinner and to come see the show again with the changes, which she agrees to.

Despite Carl being over the top Boo realizes when he gets to the studio late for practice that he's really sweet. He explains he was late, because he went all over town to find celery tonic because he knew it was her favorite since he heard her say it a couple years ago. Boo begins seeing Carl beyond his exterior and at this point it's safe to say she begins to fall for him a bit.

The night goes well between Michelle and Conor and they even end up sleeping together. Everything pretty much seems to be going perfect while they're in bed talking until Michelle realizes this is the first time she's slept with anyone since Hubble. The thoughts of Hubble brings Michelle to tears in Conor's bed. After holding things together for everyone Michelle realizes she never really let herself grieve until now. Perhaps despite not being with Hubble for very long Michelle's feelings for him ran deeper than she thought.

Carl invites Boo over to watch "That's Entertainment" over some of his homemade lasagna later, but before she can say a word Ginny and Melanie interject. They harshly turn him down for her, but by the look on Boo's face after it's clear she wanted to say yes.

Bunheads ends with a showdown between Sasha and Fanny that is sparked by Sasha coming in with blue hair. Sasha defends herself telling Fanny she can't control everything. Sasha makes a shocking announcement that she's going out for cheerleading and can't do it and dance. Fanny in an eerily calm voice agrees and kicks her out.

Reach reporter Phoebe Abraham here or follow her on Twitter.